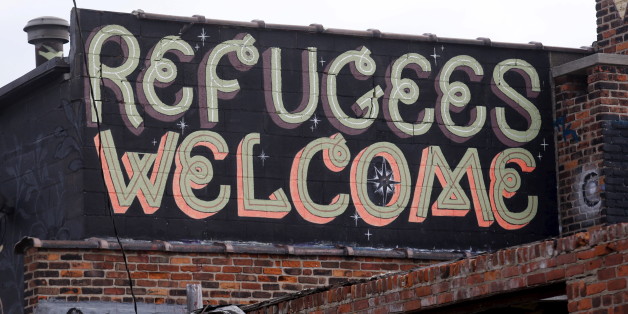 Rebecca Cook / Reuters
News of the horrific attack on an asylum seeker in Croydon deeply shocked me. I thought of the perilous journey that this vulnerable teenager had undoubtedly taken. I pictured the trauma of him having to leave his home, saying goodbye to family and friends and taking a terrifying journey in search of sanctuary. He - like many other young asylum seekers - most likely faced threats from traffickers, terrifying crossings of sea and borders, and the daily hunger and fear sleeping rough on cold streets. Finally he made it to the UK and must have thought he had at last reached a place of safety.
The reality was far from that, he's had to endure the on-going trauma and uncertainty of his asylum claim, and then was brutally attacked by a large crowd of people, that were so consumed by hate they nearly kicked him to death.
I thought, what if this was my brother, my child? What if this was me when I was 17? Would we have had the same resilience as this young man? Would people have stepped up to help?
I decided I had to try to do something to show him he was loved, supported and welcomed here in the United Kingdom.
I have personally experienced the power of crowd-funding. I caught Lyme Disease and babesiosis from a tick bite and I quickly went from being a busy producer to bed and wheelchair bound. My only chance at recovery was to travel for specialist treatment abroad. A crowd-funding page enabled me to pay for the treatment that I needed. The support from this appeal didn't just help me physically, the show of love and kindness gave me a huge amount of strength - I didn't feel alone. Thanks to generosity of many I'm now walking and well enough to rebuild my life again. Small acts of kindness can be truly powerful stuff.
My good friend Robin Adlem was similarly affected by reading of the attack. He has spent 10 years working in youth services, often with young refugees and asylum seekers. He wanted to use his knowledge and skills to help the teenager.
We could see the outpouring of love and shock across the United Kingdom and wanted to facilitate a way for people to channel this love into something that could physically help the boy and show him that he is not alone. So we teamed up and set up the crowd-funding page.
Then it just took off. It's been astounding. People left hundreds of heartfelt messages, by Tuesday afternoon we had received over 1400 individual donations, totalling over £28,000. The UK got behind him; we stood up for our values of decency and acceptance. We all got together and showed what matters here, that love and kindness outweighs discrimination, hate and thuggery.
Now we wait, hoping, praying that he will make it through this horrendous attack. That he will be able to see the welcome he has, that the thugs he had the misfortune of meeting do not represent this country.
It will be a long journey for him to recover both physically and mentally. We do not yet know the long-term implications of this attack. The funds raised are of the upmost importance to guide him through this dark time and help him rebuild the life he deserves.
We pass on big heartfelt thank you to each everyone that has donated and shared this appeal.
Lets keep it up and show him that we are with him every step of the way.
* Even though certain elements of the media published his name, I have chosen not follow suit. He is a minor and unless the police or he himself decides to release this information we believe he should be given the anonymity he deserves.