Continuing my Autumn/Winter 16 London Fashion Week round-up by way of the Curzon Soho, I attended a fun, cheeky and very English affair for recently launched luxury accessories brand Hill & Friends. The swag was cute too, with a bag choc (wink) full of pink sweets (aka lunch) thrown in to the (sadly cloth, not the Hill & Friends leather kind made lovingly by hand in Somerset) bag alongside the stickers and look book, which was a vast catalogue of the Autumn Winter Collection of including bag details and prices. The event served as a brilliant piece of branding and a great sales pitch. I fizzed on out of there to Brewer Street Carpark contemplating the fashion film format versus the live installation presentation format. The film was fun, witty and polished. It had a strong air of Wes Anderson's The Grand Budapest Hotel about it (the show notes cited The Italian Job - hence the Mini - as an influence) and its charm makes it very watchable. The hand bags replace look in Hill & Friends take on The Italian Job's bullion. It's worth noting this is the second direct reference to a Wes Anderson film in the past two days, following Gabriel Vielma's inspiration from The Life Aquatic With Steve Zissou mentioned in my previous post, confirming his already ardent fashion following.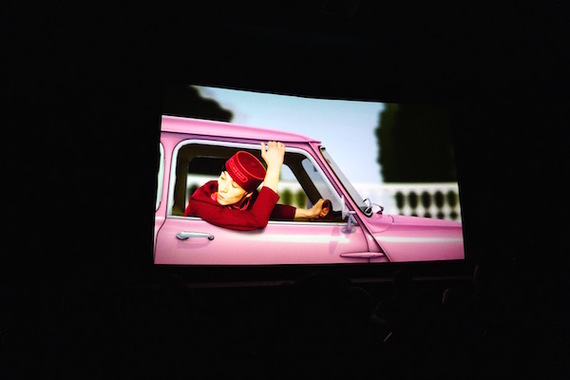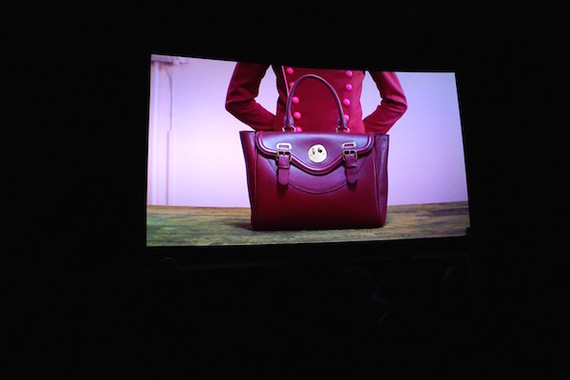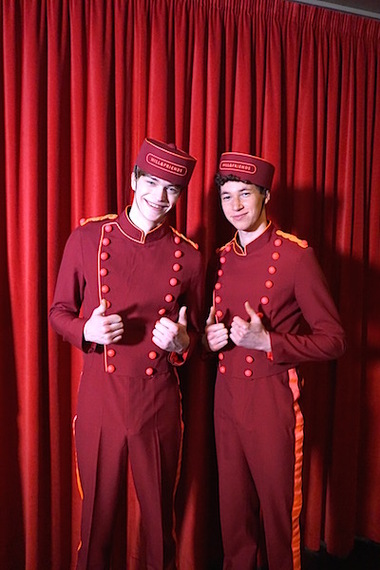 Hill and Friends - AW16
Bags don't necessarily demand a live show or presentation, I guess, and a presenting a film is a chance to carefully control the branding of the erm, brand. Already stocked at Net-a-porter, Harrods, Selfridges amongst others, I bet they'll sell bags of bags!
At the Brewer Street Carpark I revisited Susana Bettencourt's knitwear collection. Today she presented the collection on a handful of models atop plinths at the Designer Showrooms, which brought her knits to life and showcased the textures. I caught Susana and her team as they were setting up. Susana is involved in the 'Rebirth' of the knitting industry in Portugal, having accepted a lead lecturing role in Knitwear design at two Universities in the Porto area, facilitating the reinstatement of knitwear design courses which had not been offered to students since the mid-nineties. Portugal is a European hub of knitwear manufacturing (jersey fabrics and knitwear) and supplies some of the luxury fashion houses in Paris. The Portuguese just aren't as prone to self-promotion as, say, the Italian knitwear manufacturers are. It's an exciting time for knitwear manufacturers who are working directly with the two Universities to support the knitwear design students and provide practical hands-on experience - a must for a design discipline as technical as knitwear. An in depth interview with Susana will follow this piece, so look out for major knitwear geekery.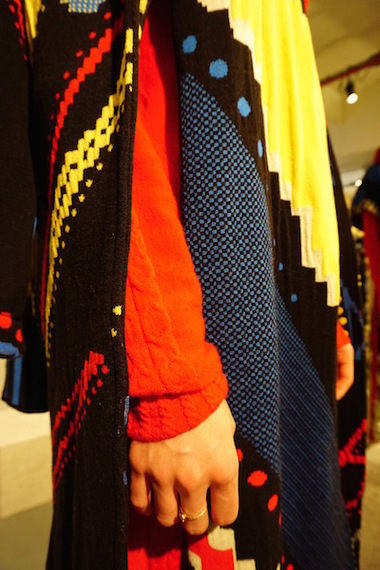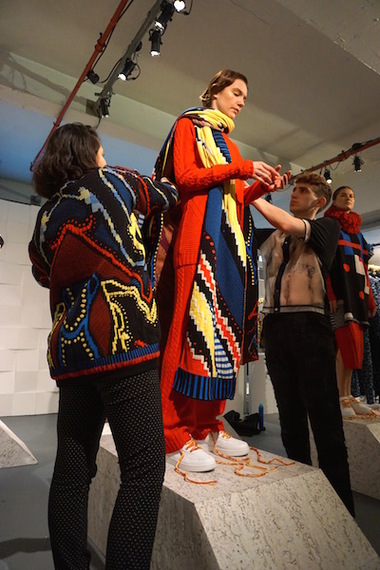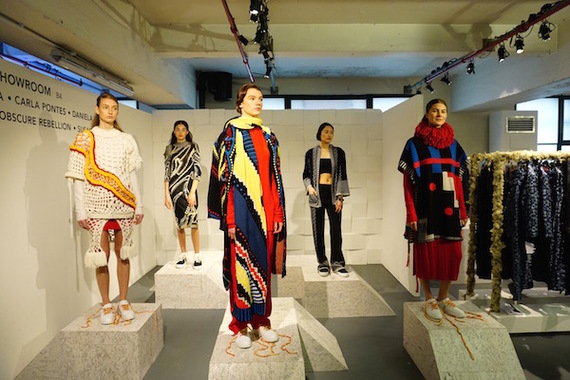 Susana Bettencourt - AW16
Next stop was the Chelsea College of Arts for Danielle Romeril's sixteenth century futuristic sportswear mash-up with graphic tape set design and a killer soundtrack - she had me at Tame Impala. The show notes were accompanied by a playlist, serving as a reminder that our perception of visual artistry is effected by the sound experienced alongside it. The presentation format delivered yet again with brilliant access to clothing details and engagement with Danielle's team.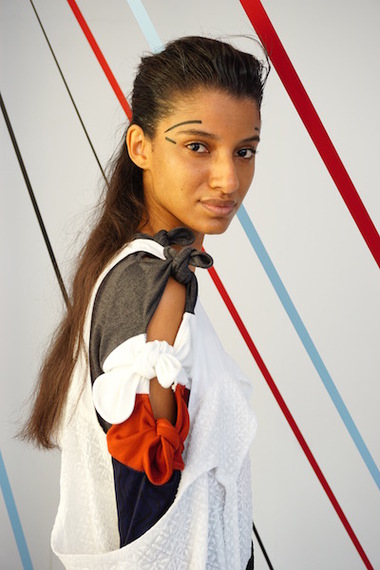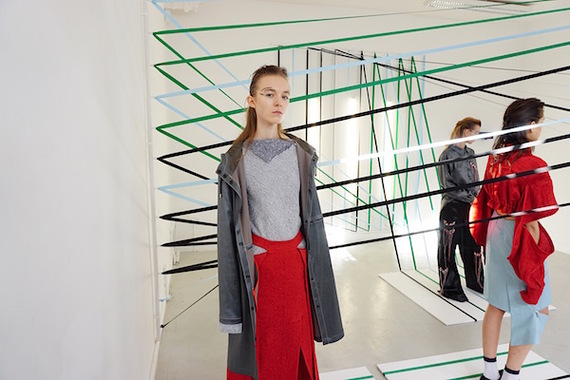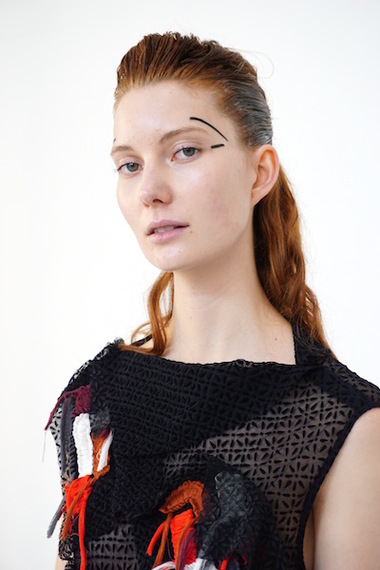 I met Susie, Danielle's pattern cutter; Sarah, Casting Director and Nobuko, Stylist. We chatted about the presentation briefly and the benefit to the designer of getting instant feedback before Nobuko had to run-off to check on an outfit change. The models work on rotation and take a five minute break at regular intervals. Ever tried to stand still(ish) for two hours? It's difficult, and sometimes it shows.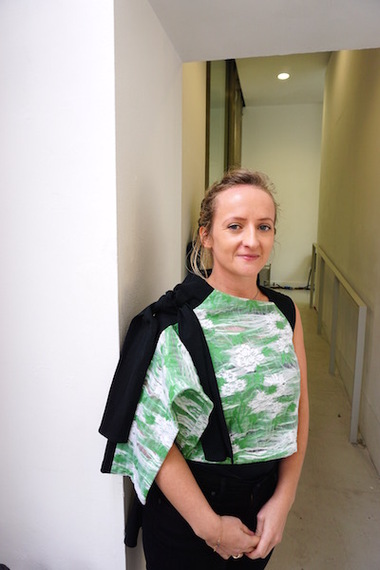 Susie Sweeney: Pattern Cutter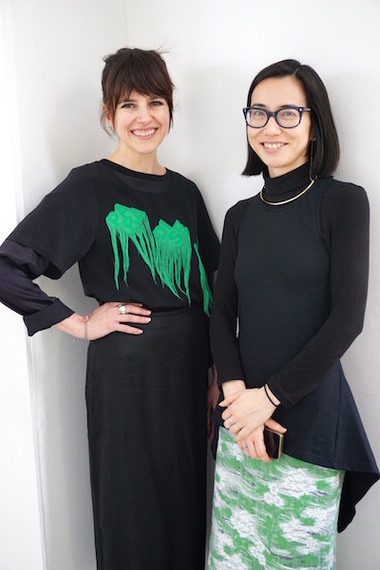 L: Sarah Bunter, Casting Director. R: Nobuko Tannawa, Stylist.
I got totally absorbed in Danielle's presentation, visiting each of the three rooms twice and finding new clothing details and angles to shoot each time. It was a relaxed journey of discovery through the collection, picking out details from the show notes and seeking them out in the finished articles.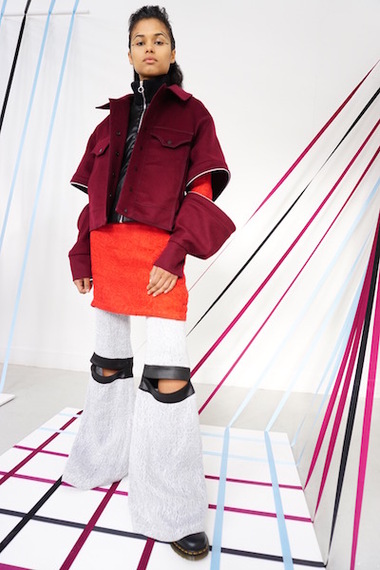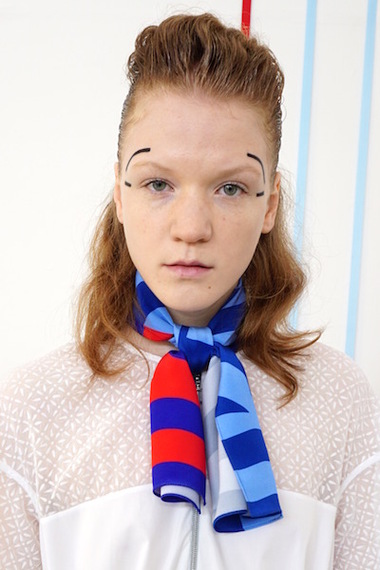 Danielle Romeril - AW16
Stylist: Nobuko Tannawa at Webber Represents - Set Design: Meriel Hunt at Undercranked - Casting Director: Sarah Bunter at Bunter Casting - Lighting Designer: Jim Agnew - Makeup: Niamh Quinn at LGA Management and the MAC Pro Team - Hair: Mari Ohashi at LGA Management using Bumble and Bumble - PR: Justine Fairgrieve at The Wolves - Graphic Design: Sophie Demay - Music: DJ Tuki
On to Phoebe English's desperate and gloomy waiting room. Housed in a basement theatre at the ICA, the presentation was a sombre affair of models appearing anaesthetised by the boredom of the waiting room scene. Here, the sound played a hypnotic and maddening part of the presentation in the form of a recorded voice in the vein of 'hold the line, your call will be answered shortly...' on a loop.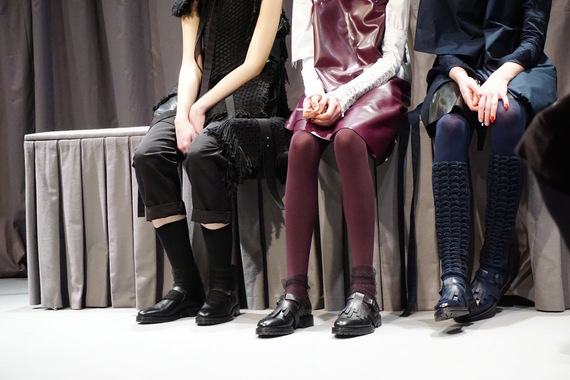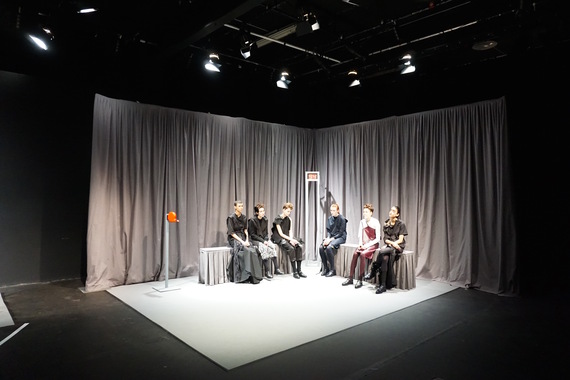 An at-arms-length presentation, it was the most theatrical of those I've seen with a strongly dark narrative that carried through from the models entering the set and taking a ticket before waiting their turn to be called to a check point before being visually assessed, preened and dispatched by a clipboard-wielding quality controller (my summation).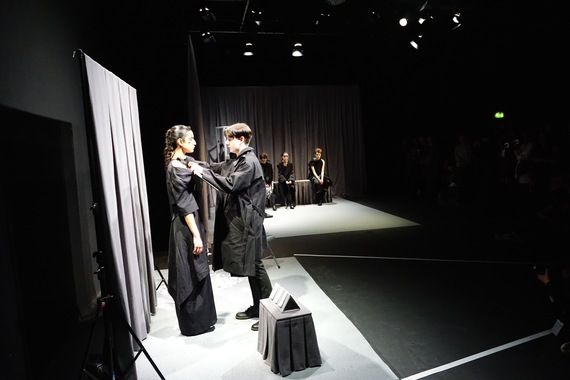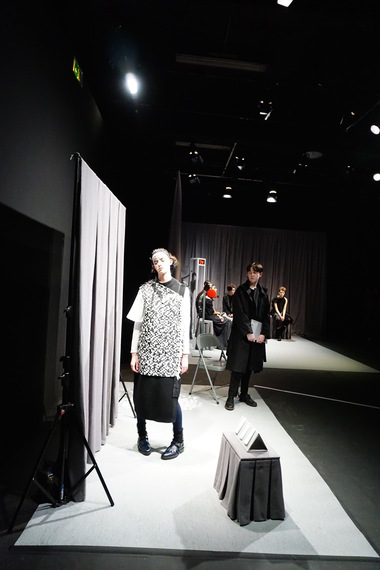 This presentation saw the models contributing personally to the creation of the piece, like actresses. The show notes describe Phoebe's strong focus on textiles, incorporating shredded sequins, knotting, knitting with elastic and a variety of string and silk weaving. She collaborated with John Smedley on knits and Hereu on shoes. The sound was by Gabriel Bruce. I can't wait to see the collection up close in the Designer Showrooms as the textile and construction details were difficult to capture during the presentation.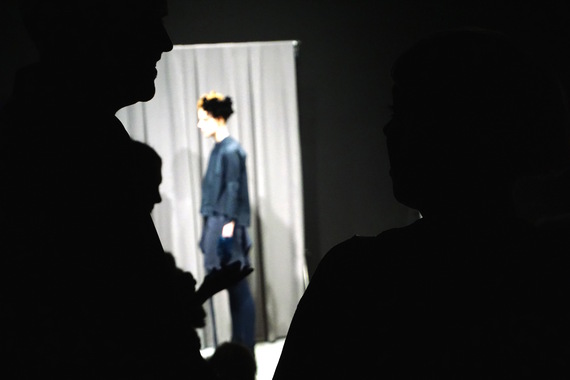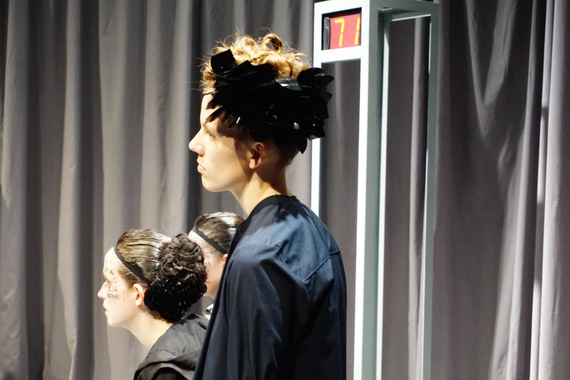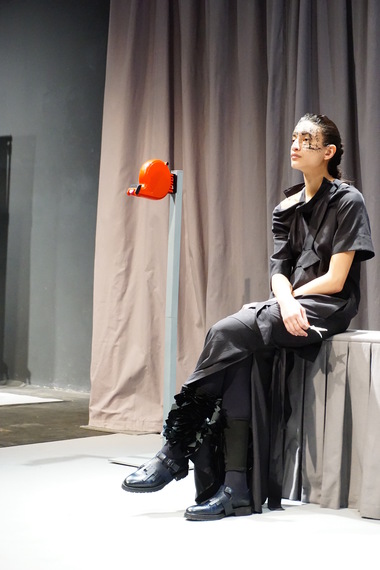 Phoebe English - AW16
Stylist: Ellie Grace Cumming at Streeters - Make Up: Inge Grognard at Jedroot and using MAC - Hair: Cyndia Harvey at Streeters using Phyto - Manicure: Ama Quashie at CLM Hair - Casting Director: Philip Ellis - Creative Collaborator: Rose Easton - Production: Megan Sharkey - Music: Gabriel Bruce - Set Design: Philip Cooper - Set Realisation: Sam Edkins - Shoes: Phoebe English and Hereu - Press: Spenser Therry at Purple PR
The brilliant presentations I've reported on so far show the depth of talent, creativity and skill amongst the teams creating these dynamic installations. I've included a role call of all credited contributors so you can check out their individual work in more detail.
Stand by for the next London Fashion week instalment, coming soon.
First published on Techstyler
Follow me on Instagram @techstyler