Community is a concept generating a huge amount of buzz in digital terms in the fashion industry, where brands engage customers online and build brand loyalty with the aim of learning more about them and increasing commercial success. Another kind of the community is the one that is built by a group of people with shared values, where a dialogue about politics, societal shifts and popular culture in, for example, their geographical location, takes place - where all subjects relevant to the community are on the table and action via collaboration, creativity and inclusion happens at a real life level. Enter SIBLING.
SIBLING is more than a fashion brand - it's a physical and digital community. In fashion as in language, the word Sibling means brother, sister - family and unity - which is what Cozette McCreery and Sid Bryan, designers and heads of the SIBLING squad, represent. They have an extended family around them and are deeply rooted in the arts, music and fashion scene that began in East London way before it became cool, and even longer before the term 'hipster' was born and became attached to their stomping ground.
A SIBLING show is an expression of this extended family and the core values of Cozette and Sid and of Britain. This season it was expressed by way of nods to Lady Di's ruffled collars of the nineties, a hat 'fit for Babs Windsor at a wedding', London's Pearly Kings and Queens and jazzed up football socks by way of bows. Way beyond aesthetics and stylistic leanings it celebrates diversity and self-expression, embracing the enrichment of British culture by other cultures, including the work of Reggae's 'Mad Scientist', Jamaican Lee Scratch Perry, before side-stepping to that most beloved British holiday destination, Spain (I'm sure Babs Windsor would approve) to grab silhouettes from Toreadors and Gaudi's Trencadis mosaic techniques to add to the mix.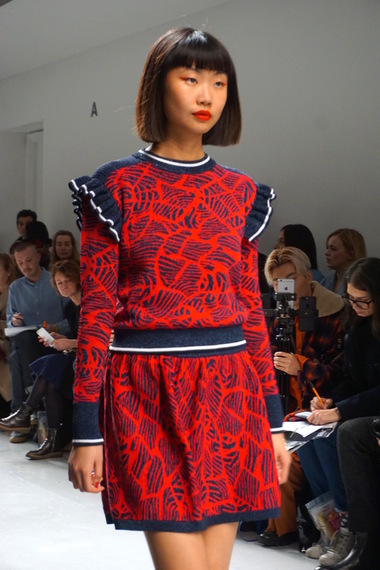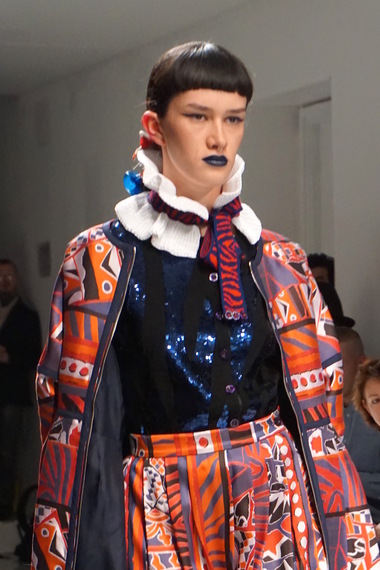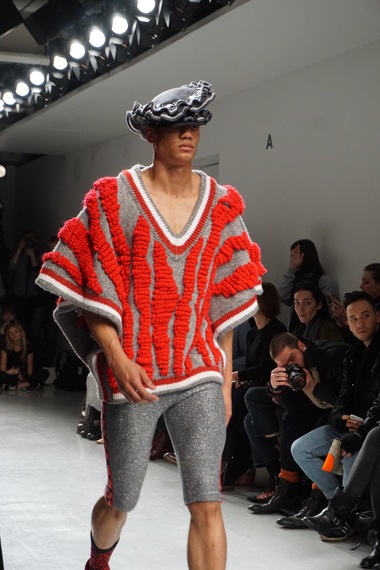 SIBLING A/W 2017 - Photos: Techstyler
My passion for knitwear is clear via my design work and I couldn't get through this article without mentioning the extremely complex process behind designing, developing and creating knitwear, the core of the SIBLING brand. Knitwear is more complex to create than cut and sew woven and jersey garments as it involves designing and constructing the knitted textile, then creating the garment, as opposed to buying lengths of fabric for cut and sew techniques which bypass the textile design and creation processes altogether. More complex, time consuming and expensive it may be, but it also allows for a bold and focussed vision, as represented in SIBLING's use of colour and pattern.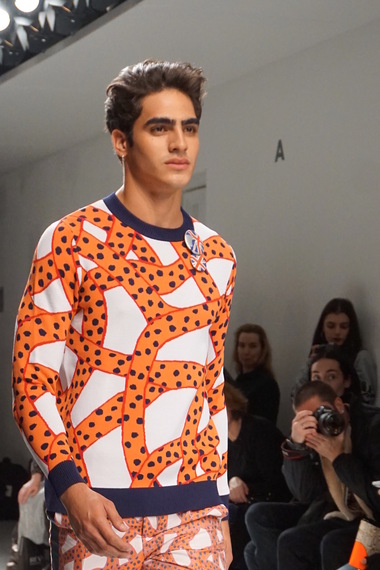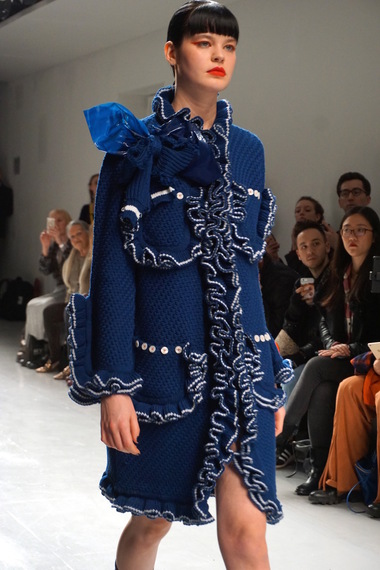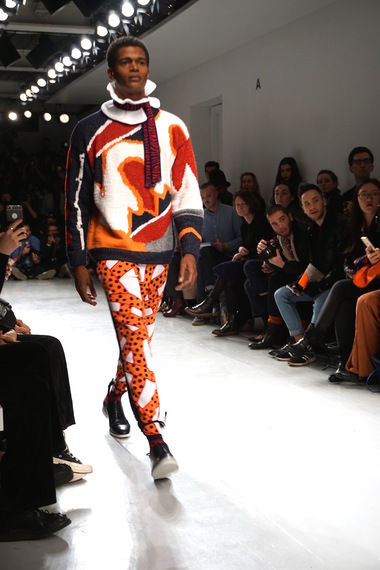 SIBLING A/W 2017 - Photos: Techstyler
As the current day brunette 'Lady Di' strode past I admired the metres of ruffles linked onto the knitted jackets and the lovingly designed details including lurex trims. The increased time and scope of crafting two combined mens and womens collections rather than four separate collections per year looks to have allowed SIBLING the opportunity to explore print and weaving in addition to knitting, so the Trencadis concept extended beyond the knits to printed sweaters and trousers.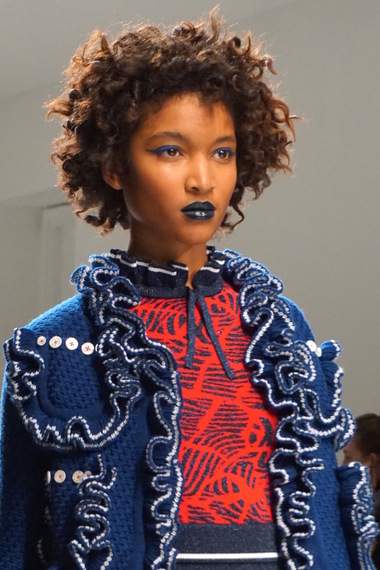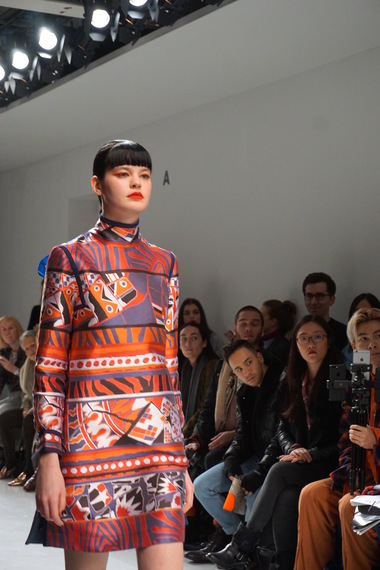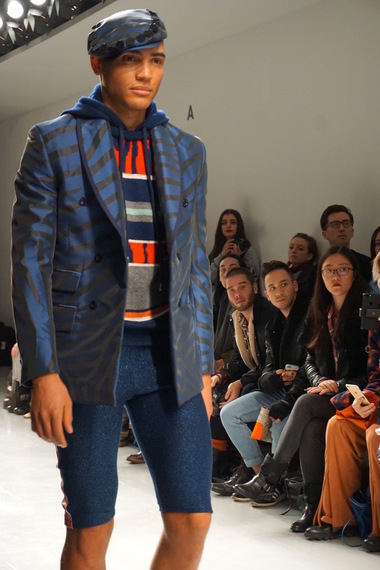 SIBLING A/W 2017 - Photos: Techstyler
Their shoe collaboration with Freakloset uses the bespoke online customisation system, rounding off my review with a foray towards digital design and how technology is shaping the fashion industry across all areas of the supply chain, from design to sales and delivery.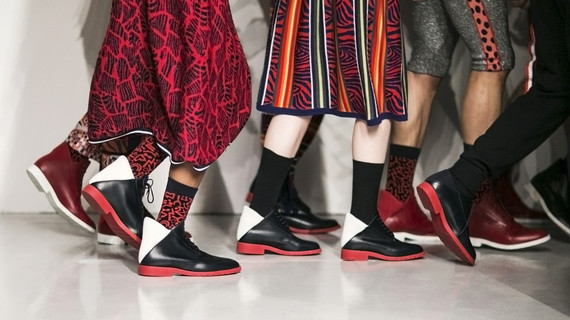 SIBLING x Freakloset A/W 2017 Photo: Freakloset
This show was a celebration of friendship, collaboration, British values of diversity and inclusion - something we need to shout about in this currently polarising political climate - and gives the audience an insight into what this close-knit (sorry, couldn't resist) team stands for. It is fun and moving and it transcends fashion. Onwards and upwards #SIBLINGsquad!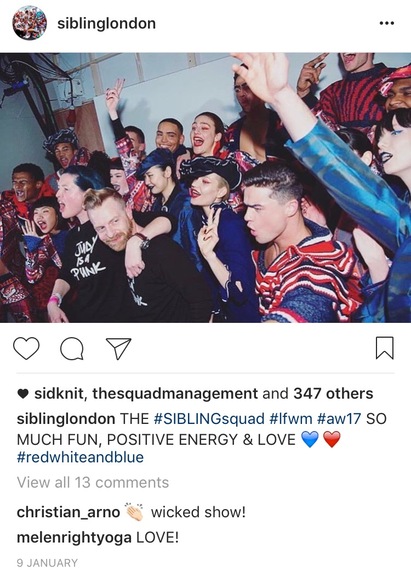 First published on Techstyler.fashion
Follow the Techstyler blog here and on Instagram and Snapchat