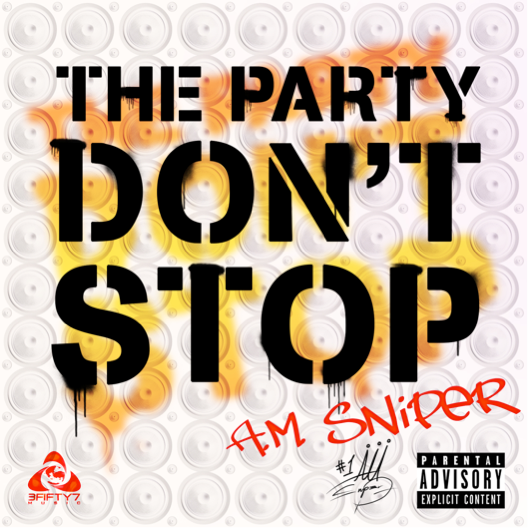 A.M. SNiPER enters 2014 with a catalogue of accomplishments to capitalise on from last year.
Having performed alongside Tinie Tempah and Wretch 32, recorded new material with Grime Godfather, Wiley, plus his single 'Its BIG' spending 10 weeks in the UK urban charts (peaking at the number 2 position); the former So Solid member is back with a party anthem to kick start 2014 into gear.How did your name come about?
It was always there, it just evolved, just like my sound did really, I was always Anthony Melas hence A.M. and in general I am not always out and about and in peoples faces so I always had THE SNIPER attached growing up, this was before the music. When I started Djing I brought Sniper with me, and I was probably amongst another million Snipers, eventually as I was being functional after midnight as we are children of the night, I became an A.M. guy hence A.M. SNiPER.
Apparently your a big deal over in Cyprus, how do you aim to emulate that here in the UK?
I'm not a big deal at all, I am 100% fully independent... I'm not emulating regions or even thinking in regions, I release records and I would like to think eventually the sound will be good enough to have a wider audience. I always say, if a record is not a hit it's not good enough, simple, you need to keep going... I like my sound, I will perfect it, just need to keep at it. I'm having a lot of fun at the moment and we do not depend on anyone...
who would you say your songs are aimed for?
Well my sound started quite cliche all showing off and all that crap, and then it went dark, then a bit more "approachable" and it is somewhat now becoming a sophisticated sound but also simplified so everyone can hopefully feel what I was feeling when I was recording the song, my sound is like an escape, probably my escape to get to where i want to be... Creatively I'm quite contemporary.
You've got a fun playful element to your tracks, does that represent your character?
It depends on a) who you are looking at me b) the mood I am in... But in general, i always try to keep the momentum and the spirits high!
You've already clocked up an impressive array of big name producers, artists and dj's working with you, was it difficult getting them on board your projects?
I don't judge music like that, I keep going, whatever comes across my way at the end of the day falls down to music, I might release a track with a feature from an unknown person and the next track might be featuring a superstar the bottom line is that both records need to match the standards I set and represent my creative vision.
Ahahaha... Well a couple are on time share... A couple owned... You want to go fishing? or did the tax man send you?
Haha! I'm hiding from the Tax man myself!
Which audience do you prefer when performing, Med or UK crowd?
It depends, nothing beats a UK crowd on holiday, I mean it's like Vikings coming together with Cavemen and Football Hooligans all into one, with touches of royalty and class from our lovely ladies! You cannot get that everyday!
Tell us about your current single?
It's a party track, Me being silly... Like a BOSS! Hahaha We are an audio visual movement everything ties into the bigger picture, just like in football its about the team not the player and each song is a creative decision that we can take at any given moment in this camp without waiting on anyone to give the OK.
What can we expect from AM Sniper in 2014?
My clear creative point will need to be made when my debut album drops, and that's where all the magic is in my opinion, the overall story through various recordings, as always i am sticking to my guns as far as live shows go and if you want to see me live you need to come to my venues in Ayia Napa #NOWHERE else... I got some good records coming this year, i am excited, i can't wait for you to hear them. The Party Don't Stop is released on 26th January 2014 https://itunes.apple.com/gb/album/the-party-dont-stop-single/id763768377Follow AM Sniper on Twitter @SniperMusic | Facebook .
Popular in the Community