Everyday I seem to stumble upon a Twitter-row where a Corbynista feels offended that someone doesn't agree with the master and saviour Jeremy Corbyn. Apparently that someone should instead be looking at his mandate and not only respecting it (which is fair enough) but now also following him blindly.
...his popularity is inflated by the fact that those young people who do support him are very vocal on Twitter.
The latest outburst from our friends on the far left came after a spokesperson for Corbyn called the resignation of Stephen Doughty on the BBC an "unacceptable breach" of the corporation's "role and statutory obligations". Suddenly Twitter erupted, and the whole 'BBC is biased' hoo-hah was reignited. However the truth of the matter is that the BBC just got the scoop before other journalists did and decided to report it. I doubt there would be an outburst of this magnitude had it been the Daily Star that got the scoop...
The fact that a lot of people, myself included, see these things on Twitter makes it seem like Corbyn has lots and lots of die-hard fans who will support him all the way. On the face of it, it does indeed seem like Corbyn has many loyal supporters because of the fact he is so well defended on social media, but when you look deeper, that doesn't seem to be the case. In fact, his popularity is inflated by the fact that those young people who do support him are very vocal on sites like Twitter and actually exaggerate his support base to onlookers.
Of course the young people supporting Corbyn have justification to do so. They may feel that he is, as mentioned in an article on the New Statesman, a new "fresh start" in politics who gives young people a voice, all of which is true but that's not to say that every young person supports him. Heck, only a handful of young people support him, but it seems like more because they are on social media and can voice their opinions. For example, some tech-savvy Corbyn supporters set up the Twitter account "Momentum" to show their support. The majority of its followers (just by scrolling through) are young-ish, and all have the ability to campaign for Corbyn on Twitter.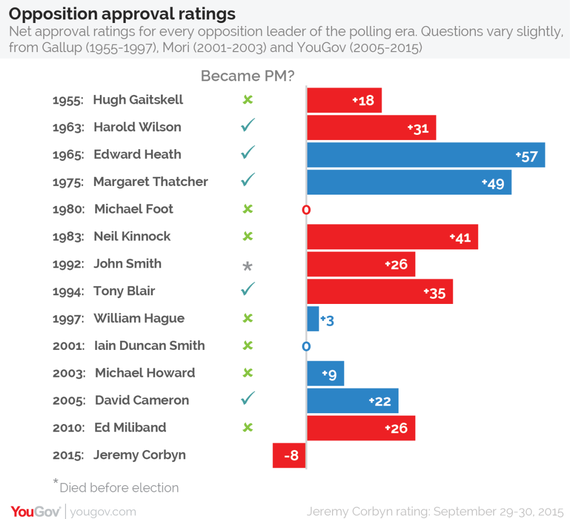 This support base is disproportionate to the polls that prove he is the least popular opposition leader ever. A YouGov poll that used a sample of the electorate showed that he is the first opposition leader with a negative score, landing him at –8. Incidentally, it also mentions in the poll that opposition leaders with such low initial ratings are less likely to become the next Prime Minister. Of course, history is not a rulebook, but it is something to go by.
Another poll showed that 57% of Jeremy Corbyn's supporters use social media to get their news, which demonstrates their age category and activity on social media. Whilst Corbyn does get a lot of his support from other generations, his support is exaggerated because of the younger supporters' prominence on social media.
At the beginning of his leadership, I found myself supporting Corbyn. Was it because I agreed with his policies? Well, not many of his policies had been discussed. Rather I was attracted to his "kinder politics" that flew in the face of the establishment and focussed on the need for social justice. Also, socialism sounded kinda cool...
My support started to waver however when the policies, especially the economic ones, were being announced, and I fear that Corbyn's "kinder politics" is beginning to waver too in the wake of the reshuffle. I do however retain my passion for social justice.
Whilst Corbyn did have a record breaking mandate to be leader of the Labour Party, he also has record breaking lack of support in the polls and it seems that a lot of his support base comes from people who are able to campaign for him on social media, hence distorting the magnitude of Corbyn's support. It goes without saying however, that this article is in no way intended to be a socialist-bashing affair. I have deep respect for left-wing political opinions even if I may not agree with those of the far-left. Rather this article seeks to discuss why you shouldn't believe Corbyn is as popular as it may seem on Twitter.