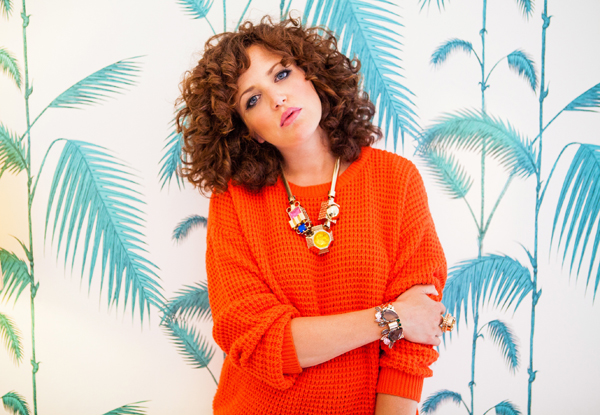 A well respected and shape shifting tastemaker, DJ, radio presenter and now proud mother, Annie Mac has set her own standard. In a mainly lad led industry she stands shoulder to shoulder with the guys who look up to her.
On her recent return to Radio 1, she proved just why her flagship show is a lynch pin within the UK dance scene. As fans, music industry moguls and fellow DJ's took to twitter to celebrate her weekly Friday night show being back on the airwaves, the respect that she has earned within the scene was publicly clear.
Talking to Annie is like talking to a wise old friend. Open, down to earth and with a really genuine passion for what she does. With her Annie Mac Presents brand in full bloom, club night back on the road and compilation album set for release, she cuts a hardworking and much needed shape within the scene. Co-signing the likes of Disclosure, Rudimental and AlunaGeorge before they landed into the UK top ten, her eye for talent and belief in the scene has been yet another cog to its recent expansion.
As we discuss the reason that the dance world is in it's element right now, it's a conversation that could have continued late in to the night over cups of tea whilst delving in to the depths of Soundcloud. This year has seen a rise in homegrown DJ's that produce their own material storm into the mainstream. After the underground got behind Breach's 'Jack' the single got picked up by Universal and landed at number nine in the UK charts. "Maybe it's because DJ's produce and then play their own tracks" Annie explains. The dance scene is a real community. Whilst everyone has their own individual sound, they also back each other's material. "I don't know why it's blown up like it has" Annie explains "but it's something we could discuss for hours."
With Lulu James and Route 94 both creating tracks solely for the Annie Mac Presents latest compilation, the album also brings through artists on the brink of success. Black Butter's Kidnap Kid, Method Music's Friend Within and the recently highlighted London Grammar all feature alongside British heavy weights Chase & Status, James Blake and Jessie Ware.
As the face of Radio 1 evolves to meet a younger than ever demographic, Mac has still managed to stay relevant. With Tim Westwood and Trevor Nelson both taking new directions and with the continual shift of DJ's on the station, the challenge is ever more prominent. In a world where the Internet means that music is more readily available, it is not only fast paced but can be very quickly forgotten. Creating a legacy much like Mary Ann Hobbs, Annie Nightingale and Jo Wiley who all walked the Radio 1 path before her, Mac is a role model to anyone looking to make it to the top of the music game. Starting out behind the scenes in radio before stepping up in to the spotlight, her story is one of both commitment and determination.
As motherhood takes her into brand new territory, her purpose within music is still clear. Pushing onwards as one of the front-runners in the UK dance scene, a forward thinking female, not only well respected but also very needed. Mentoring new recruits B.Traits and Monki of late, Mac is not only a positive ambassador for the industry but an entrepreneur who has helped to throw open the doors and clear the way for other like minded women to walk behind her.