London has taken the all-British tradition of the afternoon tea to the next level with new options ranging from the stylish to the quirky. From fairytales to cigars, here are the best afternoon teas in town.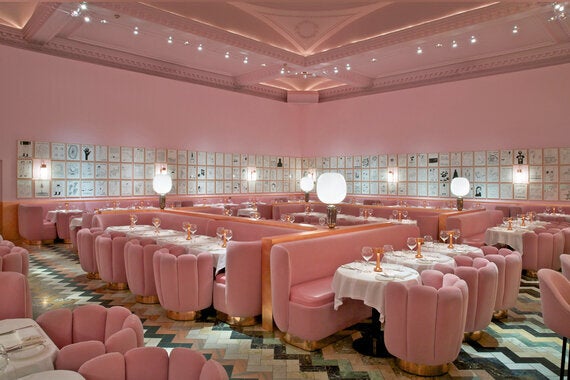 I challenge you to go to sketch and leave without a daft smile on your face. This pink tearoom made of fluffy armchairs and funny drawings on the wall serves up one of the best afternoon teas in London. From Comté cheese toasties to scones with fig jam and pistachio profiteroles, you will want to double up on everything you try at sketch. As if this wasn't enough, the tearoom has also created its own blend of Champagne and Earl Grey tea, the best treat to enjoy with an already outstanding selection of pastries and sandwiches... And it'll get you tipsy enough to go play in the egg-shaped toilets.
sketch Afternoon Tea, £45 per person
Champagne Afternoon Tea, £57 per person
Picture courtesy of: sketch
The touristy tea - BB Bakery's Afternoon Tea Bus Tour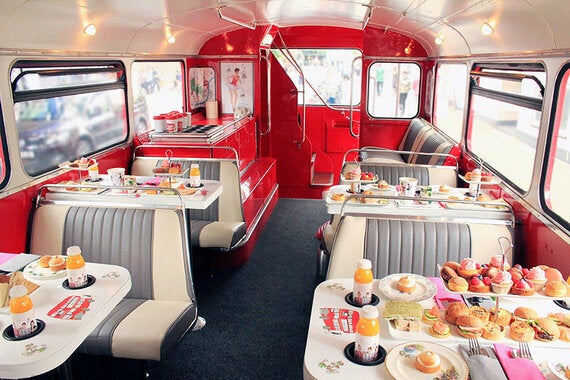 Remember when you had to elbow hordes of tourists to enjoy some of the prettiest areas of London? You won't have to anymore. You can see the Royal Albert Hall, Kensington, Knightsbridge, the Big Ben and the London Eye while enjoying one of the most British traditions from the roof of a restored routemaster. The BB Bakery's tour offers a French take on the British afternoon tea with home baked tasty cakes and it will leave you with a personalised reusable take-away mug at the end.
BB Bakery Afternoon Tea Bus Tour
12:30pm - 3pm from Northumberland Avenue
12pm, 2:30pm, 5pm from Victoria Coach Station
Picture courtesy of: BB Bakery
The artsy tea - The Saatchi Gallery's Gallery Mess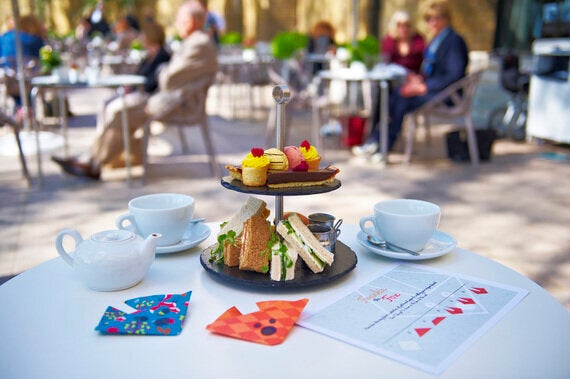 The Saatchi Gallery allows you to relax in between exhibitions with a Champagne afternoon tea like no other. With a lovely view on the main gallery's gardens, Gallery Mess's tea features tasty lemon macaroons and flowery brownies. Got a kid with you? Fear not. Gallery Mess's Origami Tea comes with a babyccino and allows kids to decorate their own cakes with meringues, compote and sprinkles.
Afternoon tea for one £15.50
Pictures courtesy of: Gallery Mess
The beer tea - The Modern Pantry Finsbury Square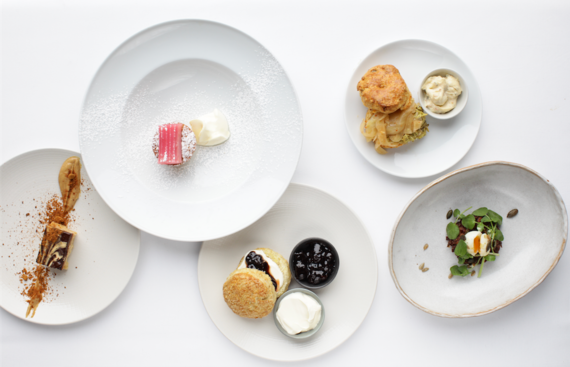 Who needs tea when you can pair up afternoon tea tapas with beer? The Modern Pantry in Finsbury Square has it covered, pairing up each dish with craft ales from all over the UK and the world. The menu's strongest dishes are without doubt its scones, either the plain scone with pulled pork or the lemon one with jam and clotted cream. And look out for the lovely stouts you'll be able to enjoy with the menu.
Modern Pantry - Finsbury Square
Afternoon tea with craft beer pairing £35
Pictures: The Modern Pantry
The man tea - Sanctum Soho Hotel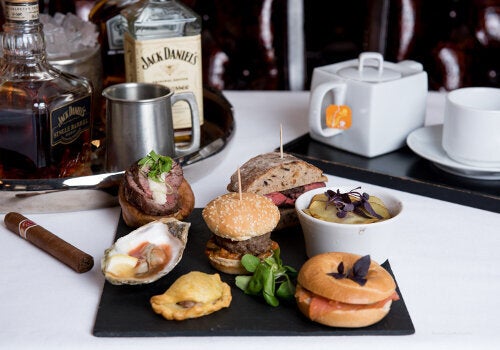 Not a fan of tea and scones? If you prefer burgers and whiskey, the rockstar Sanctum Soho hotel replaces the cake tray with bagels, sliders and with your choice of whiskey. You can even smoke a cigar at the end.
Gents' Tea £50 per person
Picture courtesy of: Sanctum Soho
The Alice In Wonderland tea - Mad Hatter's Tea Party at the Sanderson Hotel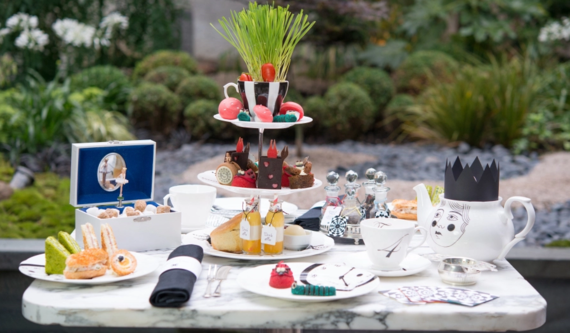 Go back to your childhood with this perfectly thought-through Alice In Wonderland style tea. From menus inside books and on deck of cards to blue caterpillar cakes and "Drink me" potions, everything at the Mad Hatter's Tea Party would make the Queen of Hearts happy.
Mad Hatter's Champagne Afternoon Tea £58
Picture courtesy of: Sanderson London
The hipster tea - Wringer + Mangle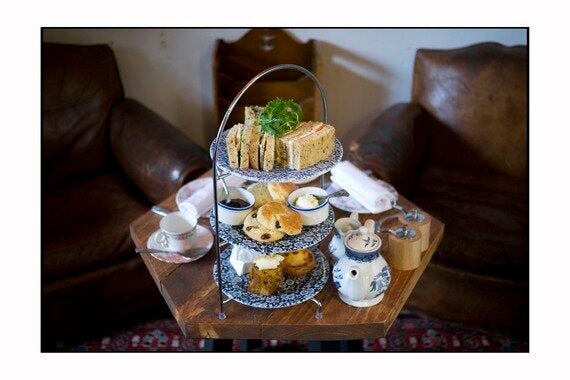 East London's very own afternoon tea takes the tradition away from Mayfair and does so with home-baked cakes that taste better than the ones your mum makes. Set in an industrial warehouse in London Fields that looks like a co-working space, Wringer + Mangle has an impressive selection of teas served in cute teapots sourced from vintage stores like only an East London bar could do.
Picture courtesy of: Wringer + Mangle
The historical one - Hotel Café Royal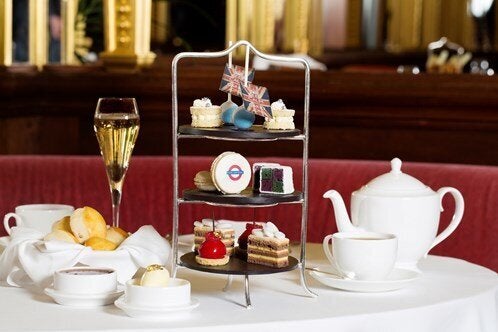 There's something about sipping tea and Champagne while sitting as the same table as Oscar Wilde. You can do so at Regent Street's Hotel Café Royal, in a room as gold as the Versailles palace with hot smoked Marmite tea, coronation chicken soft buns and oh-so-British treats with an edible Union Jack on top. Cheers!
London Royal Tea with a glass of Veuve Clicquot Champagne: £55
Picture courtesy of: Hotel Café Royal