Over recent months I have seen more than a few eyebrows raised in reaction to my latest mission. This week, I'm heading to Colombia to trek for 1000-kilometers on horseback to tackle disability exclusion in business.
That said, those who know me are not surprised in the slightest - I have always been
someone who does things differently with an insatiable appetite for possibility - despite the rollercoaster of a life I have led and the hurdles I have stumbled over.
As the American singer Janice Ian would say "I learnt the truth at seventeen". If ever a song lyric was apt for someone's life, mine would fit the bill. Prior to my seventeenth birthday, I was unaware of the severity of my lack of vision and found out when I began to dream about learning to drive.
When I was young I dreamt of being a racing car driver or a cowgirl, both things that involved being free - and more importantly, the ability to see. Little did I know at the time, I have had a condition called ocular albinism since birth which lead to becoming registered blind in my mid twenties.
Following my seventeenth birthday, I made the conscious decision not to disclose this information.
I went on to work in one of the most competitive jobs in the world as a successful management consultant. None of my employers knew that I faced any kind of difficulty. But by hiding my condition, I'd also temporarily damaged the vision I do have so severely that I was finding it increasingly hard to function.
Living this double life ended in 1999 - at that point I sat down with my employer and made the decision to tell them the truth.
No one made me hide my condition, I chose to do it because I had witnessed how people with disabilities were treated, or worse ignored. No one facing adversity through disability should ever have to hide from their problems. No one who is so valuable to a business - or society - should feel the need to disguise something so important. No one should ever be defied by a medical condition and have their potential limited by a uniformed perception of disability.
This is why I am launching #valuable today - a new global campaign to position disability equally on the business boardroom agenda.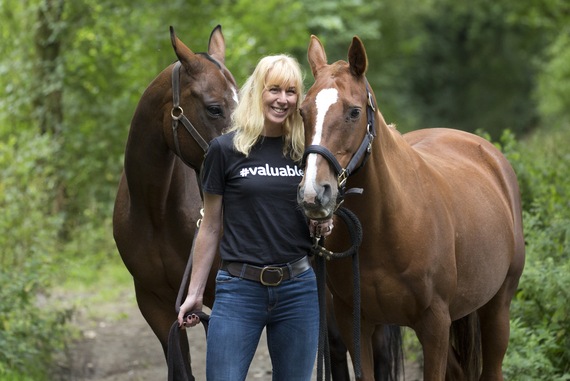 There are around one billion people on the planet living with a disability - that's 15% of our global population. If that doesn't resonate, think about it as 1 in 7 of us! That's a market the size of the US, Brazil, Indonesia and Pakistan, combined. But their value is being consistently ignored by the most powerful force on the planet - business.
According to the World Health Organisation, up to half of businesses in OECD countries may choose to pay fines rather than meet quotas on disability.
Yet, combined with their friends, families and communities, the one billion disabled hold a disposable annual income of $8 trillion a year - an opportunity that business cannot afford to ignore.
Business leaders like Paul Polman are symbols of the enormous social muscle and influence on major social issues like sustainability. It's time we found a global leader to champion disability - it's shamefully overdue.
I want every single person in the world to feel #valuable. Our diversities should be celebrated, not hidden. We don't want to generate philanthropy or pity - we want to focus on the positive value of people with a disability - and the value they have to add to the global economy.
Right now, businesses around the world don't see this value across their full value chain. They don't see the untapped potential or source of talent, creativity and potential.
Addressing this issue is long overdue and I'm calling on businesses around the world to take action - it starts with opening up the conversation that is overlooked and too often avoided in business and spreading the word. We must all talk to our colleagues, our line managers and our managing directors and our leaders to get this issue on the boardroom agenda.
I'll be getting on a horse next week and riding for 1,000 km across South America to ignite a global conversation on this issue. I will be ending my trek at the One Young World conference in Bogotá where I will be making a global call to action on the main stage. Here I will be meeting with 1,300 young leaders who all have the power and potential to make a change to our business world. It certainly won't be easy but I am confident that together we can spark a new revolution so the real value of people living with a disability on this planet can be truly recognised.
Business has the chance to prove again how it can be a real force for good in society. We have made leaps and bounds on a myriad of other social issues- it is now the turn for action around disability. If we truly believe in equality for all, then disability needs to equally be on the agenda. I believe that the solution lies in business and that it's only by working together that we can create a real positive social change worldwide.
HuffPost UK Lifestyle has launched EveryBody, a new section calling for better equality and inclusivity for people living with disability and invisible illness. The aim is to empower those whose voices are not always heard and redefine attitudes to identity, lifestyle and ability in 2017. We'll be covering all manner of lifestyle topics - from health and fitness to dating, sex and relationships.
We'd love to hear your stories. To blog for the section, please email ukblogteam@huffingtonpost.com with the subject line 'EveryBody'. To flag any issues that are close to your heart, please email natasha.hinde@huffingtonpost.com, again with the subject line 'EveryBody'.
Join in the conversation with #HPEveryBody on Twitter and Instagram.