It's better to travel... as they say. So we decided to put this theory to the test on our holiday by taking seven hours on six modes of transport from west London to St Mawes in south west Cornwall. Now where could we have got to in seven hours, New York, Canada, Barbados?
St Mawes, on the Roseland Peninsula, was more or less a pin on the map choice. Actually, knowing nothing about St Mawes, it was a dog friendly choice.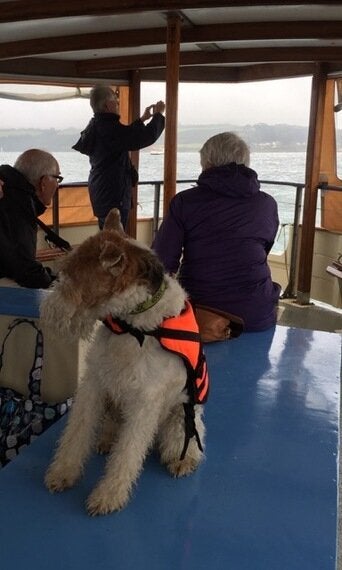 A bus, then a tube took us to Paddington station where we put our feet up for five hours to Truro, travelling first class. Well, we had to make sure that Dylan, our fox terrier could travel in maximum comfort. He is used to a certain style.
Leaving the romance of Paddington Station, we were soon in leafy Berkshire and then crossed the Kennet and Avon Canal where we spotted familiar narrow boats. Travelling on through Wiltshire and Somerset, it was quite a smug feeling to watch motorists queuing on the M5. The train follows the River Exe and onto Dawlish Warren in Devon where we saw boats bobbing along on the water. The sea spray came up to meet us. This section of the line had been washed away in the storms of January 2014 but is now thankfully restored.
A change of train at Truro was interesting as we then travelled in the classless coach with, it sounded like, mainly locals using this one track Maritime Line.
So we finally arrived in Falmouth and walked to the ferry which would take us on our last leg of the journey. It was a bright and breezy evening. And 20 minutes later we had our first sight of the delightful understated resort of St Mawes. Houses lining the sea front painted in different pastel shades. We were a bit hazy as to the location of our accommodation, but by chance met the daughter of the household on the ferry. She phoned ahead and our hosts kindly met us at the quay.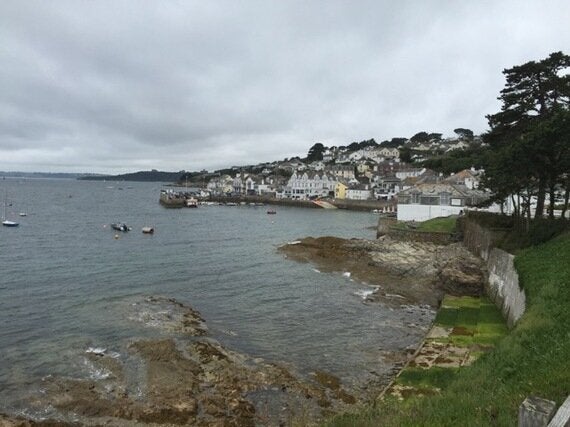 We had arrived on St Mawes' Day, a culmination of Regatta Week with live music and cheap beer at the quayside. So we soon joined in the fun.
Dylan, the usual show stopper attracted enough strangers to fill us in on local politics. Property prices here are very high and second homes are owned by the likes of Rowan Atkinson and Bill Nighy. Wealthy Londoners also base themselves here 'for the summer and return at New Year' according to one local. He wasn't very complimentary about their spending prowess, quoting that 'one grandfather had given his 17 year old grandson a Porsche for his birthday'. This took place outside one of the pubs the previous evening. Always a debate. The second home owners are boosting the local economy in the holiday seasons, but the quiet times are left to locals who can't keep the pubs/hotels going. But where is the affordable housing? Another debate.
After a day out in Falmouth courtesy of that ferry again, I could quite see the attraction of arriving back at St Mawes. It has a quaint, relaxed air about it. Basic shops are available with the bonus of a great deli and take away fish and chips. Small galleries abound. And Dylan loved his swims and his Cornish ice cream. There is nothing commercialised here. This is a sailing community. Lots of yachts moored off on buoys. It seemed like a gentle way of life.
The ferries are essential for exploring the area. The 12 person ferry to Place on the River Fal led us to the start of a coastal walk. Place House, a former monastery and a very grand imposing building greeted us as we arrived.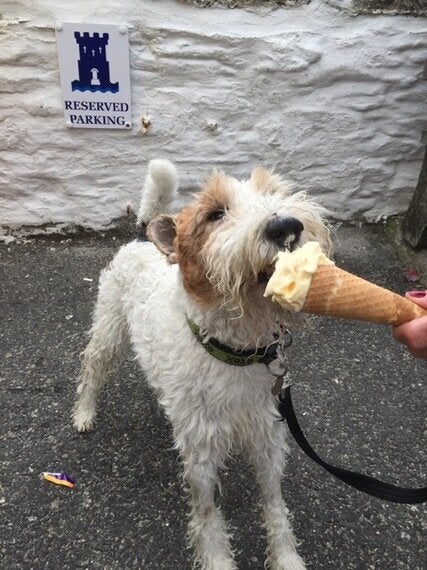 The Roseland peninsula is very special. We enjoyed a six mile circular walk along the coast to St Just in Roseland taking a break for a cream tea before heading back to St Mawes on footpaths set back from the sea.
Being without a car can be challenging here. We tried a bus journey to Portscatho one day. Since they only run every two hours, it's essential to have a timetable and keep an eye on your watch. Well worth it though. A beautiful village with a golden sandy beach. And another breathtaking coastal path walk.
So our week sped by and we found ourselves on the Falmouth Ferry once more, ready to start our long journey back to London. I would definitely recommend this way of travelling. Forget the traffic jams, sit back in comfort and enjoy the beautiful views.