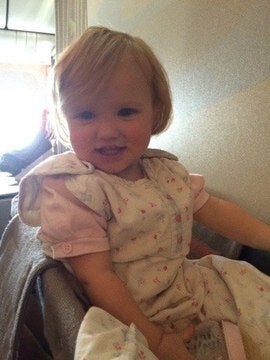 Unless you are in business or first class with your baby, where the seats are considerably larger and more comfortable, you'll be down the back. Here's how to make the best of where you sit and to discover the best seats on the plane..
1. Request a bassinet/skycot seat airline baby bassinet
These can booked by either calling your travel agent or airline and sometimes online. If you book directly with the airline, you often have better access to any online booking options versus booking with a travel agent or third party. Remember it is only a request, and airline staff will do their best to accommodate you, but there is a limited availability of these seats. They are often highly sort after by other passengers because they are on the bulk head -meaning there is no seat in front of them which will recline and further restrict your space. Some airlines, including British Airways, will let you choose your seat online in advance if you are booking travel with an infant, whereas with Qantas you do need to phone ahead.
Be aware that if there are several people flying in your party, you will not all be allocated seats in the bassinet row. This is because airlines like to keep the other bassinets available for other infants. Be prepared for members of your family to be seated in rows behind.
Remember, if it is a codeshare flight, you need to request any seats or dietary requirements with the airline operating the flight. (Although it doesn't harm to mention it to the airline you book with.)
Bassinet sizes and regulations vary greatly from airline to airline; from age limit restrictions between 6 months -2 years, requirements to remove or allow a baby to remain in them during turbulence, to weight and length of your baby. For full details on airline bassinets sizes and specifications, read this Essential Bassinet Guide
2. The best bassinet seats are the middle section seats. ( If just the two of you and baby are flying.)
These are usually DEFG seats. The reason being that D and G seats on a four across seat plan, are aisle seats. Therefore, you and your partner only have to jump across each other if you want to stretch your legs, pace the aisle with a toddler etc. The ABC/ HJK means that either you will have to climb over someone or they will have to climb over you. Either way a bit of a nuisance. This applies to large aircraft like the Boeing 777, Airbus A380, A340, A330, Boeing 747 etc. But varies with each airline and their configuration. I highly recommend looking at www.seatguru.com when booking your flight, as you can review each seat. The benefits or negatives of each seat on your particular aircraft are easy to see - just by putting in the route or flight number into the search function.
3. Just a point to note, as bassinet seats are on bulkheads, the armrests generally do not lift up and you must keep the area on the ground completely clear during taxi, take-off and landing. ( Some do on the E/F seats on A380)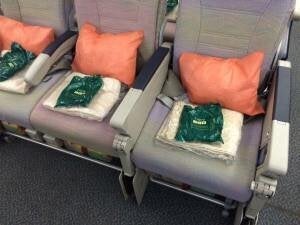 The magazine racks are not as generous as the ones behind the regular seats -but to have yourarms free when baby is sleeping is a bonus. Various airlines have different restrictions on the weight/age of a baby that can use the bassinet. Also remember to lift your TV out before the crew put the bassinet up and baby in to sleep - otherwise you will not be able to unlatch it properly and will be left with no in-flight movie to watch...
4. Always ask the ground staff/crew when checking in/boarding, if the flight is completely full. A half empty flight is a huge bonus, as then you can ask the crew if you could have row of seats and spread out. It's easy to then make a bed for baby on the seats and take turns over watching them- whilst you or your partner has a sleep. If the flight is empty and you haven't booked a seat for your baby, but have your airline approved car seat stored in the cabin then you always use that too.
5. If you flying with an airline that doesn't provide bassinets, and you can't secure a bulkhead seat or prefer not to, try for a window seat section- usually three seats abreast. This is especially good if it's just the two of you travelling with your baby. A top trick used by those in the know, is request the aisle and window seat - as the middle seats are the last to go. You could end up with the whole row. If it doesn't work out, whoever has been allocated the middle seat will always want to swap with one of you - so either way you'll all end up seated together. This of course works for the middle DEFG section seats too. You may end up with a spare seat for free.
6. Several airlines provide a bit more space, for a fee of course. Virgin Atlantic allow you to pay from £65/$100 per sector, up to 72 hours before a flight, (subject to availability) for the seat next to you to be kept free. The service, called Seat Plus, is only valid for economy class passengers. Air New Zealand have the option of a Sky Couch on some of their aircraft - essentially 3 seats with extra width, great for toddlers or if you can't get a bassinet.