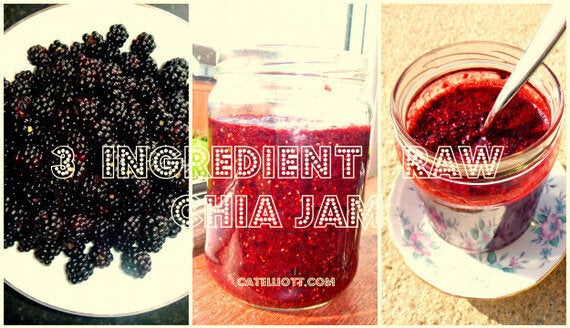 Since cutting refined sugar out of my diet there were some old favourites I had been desperate to replace with healthy versions - Jam was one of these. Whilst typical jam is all deliciously sweet and sticky, the ingredient lists is full of unpronounceable ingredients and adds little nutritional value to your diet. There is more sugar, flavorings, and additives then there is real fruit, which seems odd when it's supposed to be a "fruit" spread.
Enter a combination of berries, chia seeds, and honey. I'm not kidding. That is all you need to create this amazingly delicious and healthy jam. It is raw, clean, tasty, healthy, simple, easy, paleo friendly and vegan-able (if you sub the honey). Further, I put my foraging skills to use which means the berries used in this recipe are wild. I love discovering gems like this, which as you can see below from my grin, it makes me incredibly happy!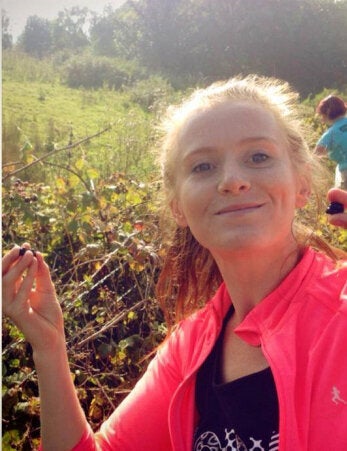 Further, the inclusion of the chia seeds make this jam supercharged with superfoods. It's thought that some of the benefits of chia seeds include the following:
Promotes weight loss
Helps restore a healthy gut
Keeps you regular by adding loads of insoluble fiber to the diet which creates a fibrous gel like consistency which helps cleanse the colon and bowels (yep poo talk in a recipe post!)
Balances blood sugar levels
Loaded with omega 3 fatty acids (more than salmon!) and anti-oxidants
Has a wonderful mix of protein, fats, fibre, & vitamins and minerals including calcium, potassium, magnesium, zinc, phosphorus and manganese.
Can be used in baking as a vegan alternative to eggs
They absorb up to 12x their weight so when added to water (or liquids) make excellent little puddings and desserts (or can help to thicken up a soup as they have no flavour)
So how simple is REAL jam to make? So much easier than the traditional sugar and preservative laden stuff, this can be whipped up in under 2 minutes (or however long it takes you to get your appliances and jars out).
2 cups blackberries (or any berry of your choice)
2 TBsp honey (or for a vegan alternative use maple syrup)
4 TBsp chia seeds (if you dont like chunky seeds grind them up or use milled ones)
Add all ingredients to a food processor (or you could use a stick blender if you don't have a processor - plus you can add all the ingredients to the jar and mix in that to save clean up). Mix for 30 seconds - 1 minute until all combined). The mix will be slightly runny however once added to a glass jar and left for about 30 minutes the chia seeds will have absorbed all the added liquid (if it's still too runny add a tiny bit more chia seeds to your liking).
Serve however you like - I eat mine by the spoonful. But you could add on top of some banana "ice-cream", on top of muesli or nuts, onto raw desserts, onto some sprouted toast, just however you take you jam you'll want it be as good as this!
P.S. This is a sneak peak at some of the amazingly easy real food recipes from the 120 Cleanse to help you lose weight easily with real delicious food, check it out here.