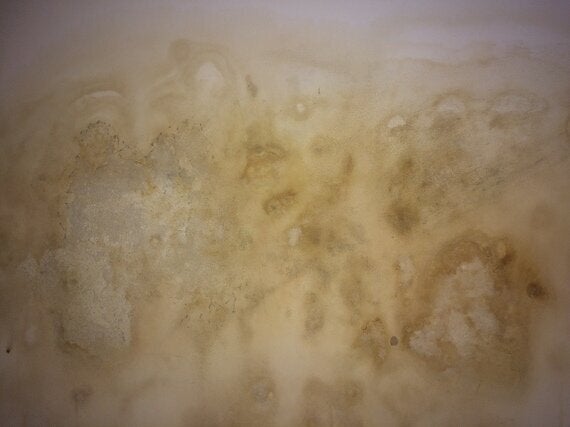 This is "Barry". He lives in my room.
I've named this monstrosity of damp and mould to make light of how depressing it is to be 29 years old and living in a vermin infested house that's evidently structurally unsafe because even the roof wants out (it's falling apart)!
When I first moved to London from Kent, desperate to move out of my mum's I convinced myself that £600 a month for a room in a shared house in London was reasonable. It wasn't affordable - particularly with the additional costs of the deposit plus admin fees plus one month's rent upfront, but that was just standard for living in London right?
Renting through an agency you expect the Ritz of privately renting - decent internet to watch First Dates without the rude interruption of buffering; broken appliances and basic repairs to be fixed within a reasonable time frame. Not the case. One morning the front door lock jammed: being locked inside our house was not a priority to the agency leaving us with no alternative but to climb out of my bedroom window (thank God I had the downstairs room!) in order to get to work; the upstairs toilet was left blocked for almost half a year in a house with seven people. Oh yes! I forgot that bit. When I first moved in it was five of us and by the time I moved out it was seven of us sharing one kitchen and one bathroom.
Paying £600 for a room - I guess you lived in Finchley or something right? I hear you ask.
... Forest Gate - an area where you dare not go out for a run at sundown else you get chased by a random crazy horny guy in his car (actually happened to one of my housemates!).
Paying £600 a month forever was never going to be feasible on my measly Teaching Assistant salary, so lucky for me, my six weeks summer holidays were spent looking at houses in such disrepair they looked like Kenny's house in South Park.
Eventually I found a room in a shared house in Leyton for £450 a month. At the time, the house wasn't in the best condition, however it was affordable, the guys who lived there seemed awesome (I'm like "Jess" from New Girl! Yay!) Plus I was led to believe that the Landlord had honest intentions to fix the house up. So when I first moved in, "Barry" was just a speck of brownness on my wall. However English Summer rain, followed by English Autumn rain, followed by English Winter rain made "Barry" a fat boy!
I've been waiting six months for "Barry" to be euthanised. I've been waiting six months for my landlord to take action - that's six months of breathing problems and six months of stress. I'm probably slowly being poisoned to death by big fat mouldy "Barry" as we speak.
All jokes aside, renting in London is dire.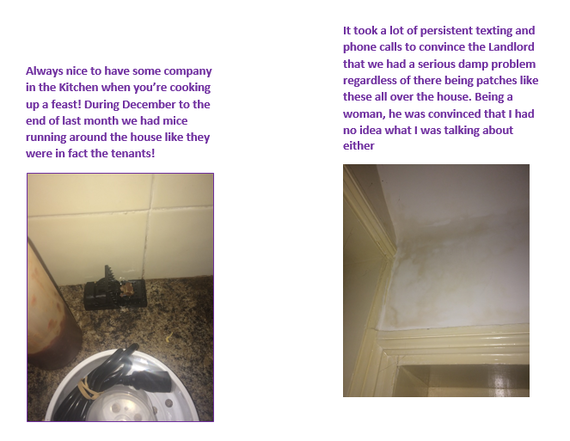 An analysis by Labour's London mayoral candidate Sadiq Khan published earlier this month in The Huffington Post, showed that those renting in London through a letting agency face fees on top of a deposit equivalent to six weeks of rent and at least one month's rent in advance.
The average deposit in London is around £1,940, while the average first month's rent is £1,400. On top of that comes the average letting agent fee, which is £397.
As I said before, standard for living in London.
Many critics have argued this is what you get for choosing to live in London, however, if you were born and bred in London with a family unit and a social circle isn't it fair to expect to be able to stay in your hometown? Hidden and Homeless (BBC Three documentary) Stephen Manderson (Professor Green), meets Jerome who born and raised in London, has a full time job and yet cannot afford to rent a home of his own in London. With two kids visiting at the weekends, he cannot settle for mould and vermin as compulsory roommates either. He has been forced to couch surf until he can finally afford to rent a home of his own - and who knows when that will be. I moved into London because having a chronic illness, I could no longer endure the constant commuting. Why should we be victims to unsustainable living conditions because of where we choose - or perhaps have - to live?
So what are the Government doing to protect tenants in London?
Are they building affordable housing for us to live in?
Are they increasing our salaries in order for the working-class to be able to have not only a better standard of living, but also a better quality of life?
Many critics argue that landlords are being scapegoated and in fact it is tenants who are causing the problems of disrepair and damage. Of course there are bad tenants - my argument here isn't that all landlords are villains and that all tenants are damsels in distress. However, a bad egg doesn't make a bad dozen.
According to Shelter, 1 in 4 Londoners rent from a private landlord which could be because like me, they cannot afford to rent through an agency. They also found that almost 500,000 renters had the misfortune of dealing with a rogue landlord last year, yet only 487 of these landlords were successfully prosecuted.
We as tenants need stronger laws to protect us. Surely that is a basic human right? Rent in Central London over the past year has increased over seven percent and by the looks of previous trends will continue to rise.
Will you join Shelter in their campaign to put an end to unaffordable, unstable and unsafe housing in the private sector?
(If you do need help and advice with housing - particularly with privately renting, Shelter and Citizens Advice Bureau offer great advice and direction to inform you of your rights.)