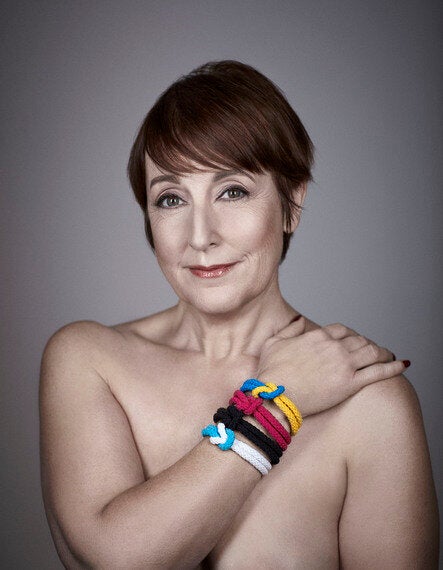 My cancer journey began back just before Christmas 2009 when I found a lump in my right breast. I went to the hospital and had a mammogram followed by a deep core biopsy. I was called into the consultant's office and immediately saw the cancer specialist nurse. He said he was 99% sure it was cancer but I would have to wait up to two weeks for the results of the biopsy to come back. All I heard was blah, blah, blah and wondering why there was a box of tissues on the wall by the door.
That two weeks was the longest wait, I didn't tell anyone and not telling my children who were then 15 and 17 was very tough. The two weeks came and went and when I saw the consultant again my fears were confirmed. It was cancer, grade 3, hormone positive and it was growing fast. I was devastated. However survival mode kicked in and within two weeks I'd had a lumpectomy and whilst under, took part in a sentinel node biopsy trial. After my surgery I had chemotherapy. My hair started to fall out so I shaved it off and wore scarves. The wig I was supplied with was hilarious - it was only brought out at family gatherings and even the dog got to wear it!
After my chemo, which made me progressively sicker and weaker, I then had radiotherapy at St. Thomas's. That was every day, Monday to Friday, which was exhausting. My cancer journey took 9 months and I have to say I had the most amazing support from family, friends, work colleagues and complete strangers that I met along the way and feel truly blessed. My secret weapon during this time was having a positive mental attitude and this eventually led me to supporting CRUK.
As a cancer survivor, I feel very passionate about early detection and screening. During my treatment I was able to access some fantastic resources on CRUKs website. This then spurred me on to "give something back". I've been a health awareness volunteer and helped out at CRUK roadshows. I like knowing that I may have planted a tiny seed and that what I've said or the leaflets I've handed out could make just one person think "yes, do you know what, I will get that lump or bump looked at", that's the amazing part.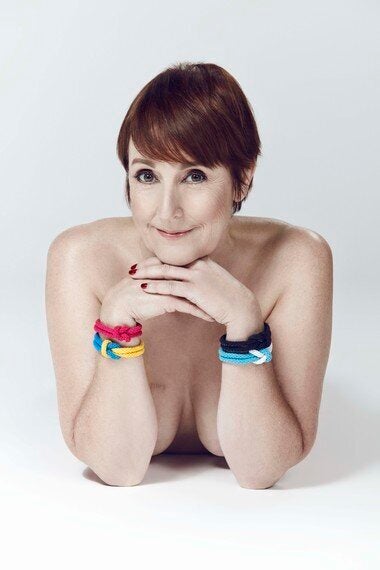 When I was asked to support World Cancer Day and take part in the nude shoot I was apprehensive at first, however I knew that I wanted to do everything that I could to support the campaign. From the moment I arrived at the studio the atmosphere was one of positivity, excitement, anticipation and support. I was whisked off to hair and makeup where two amazing ladies, both with their own family cancer stories, began the process of getting me camera ready. They asked me why I was taking part in the shoot and I told them it was about me as an ordinary mum of two, having survived cancer saying, "Here I am. I'm proud of how my body and mind have coped, that I feel passionately we need to be unified in our approach to this terrible disease and that by uniting against cancer we are stronger!"
The shoot made me feel empowered and strong and I was so happy with the end result. I wore my Unity Band on the 4 February to be a part of the generation that transforms the lives of millions who are affected by cancer.
Wear a Unity Band and be a part of the generation that transforms the lives of millions who are affected by cancer. Specially designed Unity Bands are available now from Cancer Research UK, The Movember Foundation, Anthony Nolan and Breast Cancer Care for a suggested donation of £2. Find out more at www.worldcancerday.co.uk