Charlie Dore, singer, songwriter, actress and multi-instrumentalist, brings her tour (in support of Milk Roulette, her most recent album) to The Pheasantry, King's Road, on Wednesday 17th June. It's a chance to watch a master songwriter in an up-close-and-intimate Central London venue. Over the course of a forty-year career, there is little she hasn't done, except acquire the level of fame commensurate with her talent. But the pursuit of fame has never been her motivation. "I don't have very sharp elbows," she confides.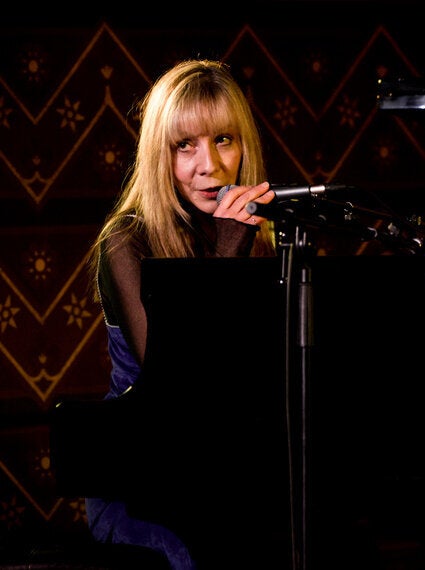 Photography: Nikoletta Moneyok
And since she darts adeptly between genres, pulling in elements of folk, pop, country, classical, Americana, bluegrass, jazz, bossa nova and more, she's been impossible to pigeonhole since her first album appeared on Island Records in 1979. "Every time I try to describe my songs, it sounds like a casserole of indecision cooked up by a procrastinator with ADHD," she says. Although this has made the marketing of her work a complex undertaking, she wouldn't have it any other way. "It's what I relish. I use folk instruments, but I'm not strictly folk - or country for that matter, even though I enjoy words in a way that might be considered more in the country vein. I suppose I'd love to inhabit my own category".
The arc of her career should reassure anyone worried that they haven't got it all figured out by twenty-five; it's only over a series of post-millennial releases, starting with 2004's Sleep All Day, that Charlie has started making albums that accurately capture her musical identity. What's more, the critics have concurred, and her last five sets have come out to increasingly rapturous reviews. Her achievements as a recording artist alone guarantee her a significant place in rock history, but then there are her other careers, including writer-for-hire (with clients including Celine Dion, Tina Turner, Sheena Easton, Jimmy Nail and George Harrison), film, theatre and TV actress and impro-comedian.
Charlie's first break came in the early seventies when, with Julian Littman and Karl Johnson, she was lifted from repertory theatre and beamed into the living rooms of the nation as the musical element of Thames Television's children's programme, Rainbow. "We recorded three shows a week and they needed a song for each show, so we had our work cut out for us. But it was fun most of the time, great training for future songwriting and we were earning well for the first time in our lives".
After building a following on the pub circuit, rubbing shoulders with The Police and DP Costello (soon to become Elvis), Charlie signed with Island Records and began work on her first album, self-written with some co-writes from Julian Littman, her writing partner and integral band member to this day. It had a complicated gestation. "They signed me as a British Emmylou Harris and we were recording a very rootsy, real-sounding album". When initial results were too country for Island's ears, remixes and re-records ensued to sweeten the sound and give it a pop sheen. The end product, entitled Where To Now, was more 'British Karla Bonoff', an enticing prospect but not what Charlie had first envisaged.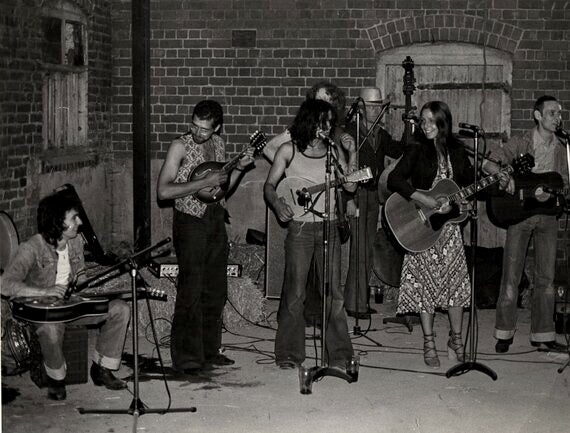 Charlie with her band, Hula Valley, circa 1976 (L-R Stewart Johnson, Bruce Simpson,
Julian Littman, Garrick Dewar, Charlie, Karl Johnson) Photo: C. Hickman
What no one anticipated was that 'Pilot of the Airwaves', the bouncy, harmony-laden single, would soar to No.11 on the Billboard Hot 100 with no promotion. And although in hindsight it's possible to see why a song about DJs would enhance its own chances of airplay, the song was not written with that possibility guilefully in mind. But if Charlie thought she'd be able to capitalise on the accidental hit, Island had other ideas. "There were some weird politics going on between Chris Blackwell [head of Island] and Warner Brothers and they decided they weren't going to pay for me to go out to the US".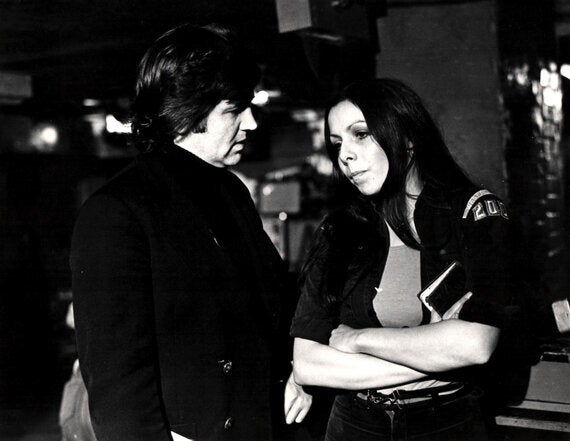 Charlie interviewed by Melvyn Bragg, 1978
After a second album (Listen, 1981) proved even less a true representation of her music, Charlie walked away from the singer/songwriter world and straight on to the silver screen, cast alongside Jonathan Pryce, Tim Curry and Frank Finlay in The Ploughman's Lunch (1983), a political drama directed by Richard Eyre. "It re-awoke my interest in acting. It was my first 'proper' movie, so I was secretly terrified, but we had a hoot".
A year later, her name began popping up on other people's records, and she made her second appearance on the US chart when Sheena Easton reached No.4 with 'Strut' (a co-write with Julian). Soon, this third career was well underway, although notably at odds with her own sound, perhaps most obviously in the case of 'Ain't No Doubt', the New Jack Swing-style song that reached the top of the UK charts for Jimmy Nail in 1992. "If I'm writing for an artist, I want it to sound right, coming out of their mouth," Charlie explains. "It shouldn't sound like some world-weary songwriter in an office somewhere, honing slick little phrases and bon mots". Still, she was able to slip in some of her quirks: "'Rain, Tax (It's Inevitable)' got cut by Celine Dion. That surprised even my publisher, who told me it would be hard to get a song covered with the word 'tax' in it. Not sexy, she said".
When a return to recording (Things Change, 1996) didn't turn out how she wanted, Charlie kept going with acting and comedy. In 1990, she co-founded The Hurricane Club, a comedy-impro venue on Oxford Street. "It was such a buzz to make a roomful of people laugh. We were nervous about filling the place with just impro, so we always booked a couple of stand-ups - Jo Brand, Harry Hill, Mark Lamarr, Alan Davies, Stuart Lee et al. Robin Williams joined us onstage one night - one of the most exciting times I've ever had as a performer".
Ten years ago, when the time came to record again, Charlie had a new attitude. "I just felt that there was no point in me writing and performing anything with a view to it meeting approval by some mythical taste-maker somewhere. It had to feel authentic and personal. I've spent too many years trying to fit a mould and I finally decided just to do whatever felt right. Hang the idea of being commercial!". Consequently, she's now making records that expose her own, unadulterated vision. The Guardian, The Telegraph and Mojo have championed her with renewed enthusiasm, penning liberal amounts of stellar reviews.
Milk Roulette (following Sleep All Day, Cuckoo Hill, The Hula Valley Songbook, and Cheapskate Lullabies), is arguably the best so far, an intricate mix of pop crossed with Victorian parlour songs, drawing room ballads and a sprinkle of folk and country. The work of Kate and Anna McGarrigle springs to mind, although Charlie's supple singing voice is a steadier instrument and therefore an easier taste for the uninitiated to acquire. One also senses a sardonically-raised eyebrow reminiscent of Kirsty Maccoll.
The story-songs include tales from the viewpoint of a couple undergoing IVF and the parents of a newborn child before a dramatic change of pace occurs and songs about alcoholism and the defiant resisting of one's own mortality play out. Not only does it work wonderfully on record, it's material that makes for compelling live performances. "I want to keep making better albums," says Charlie of her future plans. "I'd like to write a book, a film and a play...and learn to relax. I may do all of them, but possibly not the last one".
Related