Whenever there's a roll-call in the UK press of the great, founding singer/songwriters of the late 1960s and early 70s, there's an overlooked name. It belongs to Grammy-winning Melissa Manchester, whose work, starting in 1973, was issued over here with little fanfare or promotion. In America, she requires no introduction. Here, some may know only of her affiliation with Bette Midler (Melissa was one of the original Harlettes and can be heard on the classic Divine Miss M album). The observant will have seen her name in songwriting credits (the list of people who've interpreted her work is near-endless - Dusty Springfield, Leona Lewis, Diana Ross, Stevie Nicks and innumerable others). Her career has included collaborations with super-producers Leon Ware, Arif Mardin, Quincy Jones and Richard Perry, and industry legends Carole Bayer Sager and the late Peter Allen. In 1980, she was the featured vocalist on two Oscar-nominated songs and performed twice in that year's telecast.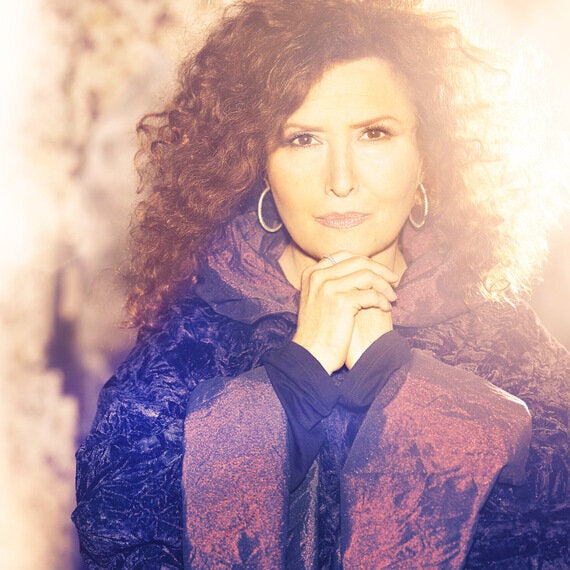 Photography: Randee St. Nicholas
Back at the start of her solo career, her wild mane of hair, Bohemian-older-sister outfits and exuberance at the piano would have made her a perfect candidate for the BBC's Old Grey Whistle Test, the show which introduced the UK public to people like Carole King, Carly Simon, Janis Ian and Judee Sill. When you take into account her music - a rousing mix of pop, soul, gospel and musical theatre influences sometimes dubbed 'Broadway Soul' - it's regrettable that more wasn't undertaken to endear her to the record-buying public over here. Her dramatic, velvety singing voice and formidable songwriting talent were and are a potent combination. Here's a concert clip from the mid-70s, in which she performs the energetic title track of her second album.
I had the pleasure of speaking to her while working on the liner notes of a new UK compilation of four of her earliest albums - Home To Myself, Bright Eyes, Melissa and Help Is On The Way. "You know," she says, as we catch up by telephone, "the thing I vaguely remember is that we were supposed to do a European tour - this is, I don't know, the late seventies, early eighties - and something happened, maybe with unions, and it was sort of dropped and never picked up again. It was mind-boggling. I could not figure out what the problem was or how we could remedy it. I've always dreamed of a wider audience, I mean that's what you do. But it was not to come and it was terribly frustrating and, by that time, the level of frustration with the record company [Arista] was just compounding everything".
Back in the early 1970s, when Melissa was a gigging singer/songwriter trying to make a name for herself in New York, a series of events ushered her along. She took a songwriting class taught by Paul Simon, joined Bette Midler's ensemble and met the woman who was to supply words for some of her most enduring songs - Carole Bayer Sager. Before long, she caught the attention of Bell Records and was signed as their first albums-artist. It was her third set (Melissa, 1975), with its two hit singles (one of them, 'Midnight Blue', a US Top 10), that provided the breakthrough. By this time, she was on Arista, with Clive Davis at the helm. Bob Dylan came to one of her concerts and was smitten.
A good many of her albums (and I envy anyone getting to hear them for the first time) are required listening for those who think No Secrets (Carly Simon), Between The Lines (Janis Ian), Court And Spark (Joni Mitchell) and New York Tendaberry (Laura Nyro) are the last word in singer/songwriting. From 'Home To Myself' to 'Just Too Many People', 'So's My Old Man' and 'Better Days', song after song seemed to pour from her like water from a tap. And it's a tap that hasn't stopped flowing to this day.
"I can look with objectivity at that younger version of me, that younger women who wrote those songs," she reflects. "There was always a sense of longing, an innate kind of wisdom, a sense of song structure that clearly carried through from the songs of the 1920s, 30s, 40s and beyond, and then incorporated a more modern sense. There's great joy in there and some of the songs were written on the road, so I have a sense of the engines of those buses moving us forward and what life on the road looked like. The song 'Lights of Dawn' [from 1979's Melissa Manchester] is a perfect example of a song written on the road".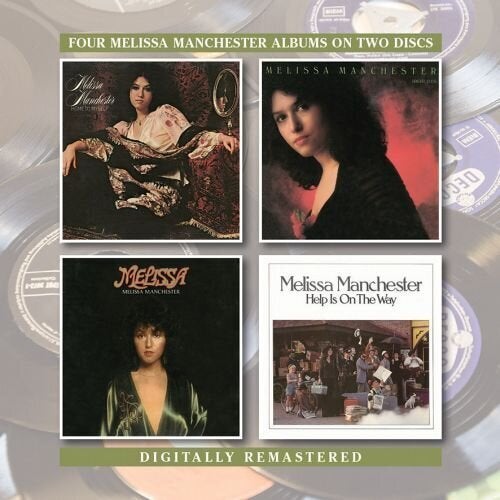 Four of Melissa's earliest albums, remastered by BGO
A changing of the guard as the 1980s got under way had an unsettling effect on her recording career. "That's when electronics showed up and suddenly it became much more of a producer's milieu than a singer's," she recalls. "The sounds were really harsh to my ear. I was an analogue/acoustic girl and suddenly there were electronic drums and keyboards pads that sounded like bees swarming. It was really hard to get comfortable with it and it would take me years to get comfortable with some of the the things we recorded because I just couldn't get used to the sound".
In recent years, she has steered herself out of such detours, issuing new albums (the latest, You Gotta Love The Life, featuring guests Dionne Warwick and Stevie Wonder, finds her in excellent form), and getting back to a contemporary version of what she originally set out to do - writing and performing songs that issue from the heart and therefore reach the hearts of others.
The four early albums are being reissued by BGO (Beat Goes On), a label I have admired ever since they brought Dory Previn's work back to public attention in the late 1990s. It was a pleasure to be involved with one of their projects and their commitment to good sound quality makes their reissues lovely to listen to. Meanwhile, Melissa has put out a new, non-album single (and accompanying video) 'Let There Be More Light' - a delightful Hanukkah response to Jose Feliciano's 'Feliz Navidad', with a timely message about the power of everyday kindness. Her ongoing projects include the preparation of her next album and she has a non-stop touring schedule which includes four performances at Feinstein's/54 Below (in her hometown of New York) in March.