University of Exeter students have gone to the polls to vote as to whether the Students' Guild should vote to leave the National Union of Students or remain in it. We are only onto day 3, but at the time of writing, the Leave side has opened up a 250-vote lead, and it is projected to get to the highest ever turnout in a Student Vote.
This is nothing short of incredible. Bar a minor miracle, Exeter will be the first students' union to leave NUS since that ghastly Conference in Brighton three weeks ago, where students voted to refuse to comply with the counter-extremism PREVENT strategy, which has been said to target Muslim students unfairly, meaning that now they will not be represented when universities implement it on their campuses. it saw Conference vote to start "censoring" Yik Yak during student elections to weed out the "anonymous trolls", despite a candidate at Conference complaining that her students had been using it to "criticise her work". It saw delegates genuinely stand up in opposition to commemorating the Holocaust, you know the greatest genocide the world has ever seen for some benign reason; it voted to oppose government legislation before the government has even published it; it overwhelmingly rejected One Member One Vote, the only voting system that would adequately give students any meaningful voice in NUS, and last but not least, it voted in Malia Bouattia in as President, somebody who has said that peace talks between Israel and Palestine is about "the strengthening of the colonial project" and believes in violent Palestinian resistance.. This of course goes without mentioning how she has described the the "University of Birmingham is something of a Zionist outpost", comments condemned by the Union of Jewish Students (UJS). This goes without mentioning the jazz hands.
I don't oppose NUS for the sake of it, it actually leaves me genuinely frustrated. Historically, it has done good- really championing disabled students and LGBT rights. However, because of its lurch further and further to the Extreme Left, insisting on things like boycotts and hostility to anyone in a position of influence, they no longer do these marginalised groups a service- and actively do them a disservice, because anyone in any position of influence sees this organisation as a joke and does not take it seriously. Look what has happened recently- Disabled Students Allowance has now been cut, as have maintenance grants, and let us not forget the further education institutions that are facing savage cuts. I just wonder- if we had an NUS that was willing to engage with the political class and effectively lobby them, instead of giving up their voice on the table and taking pointless actions such as doing classroom sit-ins or violent strike action, then the results we could get could be radically different.
I led a campaign for Exeter to leave the NUS 18 months ago but it was a humiliating defeat; with the "Stay" side arguing for "reforming within". However despite these vacuous promises, they were overwhelmingly accepted by Exeter's electorate. Therefore, I thought that I should now be open-minded, so I put myself forward for NUS Delegate. I went to Conference, going in genuinely with an open-mind. But of course, the rest is history.
The penny has finally dropped in Exeter- people now understand that reform cannot be achieved, and despite my willingness and eagerness to engage with NUS politics, I left bitterly disappointed. Friends has accused it of being a Far-Left Echo Chamber, and I thought that was a little harsh. But going into the eye of the beast, these beliefs are completely accurate, and a rejection of One Member One Vote is because of a want to preserve it. If passed, there would have been pluralism, and issues like whether we should pay fees for our university education would be contested, instead of assumed; and instead of blindly supporting Jeremy Corbyn, there would be Corbyn supporters, Lib Dems, Blairites, Tories, Greens, libertarians and anarchists in a Union under One Member One Vote.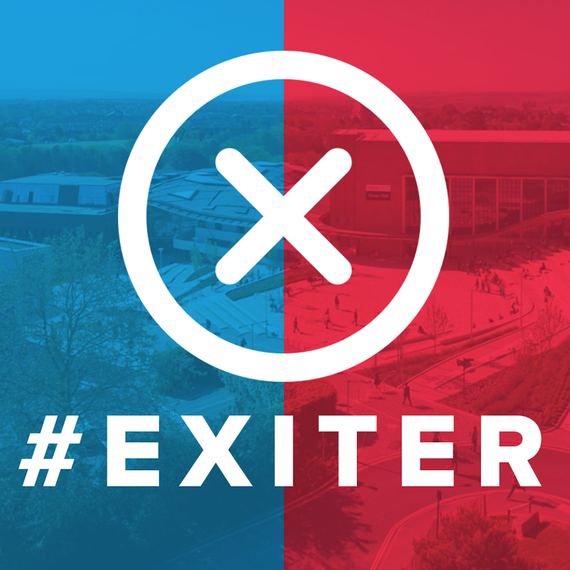 The "reform within" argument has now fallen on deaf ears and the vision of an independent Students' Guild has really been embraced. "Exiter", as we in the Leave camp are called, have suggested two alternatives to NUS status quo. We have argued that if students get behind a mass disaffiliation movement, (and I am optimistic of this from what is going on across the country), then NUS might finally begin to accept, that they need serious reform and significant changes. It will leave them with a massive funding hole and it sounds cruel, but when such basic demands by students are being rejected by their so-called representative body, then a big statement has to be sent out. Alternatively, students not affiliated to NUS may be tempted by the prospect of building an alternative union- a union that has pluralism, free speech and inclusivity as the cornerstones of it, which connects students directly to a national voice, rather than a convoluted approach by having a tenuous link between students to its SUs, and then to NUS. Leave campaigners in Exeter have never been anti-national voice, or anti-unions, just anti-NUS.
I am genuinely optimistic that a democratic student political revolution is taking off. Exeter may have just set us off on that journey.