My anxiety and depressive episodes in recent years have impacted upon my life considerably.
But finally, there is light at the end of the tunnel.
I write to offer a message of hope, a message that hopefully will resonate with many mental health sufferers. It gets better.
At the height of my problem at the beginning of this year, I really did feel trapped; trapped inside a mind which couldn't grasp the simple feeling of sanity, fretting about health concerns needlessly, on pins and needles for hours on end, just worrying. This worrying in turn led to some quite nasty depressive episodes, deflated due to the long war of attrition I was in with my mind and fearful of emerging from the trenches and entering the psychological battlefield once more.
But months later, although not out of the woods, I feel hopeful. And, I feel content. Hopeful, because I am on an upward, positive trajectory and content, because I seem to have found a way of coping when in feelings of distress and nervousness.
What brought about this ceasefire?
Firstly, CBT. Cognitive behavioural therapy started off reassuring progress. The methods and practices themselves I did not personally find too helpful, probably due to a lack of trying. But it was nice just to talk to a stranger. The first time walking through the doors of the Exeter University's Wellbeing Centre are quite hard and I had felt dread and embarrassment, my eyes scanning the courtyard to make sure no close allies saw me enter. It was a hard process, but one in which I saw progress, from the beginning where I was very dismissive to any alternative thought patterns that the therapist presented to try.
But when you are stuck in a bottomless pit and there is no way to break free you tell yourself there is no other way.
Secondly, medication. Yes, I was a druggy. But I couldn't care less. There is a stigma around antidepressants, and also when suggesting it to friends who are suffering from similar issues, they immediately feel a sense of shock. 'Me, drugs? Surely not! I am not that weak!' And it is precisely the stigma around them, not the drugs themselves that are the problem. When I took the step to start seeking a prescription treatment, it was not a decision that was taken lightly. But when you are stuck in a bottomless pit and there is no way to break free you tell yourself there is no other way. I have never shed any tears to a stranger/loose acquaintance before that time I took myself to the GP. I put on a big bravado, pretending to be same old Charlie. But Dr Arshi knew. The tears that I had kept inside myself for a long time came pouring out. I received the most attentive care known to mankind and people use scare stories about the NHS, claiming that it is in decline. You wouldn't think it if you received the attention I did that day. So they' brought me control and they are excellent.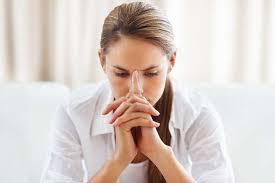 Thirdly, the most simple of all: talking. Talking is an immensely powerful tool, especially when you have empathetic friends and family who listen attentively and are supportive. It is the easiest of times when you can enjoy a beer and a laugh in a pub somewhere as these memories are so important. But it is in the hardest of times, whereby you draw closer to your relatives and friends, whether that be in the sphere of health, money, career or something completely off the beaten track.
Of course, everyone's journey to finding peace of mind and getting control is different and a lot of this requires trial and error. Mindfulness meditation, exercise, playing with pets all have done wonders for me too.
Yet there is one word which is common to all and is the most important of all. And that is hope. Without hope it is hard to look beyond the grim circumstances that currently confront you. But hope isn't some artificial process in which you have to imagine or think as hard as a Jedi knight to find. Hope comes naturally, however big or small. For me, it was tiny. I was lying down and I started wondering, dreaming about being inside No.10 Downing Street, leading the country. A far-fetched dream of course, an unattainable ambition, but it was positive. I had thought about something in the future which I could look forward to, be excited about instead of a lifetime of misery and despair.
From this point, I caught onto it. I started drawing up targets and began to push myself. 'Get involved in Student Media', tick. 'Run for a Sabbatical Officer position', tick. 'Write a blog', tick. 'Speaking publicly about mental health', tick. 'Study harder', tick. The first few tasks are difficult, but once completing these activities, you pick up a bit more confidence and get a spring in your step, and it is empowering. I have rediscovered my love for study and have pursued my politics and my personal convictions even further. (Much to the annoyance of most I am sure).
I feel in control, I feel optimistic and I feel happy. My factory which specialises in producing shite banter has never been more productive, pulling through a difficult recession. And while the recovery remains fragile, the boom years lie ahead. Although I still have some of the mental health symptoms daily, I no longer consider myself a sufferer.
And what's the magical ingredient you need to get you on your way?
Hope.