In what started as a close and tense game, the Los Angeles Rams (5-2) squashed the Arizona Cardinals (3-4) at Twickenham on Sunday night, 33-0.
The third game of this year's NFL's London games, this was also the third one-sided contest after Jacksonville's dismantling of Baltimore and Miami simply forgetting to show up against New Orleans earlier this month.
Digging deeper than the score, though, below are four observations of what we learned about two teams on diametrically opposing trajectories.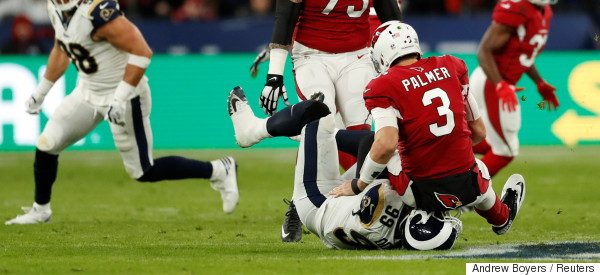 The Cardinals are done
Of course it's too early to empirically rule out Arizona in the predictably unpredictable NFC West, but as it stands the Cardinals are the clear third-best team in their division. And after losing starting quarterback Carson Palmer to a broken arm (which head coach Bruce Arians told reporters would sideline Palmer for eight weeks), they could even end up being the worst.
Losing Palmer is painful enough but remember: Arizona are already missing their centrepiece player in running back David Johnson, have a sub-par offensive line and, outside of the immortal Larry Fitzgerald, lack dynamic players in the passing game.
Combine all that with an undermanned and underperforming defense (outside of All-Pro corner Patrick Peterson, who is having a typically ridiculous year), and it's very hard to see Arizona overcoming the odds and making the playoffs. A match-up against San Francisco next week is a chance to right the ship but their five-week schedule after that against Seattle, Houston, Jacksonville, Los Angeles again and Tennessee, could see Arizona slip from mediocre to just downright tragic.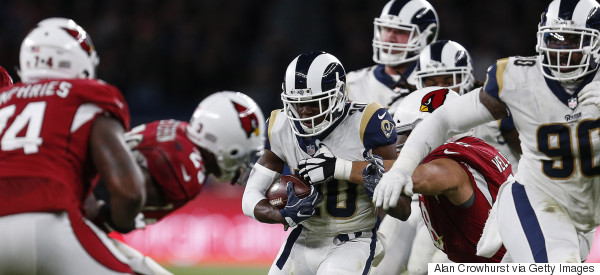 The Rams are done being done
In fact, this game served as a larger metaphor of both these teams' fortunes: Arizona an ageing team that has missed its Super Bowl window and sits, legs dangling, looking down over the precipice of a major breakdown and rebuild, while Los Angeles carve out a persona of a fresh, young, fast team on the rise.
A constant laughing stock under previous coach Jeff Fisher, for the first time it feels like the Rams have an actual future. Their quarterback Jared Goff might never be the best of the 2016 quarterbacks but he has taken significant steps forward under head coach Sean McVay who, at only 31, has so much room to grow himself.
Their defense, led by one of the best in the business in Wade Phillips, is stacked with talent players. Linebacker Alec Ogletree has a habit of being everywhere at once, defensive tackle Aaron Donald is a world-eating talent who deserves every dollar he'll get paid this summer, and fellow pass rusher Robert Quinn caused havoc in London after a relatively slow start to the year.
In short, this Rams team's young core is beginning to coagulate, and looks like they'll be sticking around for a while. So long, 7-9 records, hello division titles and deep playoff runs?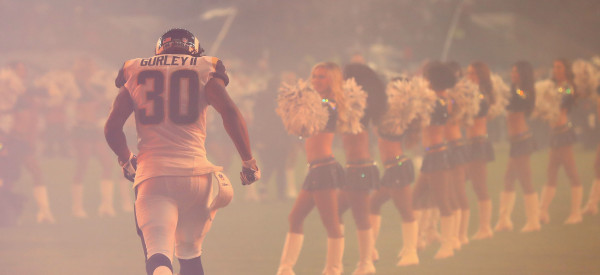 Todd Gurley is actually really, really good
There was this weird time last season where Rams star Todd's Gurley's talent and vision were questioned by NFL circles. However, Gurley's start this year has proved that it was playing behind a ramshackle (sorry) line in a bland, doomed Fisher-led scheme that held him back. The former top ten pick himself characterised the past season as somewhat "like a nightmare".
From a nightmare, then, to a dream season? Gurley, still just 23, racked up 106 yards on the ground plus another 48 through the air, and became the first 100-yard rusher the Cardinals had conceded in more than a season, according to RealSport.com.
The permanent threat of Gurley breaking loose is really what makes the reworked Rams offense tick. It relieves pressure on quarterback Jared Goff, creates more one-on-one opportunities for targets like Sammy Watkins and Robert Woods on the outside, as well as opening up space for the elusive but one-dimensional Tavon Austin.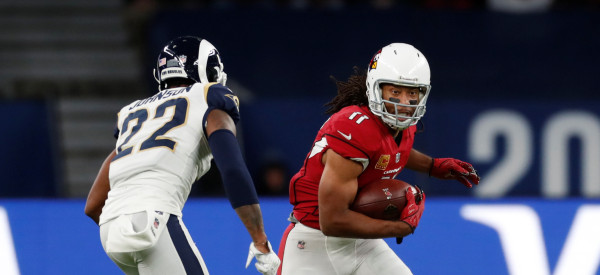 Larry Fitzgerald needs to be set free
Yes, he's been an unbelievably loyal soldier over his career and a no-doubt Hall of Fame-caliber player, but it's time for Arizona to consider trading Larry Fitzgerald so he can end his career on some kind of high.
It's expected that this will be Fitzgerald's last, and besides maybe the Browns' Joe Thomas and Chargers legends Philip Rivers and Antonio Gates, no player has done more to deserve a Super Bowl.
Look around the league and tell me that almost any contender's receiving corps wouldn't find room for a player of Fitzgerald's talent. Kansas City, Philadelphia, Tennessee, Minnesota, New Orleans could all do with another pair of hands and unimpeachable veteran attitude to the game for a late-round draft pick?
In case you're not convinced it's time to end Larry's long, long suffering, here's the list of QBs who have thrown a pass his way in his career: Shaun King, John Navarre, Kurt Warner, Tim Hasselbeck, Tim Rattay, Matt Leinart, Brian St. Pierre, Derek Anderson, Kevin Kolb, Max Hall, John Skelton, Richard Bartel, Brian Hoyer, Ryan Lindley, Palmer and... Drew Stanton, who will be the starter for the rest of the season, according to Arians.
Come on.