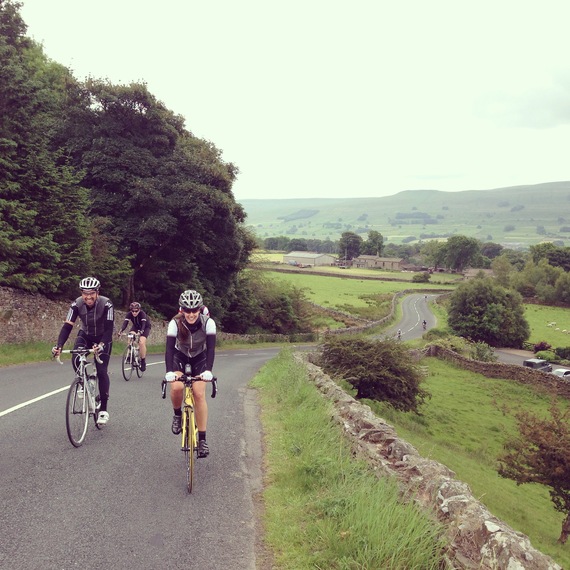 I'd never really done that much cycling until I decided to get involved in triathlon last year. I'd never had a bike, worn a cycling jersey or knew that much about changing a gear apart from that you flick the leaver. Yet on Friday night I found myself in a rider briefing with a group of 80 cyclists about to ride the Tour de France route the week before the pros do. Welcome to The 'Tour de Force!'
I'm not easily intimidated but at that very moment I felt so out of my depth. I listened carefully about what to do at the feed stops, preparing your salt tablet and isotonic filled bags and even how to wash your kit. I was the only one who hadn't done a big cycling event before.
I went to bed nervous and woke up nervous. At breakfast I watched finely kitted out cyclists wolf as much breakfast down as possible as I tentatively nibbled on my crunchy nut cornflakes with a stomach full of butterflies.
My butterflies and I jumped on my bike on a cold early Leeds morning and before I knew it I was pedaling along with my fellow Tour de Forcers! Well, they were pedaling; I was crunching through my gears on my bright yellow banana Dassi bike trying to figure them out having not ridden the bike before. Yes I know, doing this challenge on a bike I had not ridden is not clever, my one relief was remarkably I wasn't the only one of the group to have made that mistake. His mistake, of course making me feel better about mine!
So Stage 1 is supposed to be a fairly fast sprint day for the pros, although the distance we rode was 207km - we had to ride to our hotel - so clocked up a few more miles than on paper. I'm not sure I'd call it a sprint stage. One of the information signs at food stops 2 said '2 sharp climbs (Kidstones and Buttertubs) not too long (by alpine standards) but good value even so...' Buttertubs was 4.4k going up to a 20% gradient and they call that a sprint! I'd just like to take you back to the notion of food stops. I soon realized these were the most essential part of the whole challenge. I would still be sat on the top of the Yorkshire Dales probably sobbing if it wasn't for the chocolate spread sandwiches, the fruitcake, which I started stuffing in every compartment of my jersey, and the water that I so desperately craved.
On Stage 1, I sort of messed all this up. I was too busy talking to eat properly and too busy focused on riding to drink properly on the bike. This resulted in 3 riders thinking I'd had a stroke - not my words, there's - and almost passing out on the bike sweeping over the Dales. Once I actually recognized I couldn't even say my name, I stood on the side of the road with the support van downing a can of vanilla coke, 2 bottles of isotonic and 2 handfuls of flapjacks, all in 5 minutes, least to say I was a little depleted. All of a sudden I could remember my name and off I went. I swooped past a stonemason coming into Harrogate on the side of the road building a welcoming monument. I later found out he'd used his holiday time from work to build his idea, he'd funded all the materials himself and worked endlessly day and night to complete his contribution to the Tour de France, so proud it was passing through his home. Leeds to Harrogate done, the first stage completed and a very strong sense of what one of the greatest sporting events in the world is all about.
I was proud and happy to have completed Stage 1 until I heard about Stage 2. It was an early 5am start, it was raining and we were in York. The aim to get to Sheffield 204k later via 9 serious climbs having had 4 hours sleep. The profile notes included a pain vs. glory rating and the words 'ouch' and 'yikes' scattered too many times. The first 20k was flat but all of us were spinning so tentatively, wondering whether we would be able to get up the climbs of which it was said you might have to de-saddle and walk, to me that would mean failure. I took on the first few climbs and actually realized I was doing ok. The longest climb in Britain appeared, just over 8k at an average of 7.5%, labeled the cheeky one. For me that was the turning point. I was beaming when I got to the top, my confidence growing with every turn and the stunning scenery of my home county, Yorkshire, filling my senses.
I took every part of that achievement to get me up the next hill and the next, they were endless but like with any push to physically overcome your limits, it is the strength of the mind that ultimately rules.
Holme Moss 142km was the start of the really nasty hills. The nearer to Sheffield we got the worse they got. It made it worse that I am from Sheffield and I already know how steep they are. My Grandad marched me up and down them from an early age. It almost got to the point where you had to laugh especially when we reached Sheffield, the finish city of stage 2 to then circle it in the hills for a further 2 hours. The dreaded Jenkin Road, the one that everybody talks about was getting closer and closer. It was also getting dark and we'd been on the bike since 8am that morning. 198km in the legs and 207k from the day before and there it was, Jenkin Road. We did have the option of missing it out and going straight to the hotel. For my group, which had developed the most incredible strength and camaraderie throughout the day, this was not an option. We had got this far there was no way we were going to miss out the final and steepest climb. We wanted to get as close as we could to experiencing what it was like for the pros.
Here goes, Jenkin Road 803m, which is said to reach up to 33% gradient at one point. I looked up and my first thought was no way I am going to be able to get up that, this was while I was already starting to climb and I could see handrails for pedestrians. I saw the riders around me getting out of the saddle. I did the same as my front wheel started to ever so slightly lift off the ground, it was that steep. I was doing a hill wheely as my legs felt like lead and the burn travelled to every part of my body. I let out a grunt of despair but was so determined to make it, I could start to see the top and the gradient ever so slightly started to lower. I had made it. If I only I could capture that feeling in a bottle and pass it on. It would be the most addictive precious potion of achievement and life.
We made it to the hotel in Sheffield via one last surprise hill that nearly mentally broke us all. I was exhausted but hardly felt it, I was so elated. The smile on my face was of the type that you literally can't help but smile back.
The first 2 stages of the Tour de France down, 1 more to go. It was an honour the next morning to be presented with the Chapeau achievement for Stage 2. I couldn't think of a better way to start Stage 3 - Cambridge to London. This was 160k through Essex, Epping Forest, the Olympic Stadium to finish at Buckingham Palace to say hello to the Queen (we didn't actually say hello to the Queen, she must have been busy). Compared to Stage 2 in le Yorkshire 'Ey Up' Dales, this was a breeze. The Sun was shining, the villages were typical quintessentially English especially the beautiful Finchingfield and the hills were like little speed bumps after what we had done the previous day.
I was absolutely flying hitting 46mph at one point, I even found myself, much to their and my surprise, mixing it with the big boys. Having gone from 'how am I going to do this!' to I 'don't want it to end', we started to enter London. The first time we'd really encountered traffic and vocal motorists. One genuinely shouted 'Is this the Tour de France?' Of course we shouted 'yes' as we raced past him.
The Mall was approaching, we whizzed around so excited and even laughing when the heavy rain started to pour.
I finished with most incredible feeling and sense of achievement, a very swollen right leg, an open blister on my bum, and sausage and mash. I wonder if the pros will finish the UK part of Le Tour the same?!