If you haven't seen Anne Hathaway's shorn and chilly cranium yet, it's probably time to put down the Xbox controller/children/Proust, and try to recherché your temps perdu- cruise over to the Daily Mail website and bitch or coo as you feel appropriate. No, she hasn't lost her mind and 'pulled a Britney'; no it's not the first step in a long battle for gender reassignment; and no she's not signed up to have her feminine wiles spat on by Lars von Trier. Hathaway is rocking the Grade-away-from-a-Kojak look for the upcoming movie musical, Les Miserables. Once associated with aging luvvies, Susan Boyle and overexcited theatre school kids at house parties, Les Miserables now wields a power so great, Anne Hathaway will shear off her tresses for it. So I think it's safe to assume that, in light of recent events (and a string of disgustingly successful, if not always tasteful musical remakes), that Hollywood and Broadway are officially an item. They spawned Zeta-Jones in fishnets, they spawned Tom Cruise in a diamond-encrusted codpiece, they even granted Madonna a moment of classy dignity.
However, the tide seems to be turning: having given it's all to Hollywood, Broadway has had enough of playing second fiddle to Hollywood's flashy career, and is demanding some material of it's own: Dirty Dancing made it's inevitable way to the boards, followed by Legally Blonde, Shrek and Ghost- all to great success, lest we forget. So what other movie gems need some sequins and feathers? It's high time we had a top ten- it's a step in the right direction at least.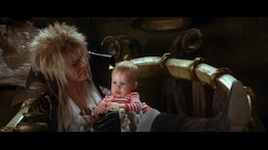 Labyrinth
It's already camper than a row of pink tents, sing-a-long-tastic, and bursting at the seams with life lessons... If you could barter Bowie into the bargain as musical director, and the geniuses over at Jim Henson's gaff for design, you'd be cooking with gas. No throwing babies on stage, mind- unless you can pull a Bruno and find a desperate enough pushy stage mum...
Show stopper: Magic Dance
Model on: Avenue Q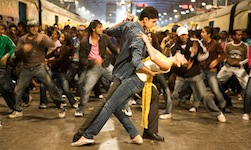 Slumdog Millionaire
Slumdog's instantly recognisable soundtrack, colourful palette, and huge ensemble numbers give off more than a whiff of old school 'grand spectacle' theatre. Add to the mix the undeniable theatricality of Bollywood, and this is a musical just waiting to be made. Not to mention that Danny Boyle has definitely just earned his theatrical stripes and then some with his eye-popping opening ceremony (Cameron Mackintosh, you're being a bit slow on the uptake mate. Call me).
Show stopper: Jai Ho!
Model On: Anyone remember Bombay Dreams? Well that- but supersize. And good.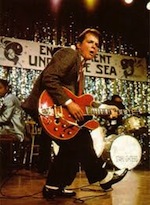 Back to the Future
If you don't love Back to the Future, you're probably the kind of idiot who thinks Adam Sandler is your favourite actor and Avatar has a riveting plot (He isn't, it doesn't). Just close your eyes and imagine a little red gilet running around a West End stage while humming Johnny b Goode and tell me you don't get mildly aroused. It will sell out before it opens, and I will be first through the door.
Show stopper: The Power of Love. Or Johnny B Goode. Or an insane musical mash up of the two (getting overexcited).
Model On: Jersey Boys. But totally more rad.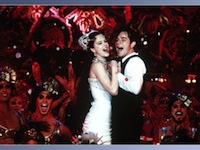 Moulin Rouge
It's almost ridiculous that this hasn't been done yet. If Moulin Rouge acquired any more sequins or feathers it would look like the love child of Elton John and a peacock, and would most certainly be dangerous to look at with the naked eye: perfect Broadway material.
Show Stopper: Tango de Roxanne
Model on: A hybrid between Phantom of the Opera and Matthew Bourne's Play Without Words.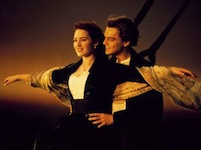 Titanic
Because everyone loves a weepie. Plus, Celine Dion ditties are so wasted in the cinema- those gems of grade-A cheese were meant to be sung in a spotlight with eyes closed and right hand extended into the oh-so-poignant distance. Oh, and James Cameron's not obscenely rich enough yet.
Show stopper: My Heart Will Go On
Model on: Carousel- forbidden love, big dresses, weepy songs.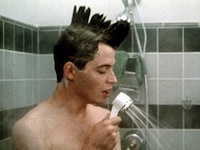 Ferris Bueller's Day Off
Ferris Bueller's escapades are chock-full of staged giggles, fun, young love and Americana- all the things you'll find makes Grease utterly irresistible to anyone under 40. Ferris standing a-top a float, surrounded by scantily clad ladies, belting out Twist and Shout is screaming for stage adaptation. Bueller?! Buuuuueller?! Get on stage!!
Show Stopper: Twist and Shout
Model on: Raging teenage hormones and Grease.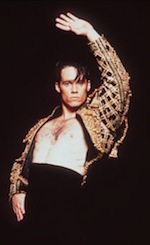 Strictly Ballroom
Another Luhrman, I'm afraid- I think Baz may secretly hanker after a career treading the boards if his directorial style is anything to go by. Not only does Strictly Ballroom boast a story line that revolves around dance- thus solving musical theatre's never-ending problem of how to winch in spontaneous, flashy, choreographed movement- it also boasts a cast full of comedy characters, a duckling-to-swan transformation (everyone loves one of those) and men with fake tans and their torsos out- soooo West End.
Show Stopper: A Latin extravaganza to a meaty Marc Anthony number.
Model on: Dirty Dancing.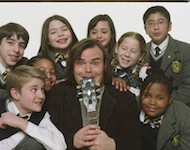 School of Rock
It has ACDC, it has Stevie Nicks, it has The Who, it has Led Zeppellin, it has... oh, no... it probably wouldn't have Jack Black, unless Hollywood runs out of scripts heavily reliant on a slightly mental tubby dude... but still! The ingredients are there for a seriously rock n roll jukebox musical. With a hefty child cast, most of Italia Conti would have to clear their diaries, but it's a MUCH better gig than, say, Annie- all squealing screechy songs and being a beaten, downtrodden orphan. Give me some drumsticks and The Clash any day.
Show Stopper: Geeky head teacher belting out Stevie Nicks' Edge of 17.
Model on: We Will Rock You meets Matilda.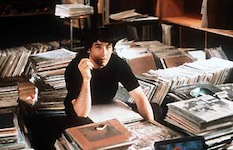 High Fidelity
Nick Hornby's novels are always saturated with good tunes, forcing the reader to constantly recreate said ditties in their head. Hollywood must have noticed how damn annoying this is and picked up Hornby's bitterly honest novel High Fidelity and committed its sweet story and excellent music to celluloid. The stage is merely a natural progression. Focusing heavily on music favoured by emotional indie boys and old-school pop lovers, High Fidelity would also own the market in Indie musicals... although that particular sub-category may not exist for very good reasons.
Show Stopper: A Town Called Malice- definitely the film's best feel-good track.
Model on: Blood Brothers goes pop.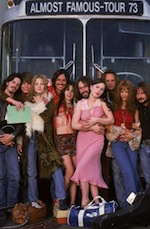 Almost Famous
Another rock and roll call- David Bowie, Lynyrd Skynyrd, The Who, Rod Stewart and The Beach Boys all feature in Cameron Crowe's coming-of-age tale. Groupies, teen love, music, dance and sex would all make for the sort of provocative, sexy musical theatre that we haven't seen since Hair stumbled off the West End. Plus, with over 50 songs featured in the film, you'd have no shortage of choice.
Show Stopper: Would have to be a 'Stillwater' original.
Model on: Hair.