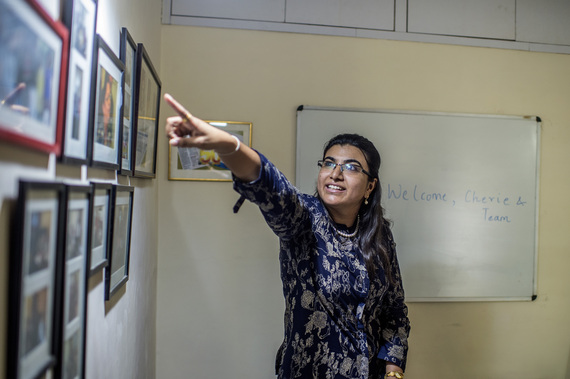 Last month, I travelled to India to meet some of the incredible women entrepreneurs supported by my charity. Among them was Delhi-based Priyanka (pictured), who told me why she had made the bold decision to leave a stable job and strike out on her own. As a journalist, Priyanka realised not only that she was earning less than her male counterparts, but also that she lacked the financial knowledge and support to optimise her money. After speaking with friends, Priyanka realised she was not alone. In 2011, she launched WOW Money Gym, a social enterprise offering financial management classes and resources to women.
Priyanka is one of the women supported by my foundation, which I established in 2008 to empower women in developing and emerging economies to establish and grow successful businesses. After joining our online Mentoring Programme, Priyanka was matched with a mentor from the UK. Together, the pair created an ambitious strategy for growth which has already seen Priyanka train four volunteers, double her membership community and expand her network of followers to over 7,000 women.
Priyanka's energy and resilience was inspiring. And, according to a new report by the World Bank, it's exactly this kind of entrepreneurial spirit which has the potential to transform India's economic outlook.
India has one of the lowest rates of female labour force participation in the world - ranked 120 out of 131 countries by the International Labor Organization. More alarming still, this rate is in decline. Furthermore, the dearth of women in the labour market is a heavy drag on India's GDP, with India's economic growth rate now the lowest it's been in two years.
According to the World Bank, bringing large numbers of women into the workforce with "safe, flexible and well-paying jobs" could boost growth and generate huge gains across society, as women plough their earnings back into the health and wellbeing of their families and communities.
What's even more exciting is that there is a clear opportunity to accelerate this solution. Enabling more women like Priyanka to set up and grow successful enterprises could 'fast-track' growth, since - according to the report - female entrepreneurs in India tend to hire more women. Interestingly, this is true not only of very small businesses, or where the owner is also the sole employee, but also of medium-sized firms.
Many of the women my foundation works with create a powerful chain of empowerment, not only by creating jobs but also by sharing knowledge with, and inspiring confidence in those around them. Eighty per cent of mentees from our Mentoring Programme, for example, pass on what they learn with others, with 50% going on to mentor others.
Priyanka's classes are already setting off a ripple effect. One of her participants has been able to pay off a high debt and use her newly accessible capital to launch her own bakery after using WOW Money Gym's services.
There are, of course, challenges to boosting female entrepreneurship, not least the deeply entrenched social attitudes which can make it difficult for women to translate their ambition into achievement.
From the middle-class, educated women I met in Delhi to the rural women I visited in the drought-affected Maharashtra region, there was one recurring theme in their stories: the scepticism they encountered from family members, who felt that entrepreneurialism was too 'risky' a pursuit for women.
Some of the women had gone to great lengths to keep their enterprises a secret from their families, until they were able to prove that they were successful. Priyanka, for example, didn't tell her father that she had given up her job as a journalist to start a business, until she felt certain that the risk would pay off.
Dhanashree, from the rural Satara district, also faced initial resistance from her family. She also had to contend with the loss of her left hand in an accident several years ago. But she didn't let either obstacle stop her from making a success of her grocery and dairy business. After participating in our business training project with the Mann Deshi Foundation, she has expanded her operations, is now able to pay her children's school fees and is determined to send her daughter to university.
The resilience, inventiveness and determination of these trailblazing women is inspiring - further proof that where ready-made jobs are scarce, enabling women to unlock their own entrepreneurial potential can generate boundless rewards.
According to the McKinsey Institute, closing the gender gap in economic activity could add $28 trillion to global GDP by 2025 - with almost $3 trillion added to India's GDP alone. In fact, achieving gender equality in India would have a larger economic impact there than in any other region in the world.
This is an ambitious aim, but one we cannot ignore. We can start tackling it by empowering more women like Priyanka and Dhanashree to realise their entrepreneurial potential - in India and across the world.