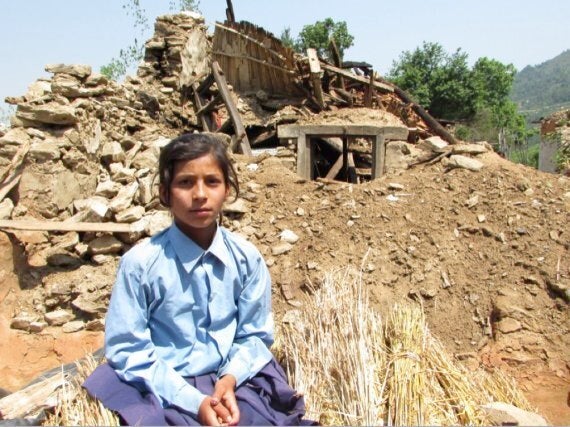 One year ago, 12-year-old Ashmiti sat in front of the rubble that was her home and told me how her family lost everything. That they had no food and only the clothes they stood up in. Her toys, along with everything else, were lost in the debris. She told us:
'When the earthquake came we were inside our house having a meal, we ran outside carrying our plates with us. Just after we got outside our house fell down. I started to cry but my mother told me not to cry, that the land was cracking and we had to run to open ground where it was safer.
'When we got to open ground and everyone from our village arrived we put up a tarpaulin and sheltered under it. All the houses in the village had collapsed.
'That night it rained heavily and I cried a lot.
'The next day my school fell down too so I am worried. Where will I go for my education? Who will rebuild my school? Where will I go to learn and meet my friends?'
A year has passed since the second of the two earthquakes wreaked havoc throughout Nepal. The 25th April earthquake, with a massive magnitude of 7.8, was quickly succeeded by a second on 12th May, with a similarly devastating size of 7.3. The earthquakes claimed 9,000 lives and injured 23,000 more.
Visible signs of the earthquake still linger, especially in the three Durbar Squares. These UNESCO World Heritage Sites that once boasted residency to the Newari royals are now submerged in bamboo scaffolding and piles of debris. The greatest damage, however, cannot be seen. Rather, it's discovered through conversations with individuals and communities who have lost their loved ones, homes and livelihoods.
The earthquake destroyed thousands of schools, rendering millions of already-vulnerable children out of education. When children do not attend school, they are immediately more exposed to the dangers of child trafficking, sexual exploitation, child marriage, child labour and limited futures.
In the Okhaldunga district, an area severely affected by the earthquake, UK NGO Street Child has helped to rebuild the education facilities. Okhaldunga is extremely difficult to reach: it's a bumpy seven-hour ride from Kathmandu valley and some villages are a day's walk from the nearest road. Street Child has worked with local partners to construct 40 temporary learning centres and 30 gender-sensitive water, sanitation and hygiene facilities, and have also trained 20 teachers on preparedness and response to future disasters.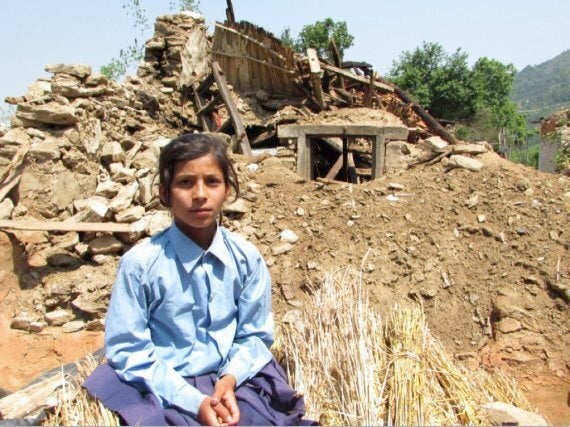 Nepal is now transitioning from a phase of emergency response to one of recovery, and Street Child is supporting the construction of additional robust, earthquake-resilient schools to ensure the provision of safe and secure places for children like Ashmiti to resume their education.
The road to recovery is going to be long, and it's not going to be easy.
More than 5,000 survivors were left with life-altering physical disabilities by the earthquake, including a number of casualties that required amputation. The hardships caused by these injuries are irreconcilable and enduring, permanently changing the way people lead their lives and how they are treated and perceived by others. It is already seriously impacting whether people can earn a living, especially in such a labour-intense economy.
We have found that many families go to great lengths to hide the existence of their child's disability, leaving them at home and neglected. To help families impacted by this, Street-Child are working with a local NGO to provide children with prosthetic limbs and access to rehabilitation and counselling so that they can lead active and full lives.
The earthquake has been responsible for the decimation of livelihood opportunities for thousands of people, forcing families to live nomadically and to seek out temporary or seasonal work. Others have lost the ability to work following injuries including loss of limbs.
Many children have had to leave school as they follow parents who are searching for work in areas where there are no schools. Some children now have the additional burden to contribute to the family income to cover the costs of the earthquake damages, and sometimes to even replace a deceased or injured family member's responsibility to work full time.
Brick making attracts temporary workers, as it requires few specific skills. The seasonal aspect of this work means that children are unable to attend any given school for the full academic year. In many cases, this means that they drop out of school permanently.
Parents are worried. They tell us that they don't want their children to miss out on school, but the choices are stark and scraping together enough to survive has become their priority.
Street Child are working with education specialists to explore how we could provide a bespoke education to the children of the workers, creating a unique and condensed curriculum that facilitates the education of children on the move.
We recently spoke with the children at a brick factory; they recollected with fear the horrors they encountered during and after the earthquakes, including their first confrontations with death, the days that followed without access to food, and their toys and homes that were lost amid the debris.
For these children, the chance to go to school brings hope of a future with some certainty, a space to learn and play safely, and a distraction and chance to permanently escape from a life of insecurity.
These children are unlikely to forget what happened one year ago. Their faces are the faces of children who have had to grow up too fast. If we act now, there is hope that children like Ashmiti and her friends could have positive futures that aren't defined by the events of last spring.
Street Child is a UK NGO working to provide educational opportunities to some of the poorest children in the world: www.street-child.co.uk
Popular in the Community