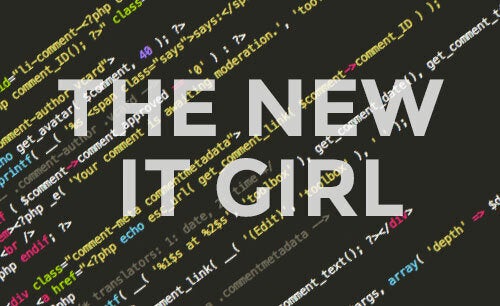 The fashion industry is craving digital talent to better reach consumers, with computer programmers, application builders and coders in demand in the increasingly portable world. Seemingly unrelated, fashion and technology are interlinked in many ways. A substantial part of the industry relies on monetised web space that comes in the form of written content, e-commerce and video, rather than print and television. Therefore programming skills would really boost the effectiveness of all these mediums of reaching audiences, as individuals, like blogging enthusiasts, can personalise their websites through obtaining webpage customisation skills and companies need them to build 'smarter' applications. This is one example of a huge misconception about the prospects of studying science. It is important to inform young women of the opportunities of self-education in IT, organisations aimed at women that provide courses and events, to ultimately bring women, the under-represented group, into the technology sector.
A computer is a brilliant invention that allows one to make more mistakes than tequila, another great invention; however, it is generally a good thing for anybody to be IT-competent to prevent the damage more often, especially women, who are highly under-represented in the field of technology - and therefore do not have the same scope of IT errors as men. On a serious note, encouraging women to enter this field is not for the purpose of justifying their ability to men, but because it is necessary to take responsibility for the undeniable lack of female expertise in a society where the use of IT is increasing - and some of us still struggle to define 'software'. How can it be that only 12% of women today represent all computer science graduates, compares to 37% in 1984!?
Co-founder of Ladies Who Code, Angie Maguire, suggests that women are reluctant to even consider a career in IT because they feel outnumbered. Looking at this year's Forbes power list, one in six women listed is in a technological field, including Google's Susan Wojcicki, HP's Meg Whitman and Facebook's Sheryl Sandberg. Compare that to the rest of the world, where only 14% of women are software professionals. Maguire says, 'As a professional developer, the first time you go to one of these tech conferences or expos can be really intimidating, because you walk in and there are all these male groups standing around,' she says. 'In reality, of course, there are lots of women who code, but that's not always obvious at these big events.' This idea is echoed in a study by University of Sussex, which suggests that it is the male-dominated culture rather than IT that deters women from pursuing a job that is strictly defined as 'ICT work,' as among people with a computer science degree by the end of 2012, 22% of females enter such a role as opposed to 39% of men.
Undoubtedly, the unpopularity of IT is mistakenly born during school. Regarded as 'boring' and 'pointless,' IT in the classroom has lost face in the last 15 years. This is not surprising, as last August, the Daily Mail reported that the average age of a child in possession of a mobile phone is 7, which is 6 years earlier than a decade ago. Not only does this mean parents are pushed for creativity, as a mobile phone is no longer sufficient to celebrate their children's iconic teenage status, but the school curriculum is reacting to the digital demand too. Now, instead of teaching kids for to use IT, the curriculum is increasingly focused on empowering future generations with the know-how of the science and creation behind the technology.
Chairman of the British Standards Institute's IST/34 committee for education, learning and training, Crispin Weston, told Computing that 'The current draft of the National Curriculum for computing is [...] vague when it comes to digital skills,' continuing, that 'Knowing about Boolean logic is great - but it is also important to be able to manage tracked changes in a document, manipulate formulas in a spreadsheet, contribute to online discussions about a work assignment, and know the difference between vector and bitmap graphics.'
There are free online beginners courses available, such as Codecademy, Girl Develop It, Code Racer that show that coding is less dreaded as it may sound. Additionally, as a sponsor of the Ada Initiative, GitHub donated unlimited free private source code repositories to learn and encourage women to write open source software. It is crucial that women gain the confidence to share their code it publicly, to break the mould and open opportunities for other women in a male-dominated sector. Women Who Code, for example, has currently 4,253 female computer technologists and just under 6000 members, since its opening in 2011. Proving weekly educational sessions for free, holding monthly lectures, hack nights and career trainings, it is a growing platform for women to get ahead in getting a career in tech.
To demonstrate the success of some of these projects, Nikki Allen, 16, and Diana from the Bronx share their personal experiences, having completed an eight-week computer-science program with Girls Who Code. This organisation aims to realise gender parity in the IT field by 2020, with a new model for computer science education and determination get 1 million young women exposed to the topic. Getting the opportunity to meet the team operating at the Gilt Groupe offices, including the Mobile Development and Brand Acquisition sectors, the girls were inspired to share newly found expertise too, 'They have covered topics ranging from UX design to Databases. We, in turn, came up with an idea to create an app called Gilterella which incorporates the Gilt API and a weather API in order to put together a magical outfit for users with certain preferences.' Diana said, 'My experience at Gilt has really changed my perspective on my own abilities. I definitely see myself participating in Hackathons, pursuing a Computer Science degree, and even working in the tech sector at a company' she says, 'Before working on our project at Gilt, the idea of me joining a Hackathon was scary. I've really expanded my skills in javascript and html!'
So why have all this fuss to get women to code? Women are limiting their options of a higher wage and more flexibility - compared to the average US teacher, earning around $50,000, a computer-science degree offers a pot of gold with double of that amount.
The 'IT Guy' is the lifesaver, the genius and the momentary love of your life when you realise you have deleted your entire presentation or forgot your password. The IT girl, love of your life she may be, comes from another context entirely. Let there not be born a cliché about incompetent women technologists, following those about women drivers, female rationale and crazy women. Let there be a real IT Girl uprisal!