Kamala Thalea lost her son, two daughters and her mother when a devastating earthquake hit Nepal one year ago.
She said, "My family and old life are gone now, I only have my eldest daughter left with me."
I met Kamala last week in Rasuwa, three hours north of Kathmandu, as I travelled to meet communities impacted by the earthquake who are receiving support from CAFOD and our partners. As people in Nepal and across the world prepare to pray and remember those who died in the earthquake one year ago, how have their lives changed and what are their hopes for the future?
Kamala's remaining daughter, Asmita aged 13, told me that she survived the earthquake last year because she was in a wooden section of the family home, while her brother, sisters and grandmother were in an older section of the house built of stone. Although her hip was injured by falling rubble, she saved her two-year-old cousin who lay in the rubble in the debris next door. Her mother Kamala was visiting her mother in law three hours away and arrived home the next day to a collapsed home and her lost children.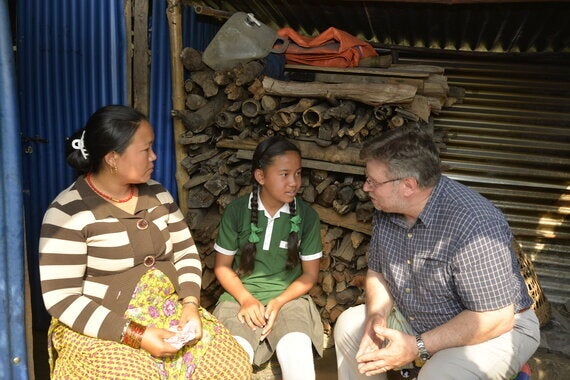 Kamala and Asmita left their home village, travelling to a camp for those made homeless by the earthquake, but there were not enough supplies or space for them. They lived outdoors under tarpaulin until CAFOD's partners in Nepal arrived with supplies to build them a sturdy shelter in a nearby resettlement area.
When I asked them if they wished to return to their village, Asmita and Kamal said, "No, we will stay here. There are too many memories there."
Kamala has a temporary home now in a settlement area for Nepali people who cannot return home. Her village has been deemed unsafe for inhabitants by the Nepalese government due to the severe structural damage from the earthquake and the threat of landslides. She has been given seeds and shown how to plant vegetables that will grow in the lower altitude where they now live, and her tomatoes and spinach will supplement their meals.
Asmita attends the local school and told me in English that she would like to be a doctor when she finishes her studies.
CAFOD working through our partners in Nepal have provided shelter, clean water, and jobs training for people made homeless in this region. While they are still a very long way from returning to a normal life, they have survived, they are healthy, and Asmita's return to school, like many other children, fills her mother with hope for their future.
CAFOD supporters across England and Wales raised £3.8 million to help the people whose lives have been changed forever by the Nepal earthquakes begin to rebuild their lives. Within the next year, we will help to build 550 permanent homes in Rasuwa for people like Kamala and Asmita, including 50 for people with disabilities. We are working to help Dalits, traditionally the lower caste in Nepal, to secure land rights so that they may build homes as the recognised landowners, ensuring a future legacy for their children.
Our humanitarian commitment means that we must do everything in our power to ensure people's lives are saved. But aid agencies won't remain in Nepal forever, and therefore we must empower communities to rebuild their lives sustainably and be in charge of their own destinies.
The process can be slow and frustrating. A combination of the monsoon rains, a border blockade leading to a fuel crisis, and the new Nepalese government's lumbered reaction to the crisis means that rebuilding permanent, earthquake-resistant homes is months behind schedule. But breakthroughs in the government guidelines this month means that CAFOD through our partner agencies will be helping communities to rebuild safe homes in the coming months, ensuring a more stable and bright future for thousands of families.
With so many lives lost and such a momentous task in front of us, sometimes we can forget the tragic stories of so many individual families who have lost loved ones, their lifelong possessions, and the ability to live in their home villages where their families have lived for generations. But listening to Kamala and Asmita this week, I'm reminded that a multitude of tragedies must not make us overwhelmed, but ever more determined to help create new opportunities for those who've lost so much.
Asmita said: "I miss my brother and sisters every day but here my mother and I will live and be strong."
(Photograph of Chris Bain with Kamala and her daughter, Asmita. Credit: CAFOD)
Popular in the Community