Geneva was recently voted the third most expensive city in the world, so it's easy to see why most Brits simply fly into the airport and head to the Alps. However by doing this, they're missing out on a treat, albeit a costly one.
An great and easy city for a quick 24 hour getaway. Our group of two couples left London on Saturday morning and found ourselves checking into the city centre hotel just over 2 hours later, with a little help from flying hand baggage only and the complimentary train from the airport to the city. No £36 Heathrow Express prices here, which is lucky as we paid £200 for a fondue for four and a bottle of wine. Which in Geneva was considered good value!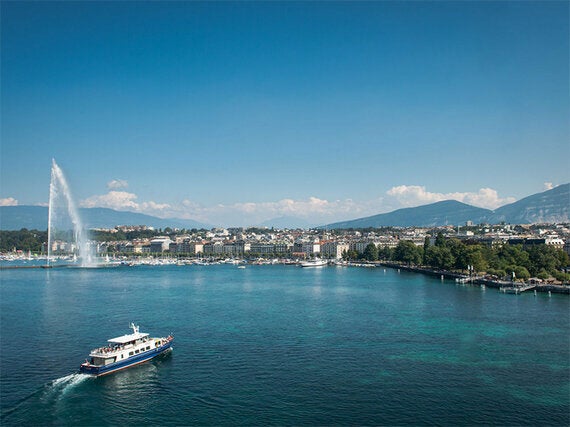 Photographer Olivier Miche for Geneva Tourism
Set around the lake with which it shares its name, Geneva is home to the UN, the Jet d'Eau fountain, a small and pretty old town with beautiful views across the lake to the mountains. We grabbed a quick and surprisingly cheap pasta and salad lunch in the sunshine at Bains des Pâquis. This open air lido in the lake complete with diving boards and in the water climbing walls is a lovely spot to relax, grab a bite to eat, have a dip if you want and stare at the scenery. But do try and avoid looking at the elderly men in their speedos.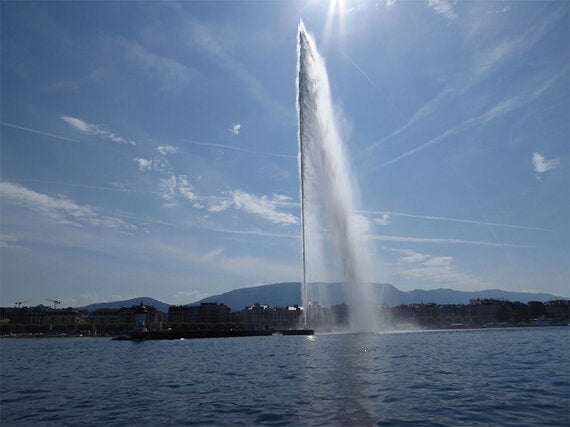 There is no better way to see a city when you have a time limit than on a Segway. Ever since my first tour of Paris on one I've been a convert. The first thing I do when I book to go somewhere is google, 'name of place + segway tour'. To put it simply, due to the speed and access a segway can grant you in two hours you can easily see what would take five hours by foot. And you look bloody cool on them.
Geneva came up trumps with CityWheels who offer old-town, UN and customised tours. The city treats Segways as bikes so you'll find yourself zooming along the pavement, in and out of people in pedestrianised zones and on bike paths in the middle of main roads. Led by a guide after a pretty intensive Segway School (in a private plaza in the middle of town) there can be times on the main road where it feels a little hairy but it all adds to the excitement. After a short time riding them Segways seem to work like magic as you simply think and gently lean in the direction you want to go and off you whizz. There's nothing like the look of glee on your face as you effortlessly glide up a cobbled hill, to take in the gorgeous cathedral, past out of breathe tourists who look longingly at you and your machine.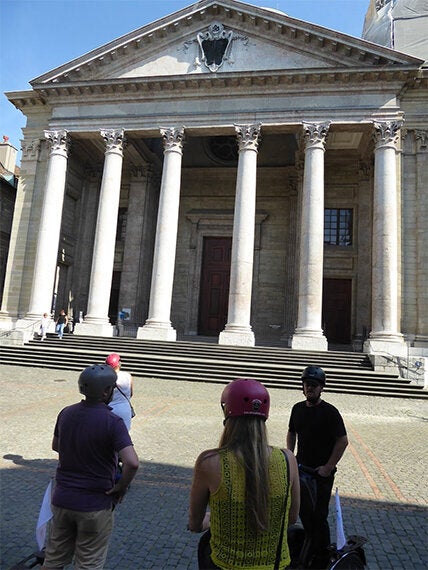 We were guided around the old town by Reto who was born in the Italian speaking part of Switzerland before falling in love with the city and moving to Geneva in 1997. With perfect English it was clear through his knowledge that he loved this city, filling the the trip with history, trivia and stopping off at some of the most famous sights to fill our brains with knowledge and our memory cards with photos.
After a few hours zooming around the city on our Segways we were back to walking on our feet like idiots, although we all suffered slightly achy calves, or as I called it, Segleg for a while. In glorious sunshine we took advantage of the free transport card tourists are given when they check into hotels and cruised across the lake on taxi boats before heading to Cafe Soleil for a famous Swiss fondue.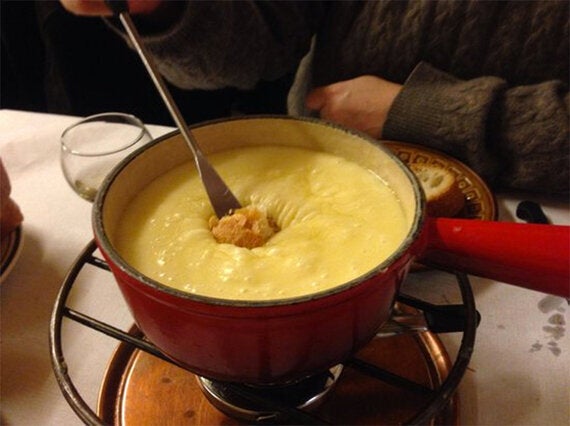 Photographer: Cafe Soleil
A 30 minute walk from the lakeside, not far from the UN building we found Cafe Soleil's courtyard was buzzing with locals going about their eating business. The fondue for four was consumed to groans of delight, which swiftly became groans of 'oh my God I've eaten too much cheese' and we attempted to walk it off walking back to the super clear watered lake whilst making as many cheese puns possible. Eventually we couldn't camembert it anymore and said, 'Edam it I've had enough of these cheese jokes, cheese stop.' The groans came back, but this time due to terrible cheese puns.
We finished the night with a quick nightcap across town at L'Atelier Cocktail Club. A trendy neighbourhood bar with an inventive cocktail menu and it's surprisingly reasonable (for Geneva) prices. The booze soothed us to sleep before the fresh lake and mountain air blew our hangovers away as we headed back to the airport.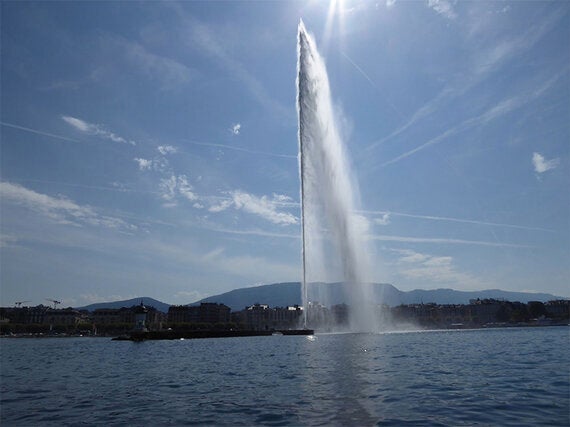 In just under 24 hours we had covered most of Geneva thanks to the segway tour, eaten most of the cheese in geneva thanks to the fonde and then purchased most of the chocolate in Switzerland thanks to Duty Free. Next time you're heading to the alps, give yourself a few hours to enjoy the city near the airport. It's pretty Swiss... you know, like swish, it's pretty swish, it's pretty Swiss.... Ah forget it!
For more information check out: