Returning to the Lyric Hammersmith after its 2006 premiere this co-production with Icelandic company Vesturport of Metamorphosis has been a hit throughout the world and as the cliché goes, it's easy to see why. Turning Kafka's short story into a piece which is part physical theatre, part simmering and charged domestic drama is no mean feat but it is accomplished with transfixing beauty, dark comedy and graceful tragedy.
Gisli Orn Gardarsson plays Gregor Samsa, the travelling salesman who one morning awakes to find himself grotesquely transformed. The production merely hints at what type of metamorphosis this is, part bug, part cockroach, part spider but is never implicit and it is only through Gardarsson's physicality that you see this sickening transformation. If you know the Kafka story you know what is to come, but seeing it fresh you will find yourself experiencing the same confusion as Gregor's family as to what has become of him and as the imaginative design slowly lets you into Gregor's room, you find yourself with a bird's eye view into a space now inhabited by this unfortunate creature.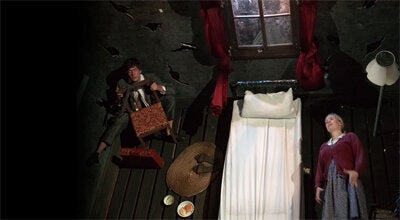 As Gregor, Gardarsson is simply phenomenal, delivering a masterclass in physicality, putting Cirque Du Soleil to shame and making you wonder why Spiderman on Broadway spent all that money on flying rigs when this man can perform acrobatics with such effortless delight. Wonderfully supported by the rest of the small cast who find physicality in every movement, they create a heightened sense of reality and unease as the family come to terms with Gregor's change and self destruct in front of our eyes as they search for social status but find themselves burdened and embarrassed by their transformed son. Metamorphosis is full of 'what the hells?" and 'wtfs?' from the audience as it spins its web and heads towards its desolate conclusion.
Coupled with a magnificently emotional Nick Cave score it is a twisted, riveting and challenging piece of theatre that inspires and moves its audience whilst creating visual images that will stay with you for a long time to come. Oh, and you will never look at a bug in the same way again.
Popular in the Community