As 2013 looms into view, the London theatre scene continues to lead the world in theatrical entertainment. With the new year comes new shows, A Chorus Line, Charlie & The Chocolate Factory, the transfer of A Curious Incident Of The Dog In The Nightime and of course the one we've all been waiting for, The Book Of Mormon. 2013 will also bring 12 months worth of the Michael Grandage Company in residence at the Noel Coward Theatre and judging by the success of Privates On Parade you'll be fighting for tickets.
Back in June I wrote about the buzz surrounding the launch of ex Donmar king Michael Grandages' season and was delighted to see that the excitement transferred to the stage with his premier production of the 1977 Peter Nichols' play-come-musical Privates On Parade. Set around the exploits of the Song and Dance Unit South East Asia, a British entertainment troup stationed in Singapore and Malaysia in the late 1940s, it brings us song, dance, cabaret, the horrors of war, laughs and heartbreak. It deals with homosexual stereotypes and racism from a different era, complete with big swears and full frontal nudity it's a piece which could easily shock and offend, but instead it reeks of laughter, humanism and a loving spirit.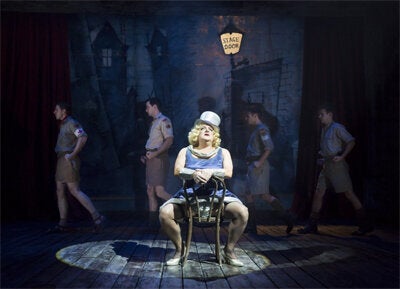 Simon Russell Beale, an acting treasure who could easily be called the greatest stage actor of our generation if it weren't for Mark Rylance, takes on the lead, playing against type in a performance which is as dazzling as the sequin dresses he wears. He generates not only laughs but really connects with glimmers of sadness for the world in which he has found himself. He is ably supported by a phenomenal cast who very much have their privates on parade. It's testament to Nichols' writing that the older members of the audience seem to comfortably react to the nudity and swearing, whilst I suspect they would be up in arms, outraged and shocked at this in more contemporary piece.
What Grandage has done so well with Privates On Parade is present a charming, hugely enjoyable and in depth production which appeals to regular theatregoers and thanks to his 200 £10 tickets at every production, new audiences alike. If I were you my first resolution for 2013 would be to book tickets for the rest of the season, I have no doubt that it'll go from strength to strength and 2013 will end up being the theatrical year of the Grandage.