Two relics of Andrew Lloyd Webber's musical success in the 80s are currently touring UK theatres in re-designed productions that bring us singing ghosts and dancing trains. Celebrating it's 25th Anniversary an all new staging of Phantom Of The Opera is brought to us by Cameron Mackintosh and the man who gave us Blood Brothers, Bill Kenwright, now produces the family spectacle Starlight Express.
Since its closing in 2002 in London it was often wondered what life Starlight Express would go on to have. It was always a show that was more about the immersive staging, with a racetrack running around the audience, than the story or songs. This new production offers no immersive experience, everything happens on stage, but it does offer one of the best first musical experiences for children.
This unashamed delight offer us a dazzling light display, a large cast, 3D movies, camp costumes and memorable songs. Having adored the show as a child, I was interested to see how it lived up to my memories. The songs were as catchy as I remember them and the pace of the show zooms along in such a way that you can't help but find yourself being caught up in the fun of it all. Amanda Coutts delivers a perfect Pearl, the love interest to Kristofer Harding, as charming steam train Rusty. Characterisation certainly isn't at the centre of Starlight, but it's nice to see the cast having fun and putting their own spin on these two dimensional characters. Kelsey Cobban as Ashley and the other coaches catch the eye in their Vegas inspired showgirl slash train costumes and Jamie Capewell as Greaseball and Mykal Rand as Electra both bring us brilliant vocals and plenty laughs on skates.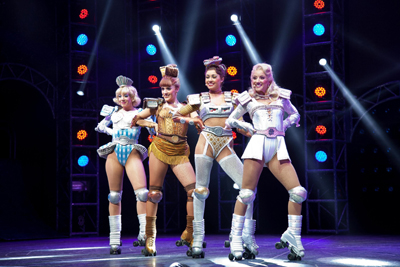 Photo by Eric Richmond
The key to Starlight's success lies in the concept, people on skates = trains. It's simple but within this simplicity there is complex choreography, flashing lights a plenty and the odd skate based trick. It will never live up to the various reincarnations of the West End production, but to see an audience full of families on their feet at the end, and children simply buzzing about the show, makes you realise that if ever there is a gateway show to bring children into the theatre, this one could be it.
Cameron Mackintosh's 25th Anniversary touring production of Phantom Of The Opera currently on at the beautiful Bristol Hippodrome, could not be further away from Starlight Express. Where Starlight has a largely empty stage occasionally filled with a small skate ramp, Phantom throws us head first into an all encompassing, lavish production which is possibly the best touring set ever created. With Starlight you feel yourself missing the original production, this new version of Phantom over-delivers and creates a new concept for Lloyd Webber's masterpiece. The romantic score is the polar opposite of the 80s pop synth of Starlight and offers wave after wave of emotional resonance.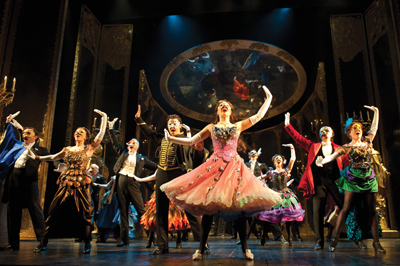 Photo by Robin Savage
Another huge cast deliver knock out performance, John Owen-Jone as the Phantom and Katie Hall as Christine find new depths in the much played roles, bringing out emotions and sides to the characters that I hadn't spotted in the London production. The re-staging allows the wonderful cast to shine Olivia Brereton and Lisel Dowsett help the large chorus bring the show to life, and Simon Bailey as Raoul makes the central love triangle seem as real as it's ever done.
The original Maria Bjorn costumes are complemented with new direction by Laurence Connor and choreography by Scott Ambler creating a show that continually delights and surprises. Sure the chandeler no longer falls, and the famous candles no longer rise from under the stage, but what we have now is a production that can take this show to theatres it could have never played before, and enchant a whole new audience.
Touring theatre is certainly reaching new highs, with both Starlight Express and Phantom doing incredible business, offering productions of such quality that the audience need never feel that it's missing out on not being in London. With The Lion King joining them in an upcoming UK tour, living in the provinces has never been so good.
Starlight Express and the 25th Anniversary Production of Phantom Of The Opera are on UK tours till Spring 2013. The Lion King UK tour opens at The Bristol Hippodrome in September.