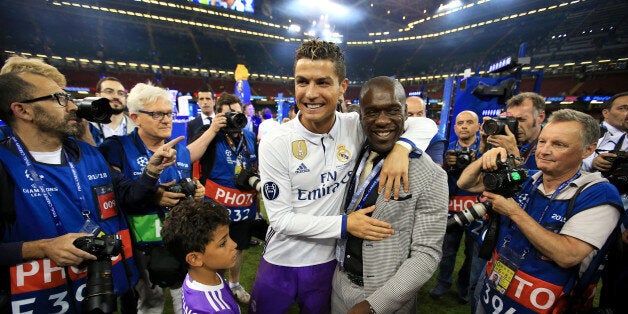 Cristiano Ronaldo is probably the best European football player of all time. His weight of goals is unsurpassed, his trophy cabinet is bigger than the average studio flat in north London, and he's done every bit of it in style.
But there's been something missing. Coming into last Saturday's game against Juventus, not once had he hit the heights when the chips were down. For the biggest of big game players, a man with 600 professional goals to his name, the closest he'd ever come to stamping his name on a final was Manchester United's FA Cup win in 2004 as a 19-year-old.
Against Division One Millwall.
The biggest showman of his generation was sat on the brink of going his whole career without a single defining performance - and at the age of 32, you tumble off that cliff very quickly. Never a bottler, he wins too consistently for that, but never the man. And if Cristiano isn't the man, he's nobody. He's certainly not Cristiano Ronaldo.
Sometimes, as any overeager teenager chasing a first partner will know, chasing the thing you want the most only pushes it further away. Ronaldo tried so hard to make himself the centre of Real Madrid's last two Champions League finals - histrionics, shirtless celebrations, the lot - but Sergio Ramos defined both matches. The fourth goal in a 4-1 win and a winning penalty in a shootout? Not iconic. Not deserving. Not Ronaldo.
Leading up to the spectacle in Cardiff last weekend, his best Champions League final performance may well have been the one he actually lost, with Manchester United in 2009 - sunk by Lionel Messi.
Four Champions League finals without being any more than a numbered card in a winning hand. An FA Cup win as a teenager, over a vastly inferior side. Bit-part roles in a pair of English League Cup wins. One winner in a Copa del Rey final, and one nothing performance three years later.
That, until a year ago, was the sum total of Ronaldo's biggest games. It wasn't just Lionel Messi who was leaving more of a legacy, it was a handful of his own teammates past and present.
Ronaldo has been the main man at the Bernabeu for more than half a decade, but Portugal is Ronaldo's team. He is the beginning, the middle and the end. He is the heartbeat, pumping belief through its arteries. He is the man they look to, win, lose or draw. Then he dragged them, against all odds, to the final of the European Championships.
The 3-3 draw against Hungary in the final round of group games saw him come alive, take his team by the scruff of the neck and punt their arses into third place in the group. His big showdown with Real Madrid teammate Gareth Bale in the semi-final in Lyon was a no-contest. Ronaldo reigned supreme. Four days later, he lined up to knock the hosts and favourites off their perch.
In the 25th minute, he came off injured and watch Eder score the injury-time winner to secure Portugal's first major silverware. This time, barely even a bit-part. Once again, The Ronaldo Final failed to materialise.
Finally, Cardiff. Months of preparation. Zinedine Zidane resting his leading man for so much of the run-in that he actually finished with his lowest league goal tally in eight years. All with both eyes fixed firmly on Cardiff, on the 3rd of June, and on The Ronaldo Final.
It didn't take long. The 20th minute, a pull-back from Dani Carvajal, a first-time finish, a lead. The actors were finally sticking to the script. Juve were on top, but Ronaldo was making the difference.
Seven minutes later, Mario Mandzukic happened. The greatest goal scored in a Champions League final dragged Juve back to parity in a game they were on top of, and Ronaldo once again looked ready to lose his chance for his defining moment. Ready to lose the video to throw on for the grandkids in years to come, to prove his greatness beyond sheer weight of numbers. The magic that, since the comparison is unavoidable, Messi has produced in finals time and again.
Half-time came and went, and so did Juventus' momentum. A wild deflection off a speculative Casemiro strike left Gigi Buffon stranded as Real took the lead again, but it was the man with the number seven on his back who darted in at the near post a few minutes later in the brutally clinical style which has become his new trademark, rifling home first time from Luka Modric's brilliant cross.
There was no hat-trick in the end, as there had been in the semi- and quarter-final stages, but it mattered little enough. Ronaldo has his final. The last speck of unsightly dust on his legacy has been polished away.