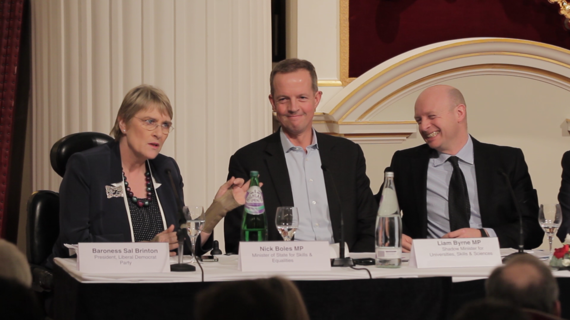 Politicians aren't known to agree, but they did reach a consensus on one thing last week: how poor careers advice is in the UK.
That's probably not surprising to anyone who's recently come through the school system, which is why representatives of the three major political parties are calling for huge improvements.
As Liam Byrne MP, Shadow Minister for Universities, Skills and Science, put it, 'The careers service is on life support.'
He was speaking as part of a skills debate, hosted by the City & Guilds Group at the historic Mansion House.
Byrne was joined by Nick Boles MP, Minister of State for Skills and Equalities, and Baroness Sal Brinton, President of the Liberal Democrat Party, who all argued that dramatic action needed to be taken.
Boles proposed that there should be a dedicated advisor in every school to help senior management engage with local businesses. Those improved relationships would help schools get a better idea of what skills their students need to learn, he argued.
Baroness Brinton also called for more guidance. 'We need careers advice that starts in primary school,' she said.
'Too many girls have decided by year six in primary school that they are not good at science or maths.'
It's reflected in research we did last year, which showed that women were most often encouraged to pursue nursing, teaching and medicine. Men were told to go into IT, finance and engineering. That divide is clearly damaging, especially when so many industries face skills gaps.
One example is construction, where much of its workforce will be retiring in the next few years. Our research showed that less than 1% of women were encouraged to go in to construction, compared to 12% of men.
That's why it's great to see that careers advice is fixed on everyone's agenda. A promising step is the new careers and enterprise company for schools, announced a few months ago.
After all, I've met too many young people who didn't know what opportunities there were, much less the skills they needed to secure them. They deserve tailored, impartial careers advice that's based on what skills will be in-demand when they leave school.
Once that happens, we'll see more young people in employment, and fewer skills gaps in industry.
Related