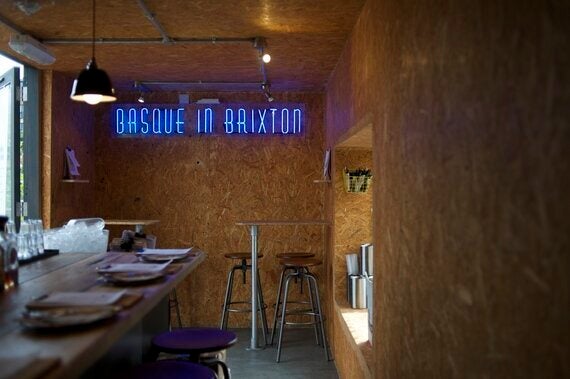 Photography by Chris Osburn © 2015
I've snooped round shipping container community hub, Pop Brixton, a few times now since it opened back in the spring. I like the vibe, the community spirit, the extension of the vibrant street life around Brixton Station. I love the food there too - especially what's being cooked up at street food trader Donostia Social Club's first permanent pintxos bar.
Loftily situated atop the entrance of Pop Brixton, the converted cargo container bar is a departure for the Club, which it best known for it blue Citron van rolling up to festive events and street markets across London and beyond to dispense Basque style tapas to the people (and to the best of my the DSC van is still out there making the rounds), as well as for its celebrated kitchen takeover at newbie Clapham pub, The King & Co.
Scaled back to clapboard basics with fierce focus on the menu, the new bar is a Spanish food lover's dream come true (well, as long as such dreams are bound within the M25) ... and a more than decent spot for a quick drink, light bite or full on Basque feast.
But, plain and simple décor doesn't mean the place is without style. The activity on view in the open kitchen and a "chef's table" approach to displaying and serving small dishes designed to share create a dynamic environment where the food is the star. Neon "Basque in Brixton" signage adorning a wall adds to the buzz, and outdoor terraced seating overlooking the rest of the container village ensures a connection to all the other Pop Brixton doings.
Rather than a stone's thrown from Brixton Station, if DSC were situated on the polar opposite end of the Victoria Line near my Walthamstow home, I'd be in there bending my elbows and adding considerable wear and tear to the utensils all the time. Indeed, I tried to coax Chef Paul Belcher to come up my way for a reccie. I'm not holding my breath until he brings his bar north though; so, I guess I'll just have to make do with commuting south now and again to get my pintxos fix.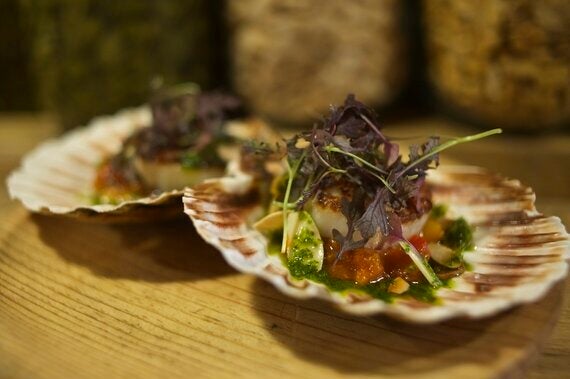 Photography by Chris Osburn © 2015
But, with regular menu features such as seared scallops with pisto, green chilli sauce and almonds (£3.50 each); braised Iberico pork cheek with butter bean purée and herb oil (£6); and membrillo glazed duck breast and carrot purée (£6.50); alongside daily specials along the lines of octopus with pepper stew, lemon oil and paprika salt (£7.50) - it'll be worth the time on the Tube.
I was really impressed with all the dishes I sampled - not to mention an ace assortment of quality charcuterie and cheeses (mostly sourced from Flavours of Spain) and an equally excelente range of emphatically Spanish drink. I very much enjoyed my bottle of dry Isastegi Still Cider (£5.50) too and would be keen to carry on sipping way through the drinks menu.
If you're down Brixton way, you could do a lot worse. And if you love Northern Spanish cuisine I doubt you'll find much better.
Donostia Social Club is at Pop Brixton, 49 Brixton Station Road, SW9 8PQ. For more details go to donostiasocialclub.co.uk.
The original version of this review was published at tikichris.com.