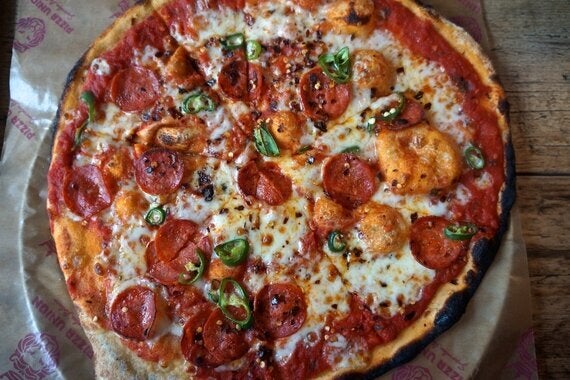 I'm not sure which I love more: a great pizza or a great bargain. But if I can get 'em both in one go at a convenient and actually rather stylish setting then I reckon that's a big tasty win that warrants a shout out! Already a fan of the original "super fast all day" pizzeria in Spitalfields, I'm pleased to share the good news that Pizza Union has opened a second location on Pentonville Road near King's Cross St Pancras station.
Yeah, I was actually really chuffed when I found out Pizza Union had opened a sister site - especially as I'm dashing through King's Cross all the time these days and simply knowing there's another location where I can go to enjoy a kindly priced Pizza Union pie has me feeling thriftier (and hungrier).
An inexpensive, freshly made and quickly served pizza is just the thing when you're in a rush (and in a pinch). Pizza Union's margherita costs a measly £3.45. Made to order and baked in wood-fired ovens, all pizzas are 12" in diameter with no pie on the menu priced over £6.50. Cool thing is though, if you're just looking for a chilled out and casual place to relax and maybe have a few drinks, the hundred-seat Pizza Union fits the bill.
During my Friday night kick back at this new pizzeria, I savoured every affordably fiery bite of the Vesuvio (tomato sauce, mozzarella, pepperoni, green chillies, and cracked chillies, £5.50). A couple of crisp Peronis (a good bit less than three quid each) to drink and a Caramello dessert (salted caramel, peanuts, chocolate, and mascarpone, £3.95) to follow and I was satisfied in an especially Friday kinda of way.
Pizza Union does salads, gelato, prosecco, wine, and coffee too and is located at 246-250 Pentonville Road, N1 9JY.
The original version of this review was published at tikchris.com.