The story so far - After a two day café-based writing session, Chris hauls the first draft of the show on stage...
A bloated mess. That's how I felt after the Perth and Adelaide Fringes in 2014. Beer (and everything else, for that matter) is incredibly expensive in Australia, so when your venue deal allows you two free drinks per performance, you develop a dangerous mindset. To not have a drink is to effectively miss out on money. Cue a couple of months of two-beer-minimum days, the end result being a much larger me when I returned home in April.
This year, with a new show to write, and a healthier attitude towards unclaimed beverages, it seemed that the show itself had stepped in to fill the need for something bloated and messy. It can be difficult to gauge the length of material on the page - though you may have a rough idea of the time it will take by running it through to memorise, you really need an audience there to fill in the gaps, inspire ad-libs and act as a comedic metronome.
The first week of my fortnight run in Perth was taking place in The Stables, a barn-like space with movable chair rows at the front, with wooden bleachers raked up to the back wall. The first 5 shows were planned as 'work-in-progress', with notes, asides, digressions and changes to the content throughout the week. What I had written at the Gorden Street Garage, and estimated was 50 minutes of stories, had turned out to be 80 minutes. Good news for me, as it meant I could trim away half an hour of the show and increase the density of the jokes. Bad news for pretty much anyone else, as I failed to understand whilst on stage.
The festival had given me a late-night slot at 11.15pm, and although the time meant that mid-week audiences were hard to come by, it moved the show away from the prime 'big group of mates out to get drunk' period. As a result, the opening night of XXV ended at 12.35am. This, as my rightly irate stage manager Ruth pointed out, meant that the venue staff might miss their trams home, and that the tech had been kept past the time they were being paid. My grovelling apology was eventually accepted, and some wine from a local vineyard acted as reparations.
Performing the show for the first time, I had no idea that the allotted hour had passed so quickly. The audience, though small, were everything you could wish them to be - acting as an excellent barometer for the nascent material, responding to bits they enjoyed and understanding if a section failed to fly. One huge positive was their interest in the story that ran through the show. I had broken the 10 minute version from the Barefaced gala into three sections, placing it throughout the first 30 minutes, and added a conclusion that I left off the shorter performance.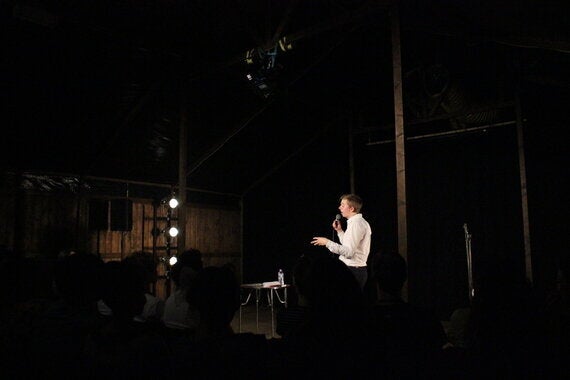 Performing in The Stables.
I had seen Jon Bennett's show Fire in the Meth Lab the year before, and really admired the structure and narrative techniques he used throughout, creating not just a funny show, but an emotionally engaging one. Jon and fellow comic Dave Bloustein came to see my show in its first week, and I sought their critical opinion on it, the storytelling aspect being much more in their field of expertise than mine. Over Chai and Honey Lattes in Perth's late-night Moon café, Dave and I chatted about the order of the story, where he advised on withholding some details, and swapping others round for neater 'reveals'. There was a lot of information that the audience needed to understand to follow it properly, and spacing out and trimming down these parts was important.
For the second night, I cut out huge chunks of material, and managed to get the timing correct, as well as knocking a few more 'tent poles' in to the structure of the story. Over the course of the week, I twisted parts around, tried bits in different places, and invited more performers to watch and highlight any areas they felt boring or confusing. By the time the first five shows were finished, I knew that there was a lot more that could be done to refine and improve it, but I felt pretty good about what I had put together. A reviewer who came after seeing one of my improv shows with Racing Minds had written:
"Chris Turner took my fancy and tickled my nerd funny bone so much that I went and saw his solo show XXV at The Stables, which was also outstanding and completely caught me off guard. Turner is a particularly skilled freestyle rapper, but looks like the guy you used to cheat off of in high school."


- Perth Arts Live, February 2015
It was great to read that. Writing a show can (and probably should) be stressful, and as well as the eyes of colleagues, a critic's assessment can help point out areas that need work, and encourage an artist that they're moving in the right direction. I had a weekend to focus on the show before I moved to a new venue, Rosie O'Grady's, and a more agreeable timeslot, where the performances of XXV 'proper' would begin. After the final night in the Stables, the tech crew, some other acts and I had a cheese and wine party in a gazebo erected round the back that we had been using as a dressing room. It made a nice change from the 'earn as you drink' beer-guzzling of 2014.
I'm writing this in Bodø airport, Norway - the only place I've visited that beats Perth for near-punitive beer prices - after a crazy but wonderful 24 hours at the Stamsund International Theatre Festival. The full story will be in the next post.
Next time...A tiny fishing village north of the Arctic Circle, state-funded puppetry, and Boris the cat.
Related