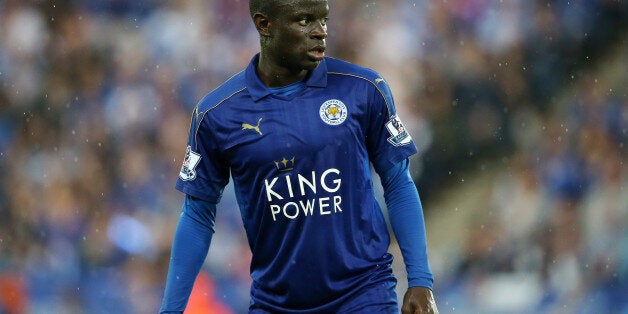 A real pet peeve of mine is when fans of other football clubs dictate how Leicester fans should react to things. That irritating eventuality came to fruition yet again this weekend as fans praised Kanté's decision to leave for Chelsea. It's silly but it bothers me.
The City fanbase is split after the transfer was completed on Saturday. Some of us are misty-eyed at the thought of a hero riding off in to the sunset, but the rest of us are feeling short-changed because an adored player jumped ship for money
To outsiders, seeing fans like myself condemn Kanté's decision to move to Chelsea may look like a common case of transfer window sour grapes. After all, despite Leicester's heroic performance last term, we are still a much smaller club than Chelsea. That being said, I can assure you, no matter what it looks like, that resentment towards this transfer is down to anything but bitterness.
When Leicester City won the Premier League last season, it was a truly magical time, a magnificent tale of a band of brothers defeating odds of 5,000/1 to lift English football's most sought after prize. So, given that the club has realised this remarkable fairytale, qualified for Champion's League football, and can boast a team spirit that sides the world over envy, why would anyone want to leave?
The record will always show that England's best team have sold their best player to England's 10th best team. No matter what prestige Chelsea carry, they will not be playing in Europe next season. No matter what the pundits say, there is no tangible evidence that Chelsea are a better side than Leicester City. And on the back of testimonies from virtually every single person involved with the Foxes, Leicester's squad has a bond to die for. So, the only logical reason for N'Golo Kanté to have moved from Filbert Way to Stamford Bridge is money - £150,000 a week - funds that City simply cannot compete with.
So, to observers who think this is to do with bitterness, tell me why exactly Leicester fans should be content with Kanté's motives. Let's flash forward a year to the end of the 2016-17 season, Leicester have finished 8th in the league, failed to win either domestic cup and after an admirable fight in Europe have been knocked out of the Champion's League's Last 16 stage. Regardless of their achievements paling in to comparison with the season preceding it, Kanté, Mahrez, Vardy and co have had another stellar season. With those performances, the big clubs come swooping again, the Real Madrids, the PSGs and the Manchester Uniteds of this world offer in excess of £30m and Leicester's star turns feel their future is elsewhere, and leave the club with heavy hearts. Those are the admirable circumstances that Leicester fans would accept their star players departing, not on the back of fallacious myths about players being better able to win trophies somewhere other than the current champions of England.
As of right now, the club has built something special, a core of footballers bound by integrity and determination who are embarrassing the bank-rolled big boys, qualities Kanté seemingly doesn't possess. The 2015-16 season was just the start of this story, Leicester find themselves in Europe, and as defending champions of England with unbound potential. It is clear, N'Golo Kanté did not back himself to succeed next season and snapped at the chance of a big pay day while he was on the crest of a wave.
Whilst, I, and every single Leicester fan will be grateful to the class of 2015-16 for their heroic efforts in winning the unlikeliest title in sports history, it is important to remember that the club owes nothing to the Foxes' triple entente. N'Golo Kanté, Riyad Mahrez and Jamie Vardy, much like the vast majority of City's current crop were rejects plucked from obscurity and given the world by an unfashionable East Midlands outfit who conquered it. Anyone with a shred of integrity would surmise that these players are owed nothing from Leicester City, but in contrast, owed the club one more season themselves.
N'Golo Kanté has proven himself to be spineless, and unworthy of any respect from the Foxes faithful. Of course, there is no denying his immense ability and his part in last season's triumph, if you trawled through my Twitter feed, you would find no end of gushing praise for him, but now, he will be remembered as the man who abandoned the most exciting prospect in football for more money than he could ever spend. And the same will be true of Riyad Mahrez, if rumours of him leaving the King Power Stadium are accurate.
So N'Golo Kanté, thank you for the memories, but good riddance - this squad cannot carry any avaricious snakes. You would have gone down as a legend at Leicester City, unarguably as one of the greatest in the 132 years of the club's existence, but you have bottled it. But as your own quote details, you were "so happy to have signed for one of the biggest clubs in Europe" on Saturday, instead. Well, here's a rude awakening for you, N'Golo. Chelsea are not in Europe - and now, neither are you.