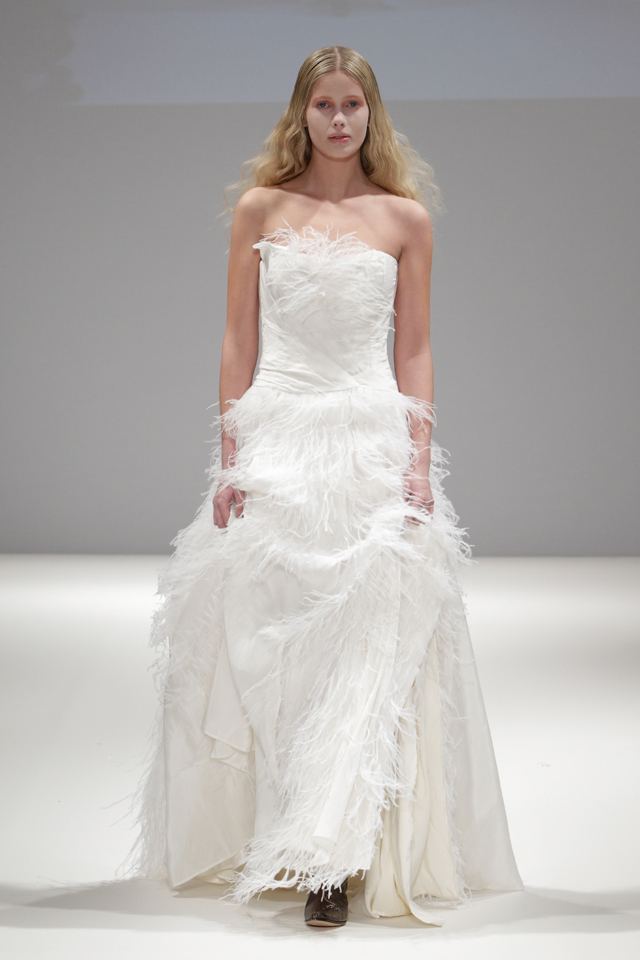 (Photo credit: Christopher Dadey)
I'm sitting in a hotel lobby near Hyde Park. Jeff Garner, the creative mind behind luxury designer label Prophetik, arrives in his trademark jodhpurs, riding boots and granddad shirt. Think of the Southern gent, Ashley Wilkes from the film Gone With The Windand cross that with the really cool guy in your high school drama class and you're on the right track.
Garner is back in London finalising details for London Fashion Week. He's squeezed me in between a dress handover to one of his London clients and a riding appointment at The Hyde Park Stables. In his arms is a very large garment bag, which holds the elegant, dreamy white ostritch feather and peace silk gown that was the grand finale of the Prophetik A/W 11 Collection.
The client's name doesn't come up in conversation, her assistant remains discreet. As Garner goes through advice on how to handle the garment, I'm getting a close look at the luxurious fabric, the detail on the dress and the exquisite craftsmanship that's gone into the gown. "Each feather has been hand-sewn on to the dress," he says before it is whisked away in a black cab. I'm guessing the client might be sustainable fashion icon Livia Firth, who chose to wear a Prophetik silk gown on the night her husband Colin Firth won a Golden Globe for his role in The King's Speech.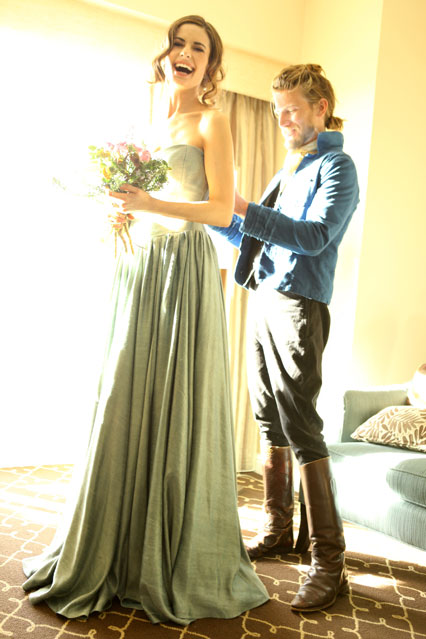 (Photo credit: Fairlight)
We decide to go to a cafe around the corner from the stables for our interview. "I help exercise the horses whenever I'm here," he explains. "You're an outrider?" I ask, trying not to sound too surprised. He nods his head yes. So, of course I have to ask: how did this cowboy become a fashion designer?
Garner intimates that it was a career path which was outside his family's expectations for him. He had turned down a scholarship to study nuclear physics at the highly esteemed US military academy West Point. Instead, he chose a more bohemian path and enrolled in the theatre studies programme at Pepperdine University. He paid his own way by doing commercial work in Los Angeles which led him to make contacts in the entertainment industry. Having cut his teeth styling musicians in Tennessee, he applied his skills to a the LA set and through working in both circles, he encountered influential people in the fashion industry.
It was only a matter of time before Calvin Klein agreed to be his mentor. Eventually, this led to work with diverse talent such as disco icon Donna Summer, pop star Miley Cyrus and stadium rockers Kings of Leon. In 2002, Garner started the sustainable fashion label Prophetik and set up its HQ back in his home state of Tennessee.
If location is everything, then I am curious as to why Prophetik isn't based in one of the major American cities. Garner had, in fact, a brief stint in the Los Angeles garment district, but he knew right away that it was not where his vision for Prophetik could take root. "These places are dark, so badly lit and they're really dirty," he says solemnly "And the people who sewed the clothes didn't have any love for the work they did. To them, it was just a paycheck".
Garner works with true artisans. The trained dressmakers who work for him have a wholly different approach to work, "they sew like they are making these dresses for their own daughters," he explains. These "mature ladies" receive a fair wage for their work and keep alive the skills of dressmaking in a part of the world where apparel industry has all but disappeared, and what is left is becoming rapidly de-skilled by machinists who churn out football jerseys.
Another central tenet to Prophetik's raison d'etre, is Garner's commitment to sourcing sustainable fabrics and using a natural dye process which have a low impact on the environment. When we was just starting the business, he knew that he couldn't be the only one interested in organic dyes. "So I did the rounds at country fairs," he says. Sure enough, he met two women who had a stall selling organic tie die t-shirts. They joined forces and together they grew the plants and worked out the low impact dying systems through trial and error. I'm certain this is where his science background comes in. "Yes," he smiles, "it is a bit like engineering." And farming, I might add. Jeff and his team grow all the plants for the dyes ahead of the season in the gardens of Prophetik HQ.
What Jeff Garner is doing with Prophetik is unique. Apart from being an artist with a clear vision, he is an entrepreneur who owns his means of production, he is a businessman who understands that the deeply imbedded values of environmental justice drive his brand forward and all these factors combined create Prophetik's unique position in the market. I should also mention at this point, that Garner has spent the last year filming a documentary about Prophetik. It tracks the constant challenge of the future of sustainable fashion and Garner's dream to see it through.
"I created Prophetik because I wanted it to be a platform to prove that sustainability in the fashion industry could be done."
Prophetik's AW12/13 Collection makes its European debut during London Fashion Week at Vauxhaull Fashion Scout on Sunday 19 February.