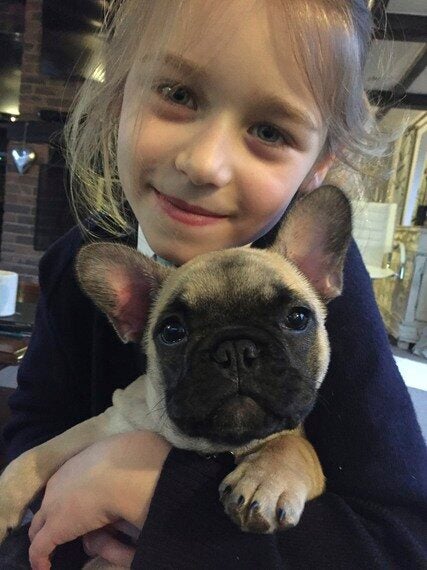 Pet thefts are on the rise and campaigners rightly call for tougher sentencing - but people have the power to prevent this heartbreaking crime too...
What do you want for Christmas? Daisy wants a puppy.
Children up and down the country have been busy writing their gift lists for weeks, and we're not far off the big day now. Daisy's not alone. For many children - and grown ups - the perfect present is a pet.
But Daisy doesn't want just any puppy. She wants her puppy, Betty.
Betty was stolen earlier this year. Shortly before her seventh birthday, someone broke into the garden of Daisy's home and snatched the French bulldog puppy away from her loving family.
The little girl was so upset that she refused to have a birthday party and didn't want any presents to celebrate her special day; all she wanted was her best friend to come home.
Daisy's mum, Linsey Thomas, said: "It's been tough for us all but Daisy is devastated."
This time last year, the Thomas family was so excited to bringing their new puppy home. This year, they remain brokenhearted as they prepare to spend Christmas without her, and without knowing what has become of her. The pair are pictured above before someone cruelly took Betty away.
For the fourth year in a row, dog theft is on the rise - and while you may expect most dogs to be taken from public areas where they are left on display, police figures obtained by animal welfare charity Blue Cross reveal that over 70 per cent were pinched from where they live, and almost half from inside the home itself.
Data gathered from freedom of information requests sent to UK police forces shows 1,797 dogs were recorded as stolen in 2015 compared to 1,333 in 2014 - a rise of a third. Dog breeds stolen over the last two years have included small, fashionable breeds like French bulldogs, pugs, shih-tzus and Chihuahuas - possibly because of the rise in popularity of toy types, and the ease of selling them on.
With the rise of internet sales making trading in domestic animals a quick, cheap and easy process, classified websites and social media networks have become the go-to place to deal in pets. While legitimate breeders do use these, the invisibility of this marketplace and lack of traceability within it means unscrupulous dog dealers proliferate, and it can be tricky for buyers to tell whether the seller has the legal right to be selling the dog in an advert.
If you're buying a dog or a puppy - whether at this, or any, time of year - you can help stop dog thieves by refusing to buy from people peddling stolen pets.
If the price seems low, ask yourself why. Fashionable breeds cost a lot to breed well, so French bulldogs shouldn't come cheap.
Any legitimate seller will have a papertrail to prove they can pass the pet to you. If it's a pedigree you're after, ask for the registration papers and double check them with the Kennel Club.
All dogs must be now be microchipped before they go to a different home by law - so if you're offered one without a chip or copies of the corresponding paperwork, walk away. This applies to rescue charities, like Blue Cross, as well as private breeders and sellers.
Phoning the seller's vet is a surefire way to check the dog is who you think they are, and it'll give you the chance to ask whether health checks have been done too.
And, of course, do consider rehoming a dog from a rescue charity. There are lots out there needing loving homes.
It may seem like box ticking takes the joy out of getting a pet, but when hundreds of owners are left bereft because someone has taken their dog from them, ask yourself whether your conscience could cope with being a part of this heartbreaking crime.
Would you knowingly rob a little girl of her best friend? Don't fund those who do.