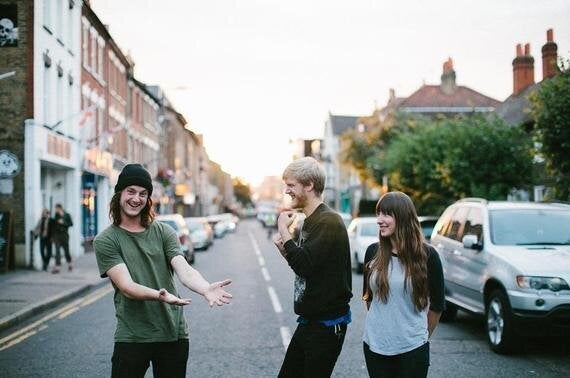 Photo credit: Andy Johnson
Greats Cynics, purveyors of life affirming punk, are about to head out on tour with Joyce Manor and Cheap Girls. To celebrate this trip across the UK and Europe, they're releasing a tour tape with two new tracks. Released on Jen Long's label Kissability, you can listen to an exclusive stream of their track 'Lost & Found' below.
Combining catchy melodies and personal lyrics, for fans of the band, 'Lost & Found' is a continuation of the confident songwriting demonstrated on their previous records. Having just entered the studio to record their forthcoming 3rd album, I caught up with lead singer Giles Bidder to talk about touring, 'Lost & Found' and their new album.
Great Cynics-Lost & Found
1) Tell me a little bit about the track 'Lost & Found'. How did you approach writing it? Where did you get the inspiration to write it?
I think initially it was intended to sound something like The Lemonheads' 'It's All True', or at least have that same kind of feel. It's about feeling shit for having things you don't feel like you deserve. It's about questioning yourself and everything around you, but knowing that critical self-analysing thoughts are felt universally and you're not alone in that. It's also a love song to Wil from The Smith Street Band. At first, it started off with one line of the lyrics in the chorus and I didn't get anywhere with it for a few months. Then it just sort of wrote itself in a couple of hours.
2) The track is part of a tape you're releasing while on tour with Joyce Manor. Tapes are cool! Whose idea was it to release it on tape?
We had booked in to record some new songs for our next album and realised we had more songs than we really needed. Around the same time we'd just been asked to tour with Joyce Manor and Cheap Girls and we wanted to put something new out. We'd met Jen a few months before and knew she ran a cassette-only label, so I emailed her about it and luckily she said yes! It's awesome to be able to do it and we feel very lucky!
3) Following on from this, 'Lost & Found' is being released on Jen Long's record label Kissability. How did you get involved with Jen and Kissability?
We played a show at the Old Blue Last in March with Muncie Girls (who are the best band in the world, go and listen to them right now!) and met Jen upstairs cos she was DJ'ing at the clubnight after the show. I think we talked about poo and not washing our clothes, and she made me laugh a lot and was really approachable. So I didn't feel too weird about asking her if she wanted to put out our tape - she got back to me with a 'yeah let's have fun with this!' kinda thing, which was pretty cool! She wore our t-shirt on national TV presenting Reading Festival highlights, so she's got my mum's approval.
4) You've also been hiding away in the studio with Pete Miles making a new record! How was the recording process for you guys and what can people expect from the new album?
The recording process for us usually goes - write half the songs, book in recording, write more songs and scrap all the ones we had before, leave it until the last minute and practice for two weeks, then go to Pete's and record. We did it in five days and recorded the instruments live, just because it sounds better that way and it saves costs. Then we went back for a few more days to tweak bits and sing lots of "ooo"s. I think people can expect shorter and faster songs. For me there's a big influence from 'Please Please Me', the first Beatles record, for the way it gets right to the point. I'd say it's pretty pop. There's also a song about our dear friend Chunky on there, which I showed him the other day. He kinda slowly nodded his head and said "sounds like the '90s, man", but I'm not sure what that means, ha.
5) For bands touring is a sort of lifeline and you're about to head on tour with Joyce Manor and Cheap Girls. That's pretty darn exciting. How do you approach being on the road, is it something you look forward to or can it grind you down?
Cheap Girls were one of the bands we wanted to sound like when we started, so being asked to tour with them is pretty insane. I keep getting paranoid I'm gonna break my arm or something before the tour starts. We generally don't do super long tours, I think the longest was 3 weeks with Gnarwolves and Broadway Calls. That was only sometimes hard because I had a problem with my anus and sitting down for 8 hours every day really fucking hurt, and we were in Italy so there was a painful language barrier at the pharmacies. But yeah, tour's usually loads of fun and we try to make it that way by touring with bands we like and playing shows with nice promoters we trust.
6) What's your favourite thing about being a DIY band and what are the hardest obstacles you've had to overcome?
I don't think we can talk objectively about it, because we don't really know any other way. I got pretty into booking shows for the band I was in when I was 16 and fucked up at school cos of it. When you're living in a small town with not much to do, being behind all the email stuff can get pretty addictive cos it makes you feel active. Bob was the same in his old band - he'd sort out all their merch and figure out insurance for their van and all that boring stuff. And none of that stuff's changed really, other than sometimes accepting help from outside people, which we're grateful for. It feels like you're always booking a holiday for you and your mates. I see it like: if you wanna make shit happen, you make it happen yourself and with a bit of luck it can work out. You get a thrill from it.
7) There definitely seems to be a great community of bands, labels and promoters springing up in the UK punk scene. Different bands take their friends on tour and actively promote each other. Have you've noticed this growing sense of camaraderie?
Yeah absolutely. We would definitely not be a band if wasn't for our friends like Apologies, I Have None, Bangers, Throwing Stuff, Break-Ups and Sam Russo. Nor without the amazing people who run Specialist Subject, Household Name and Banquet Records. We wouldn't have done anything without the offers and encouragement all those people and more than we can mention - cos the list would take up a whole page. For example Josh from Apologies recorded the first demos I ever did when I was playing acoustic - I was a basically a stranger and he did it for free, for no reason. We love all those people and they'll be our friends forever. There's always something new happening, like shows at Astbury Castle in South London more recently.
8) Finally what's next for Great Cynics?
We're just about to release this two-track cassette tape and do a dream tour with Joyce Manor and Cheap Girls! I think that's enough to blow our tiny minds for now. I just won some money at Bingo, so we'll be getting new merch for that tour, ha. Then after that we're gonna think about this new album like logistics of putting it out in different countries, and our 2015 touring plans are looking insane already! It looks like we're gonna be doing one long, long tour and my university attendance may just drop a little. Everything's exciting right now!
Tour dates w/ Joyce Manor and Cheap Girls:
9th-De Bakkerij-Castricum
12th-Nice 'n' Sleazy-Glasgow
13th-Star & Garter-Manchester
16th-Fighting Cocks-Kingston
17th-The Exchange-Bristol
Released on 3rd of November, you can pick up the tape on tour or pre-order it here
For more on Great Cynics click here