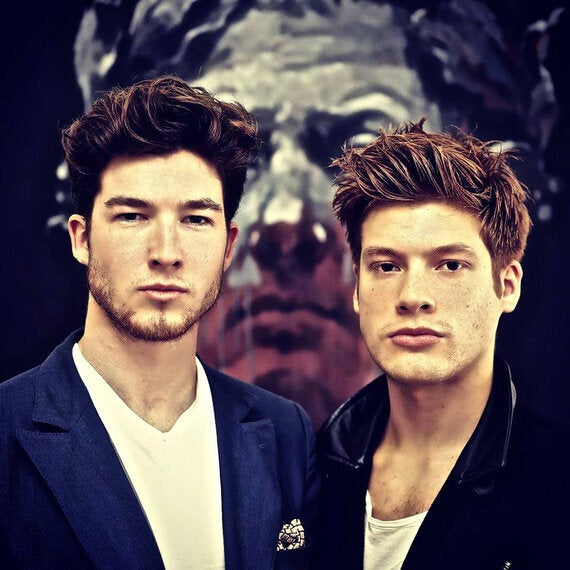 It's been over a year since I last caught up with artist Jonny Burt and in those intervening months quite a bit has changed.
Having teamed up with friend and fellow artist Joe Kennedy together they created The Unit London, a new gallery exhibiting the best and most challenging work by up and coming artists. First opened in Chiswick, West London, the gallery recently moved to the prestigious Seven Dials area of Covent Garden and has gone from strength to strength. Attracting many a famous face as well as hosting some of the most talked of gallery events of the year, the rise of The Unit London seems confirmed.
From 19th September - 18th October The Unit London is hosting a new exhibition, simple entitled 'U', the exhibition explores our relationship with the digital age and comes to some harrowingly beautiful conclusions. I chatted to Jonny and Joe about the exhibition and the fantastic year The Unit has had.
1) You recently moved The Unit London from Chiswick to Covent Garden and it's had a great reception. How have you found the change so far?
JONNY: It's been a really exciting time and the change has come very naturally - the positive reception we got from Chiswick to the gallery and its concept gave us the belief that we could really take it somewhere. We searched high and low for what seemed like an eternity to find the perfect spot and we are thrilled to be situated in Seven Dials now - a thriving and affluent creative scene in the heart of London, which also happens to be one of the most charming places in the City. Amidst the homogeneity of pretty much everything these days, it's a spot that has held onto its credibility and continues to be the home of cool, forward-thinking, independent brands. It's a great fit and we're very happy to be part of the community.
The gallery itself is also far bigger than the Chiswick space. It's what you might refer to as a "proper gallery" and although the step-up came very quickly for us, we have always had big ambitions so the move (whilst being very exciting) felt like a really organic progression.
2) This year is your 1st anniversary. What has been the most challenging aspect of running a gallery in central London?
JOE: I think when you start any business there are always going to be difficult or challenging moments and you don't know what the experience is going to throw at you. This first year has been a roller coaster for us, and there are sacrifices you have to make to make it work. As a totally self-funded business, a massive challenge has been the dedication to two jobs to get the business off the ground in it's first year. Juggling the two commitments has been more than a 24/7 job and there are always going to be concessions you have to make from that. As we grow there will be new challenges to face but we are fortunate now to be in a position where we are expanding our team (it has been just the two of us for the best part of a year) to help manage the growth and build the gallery. I think ultimately what has been fundamental to our progress is an unwavering belief that we would make it work - even when things have looked bleak, we've always maintained that belief and married it with hard work. We're big believers in that.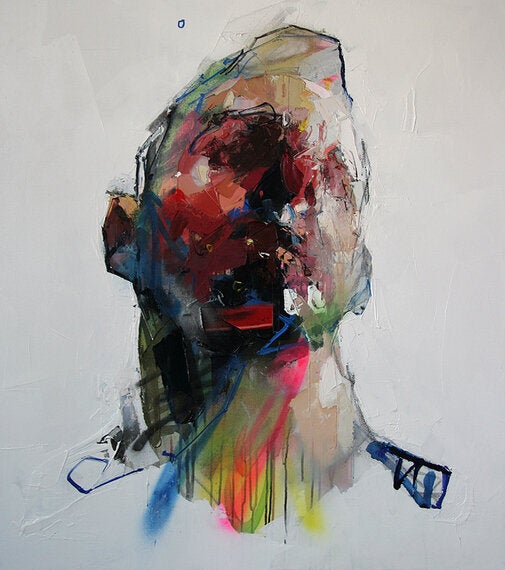 3) The next exhibition is entitled 'U', talk me through the different stages of putting on an exhibition. From conceptual idea to final exhibition, how does it all come together?
JOE: As artists ourselves, putting on an exhibition was never something we "knew" how to do - we just did it. We are both creative, have very analytical minds, we have an eye for what we think looks good. We invest a great deal of time and thought into the concepts of our shows and it usually derives indirectly from a conversation we have had. Now as "gallerists" - although we hate that term - we don't have time to create new work at the moment, so the concept and its execution through the marketing and the final exhibition is our way of channelling our creativity. We are never too prescriptive with the artists - we will have a chat with them about the concept and then like to give them something of an open brief to work with. We know what it's like for them and we want them to be as expressive and creative as they want to be. We certainly don't give a lists of do's and don'ts! If you have an engaging concept and an exciting line-up, it makes the rest of the job in terms of promoting the event much easier.
4) The Unit London has always been different from a traditional gallery in its choice of artwork. The 'U' exhibition is no different. Exploring the concept of personal identity in the digital age, why did you choose this theme and what message have you taken from it?
JOE: The notion of identity is a concept that art has always dealt with. Before the advent of photography, painters strove to capture people's identity through portraiture, often including obvious references to their identity through accessories or attire. Then, photography could acutely capture the identity of a person, so portraiture naturally evolved and developed.
You can define your identity as your own perception of your beliefs and values, shaped by your experiences with the world, and with the people around you. What interested us is that the way people experience the world and interact with others has fundamentally changed in the last 10 years. We experience things through screens, we exist as online profiles that determine "who we are", we communicate in edited text, or even superficialised, filtered images of what we are eating, wearing, or doing. The consequence of this change in human behaviour, ultimately, is the fragmentation of our perception of identity - both in ourselves and of others. Today, identity is not as stable as it used to be. It can be transient, unstable, fractured and often superficial or manufactured and we wanted to explore this through the show.
All of our exhibitions should make a statement about the world and this collection comprises pieces of contemporary portraiture that speak to the evolution of our society, as unlike traditional portraits, the identity of the subjects are achingly unforthcoming.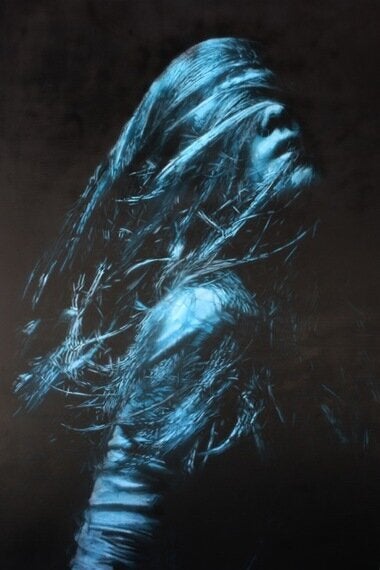 5) Again you have some really amazing artists from Jake Wood-Evans to Henrik Uladen, how did you go about finding the artists for 'U'?
JONNY: Jake Wood-Evans, SNIK and Ryan Hewett have all been with us from the start since we launched the gallery back in September last year, so to be featuring them for the Anniversary show is quite a special moment for us all. Henrik Uldalen, a Norwegian painter is brand new artist to our roster who has had huge success with major galleries in the States but has yet to be introduced to the London market until now. It's the same case for Russian artist Ivan Alifan, who we introduced briefly to London for the very first time for our Seven Deadly Sins show and is now playing a starring role in the Anniversary exhibition. Mark Demsteader is an artist who we have both been huge fans of since our GCSE and A-level art days - we can honestly say he was the key inspiration for many of our art exams, so to now be representing one of Britain's best selling figurative painters is quite surreal and a real honour. Many of our artists we have found online and whose work inspires us as artists. It's wonderful that, in just a year, we are working with artists of such global calibre, but we truly believe it is testament to the ethos that we have so carefully nurtured. Being artists, I think we've created an immediate trust with other artists which is perhaps sometimes hard to find in this business. We've always wanted to have a strong international presence in our roster because it is both in keeping with our founding ethos of accessibility and with the help of social media, also gets the name of the brand out far and wide very quickly.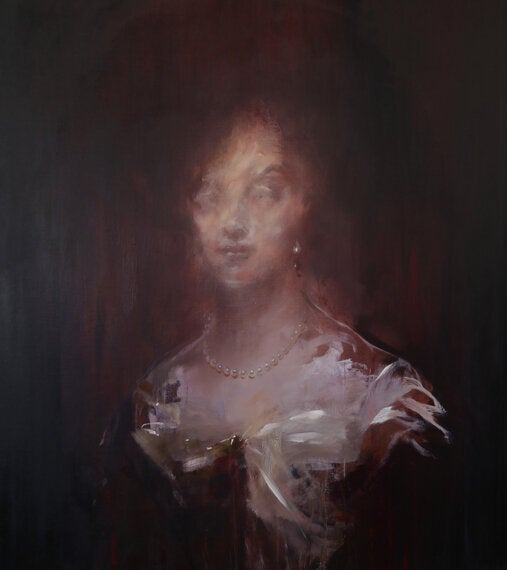 Artwork by Jake Wood-Evans
6) In the past and for this exhibition you've really harnessed the power of social media, creating engaging videos and online content. Have you seen that engagement translate into the real world?
JOE: We really have - we are now working very closely with a number of established interior designers who have discovered us through Twitter and Instagram which has led to us working on several very exciting projects. We are also now at the point where we are making sales from clients all over the world through those social media channels. Generally the reach we have achieved through tirelessly building our social media presence has led to a significant increase of visitors to the gallery, which has of course also increased the level of trade in the gallery itself. The whole thing has been very organic in that sense, and our use of social media and video content is helping us connect a younger generation of art lovers to what is traditionally a very exclusive discipline.
7) What's next for The Unit London?
JONNY: We are incredibly excited to be presenting our first two solo shows next year, with two of some of the most exciting talents in the world right now. There will be some really interesting projects and collaborations with some big brands in-between and we are also currently planning our first fair in Miami for 2015. Our plan is to just continue doing what we are doing and get better at it. Ultimately we are in this for the long haul and our mission is to keep nurturing these artists so that the whole world know about them, because they deserve to be known. As a gallery we intend to continue building the brand both over here and globally and reaching out into the Asian market. Above all the most important thing for us is to have the brand realised and translated into the real world - the ethos of The Unit London and the way in which we market ourselves has never been limited to the art world and we intend to apply it to all creative outlets - the film industry, the music industry and beyond.
The Unit London is located at: 7 Earlham St, London, WC2H 9LL
'U' is open to the public from the 19th September to 18th October