'A Bigger Splash,' Luca Guadagnino's stylish remake of Jacques Deray's 'La Piscine' (1969) sees emotional wounds laid bare as the privileged play dark games - 'Concussion' timidly tip toes along with little insight into a story of corporate power, corruption and greed in the world of American football - With Germany, a state in denial of the holocaust in the 1950s 'Labyrinth of Lies' tells the story of the quest for justice which led to the Frankfurt Auschwitz Trial. Today one of the last remaining former SS guards at Auschwitz goes on trial in Detmold, Germany.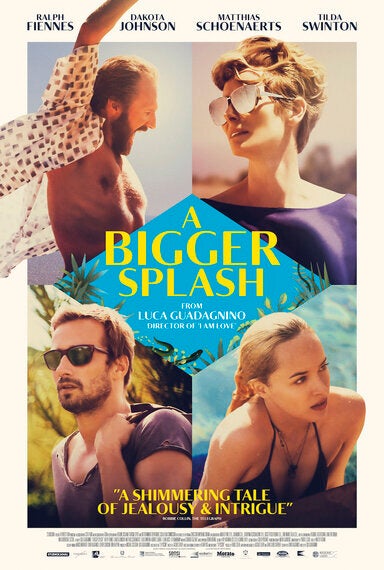 Director: Luca Guadagnino. Tilda Swinton, Dakota Johnson, Matthias Schoenaerts, Ralph Fiennes. Drama. Italy, France 2015 120 mins. (15) ****
Luca Guadagnino's stylish remake of Jacques Deray's 'La Piscine' (1969) leaves the Cote d'Azur for the Sicilian volcanic island of Pantelleria and plays with dark humour, jealousy and desire by the pool.
Marianne Lane (Tilda Swinton), a Bowie-like rock star recovering from a throat operation has retreated to a villa with her lover Paul (Matthias Schoenaerts) but lazy days are interrupted with the arrival of record producer Harry (Ralph Fiennes) and his newly discovered sexy 22-year-old daughter Penelope (Dakota Johnson).
Ralph Fiennes plays Harry with manic delight, hell bent on centre stage spot and his OTT, hilarious open shirted, look at me, synching to the Stones' 'Emotional Rescue,' is a scene steal, Tilda Swinton whispers vulnerability, Dakota Johnson's seductively sexy with her eye on Matthias Schoenaerts and the cocooned privileged play their dark games oblivious to the lives of locals or the influx of illegal immigrants.
With the title a nod to David Hockney's 1967 painting, a terrific lead cast, stunning visuals, great soundtrack, emotional wounds laid bare, sexual tensions, a dark twist and the pool centre place, 'A Bigger Splash' is a wonderful fun watch.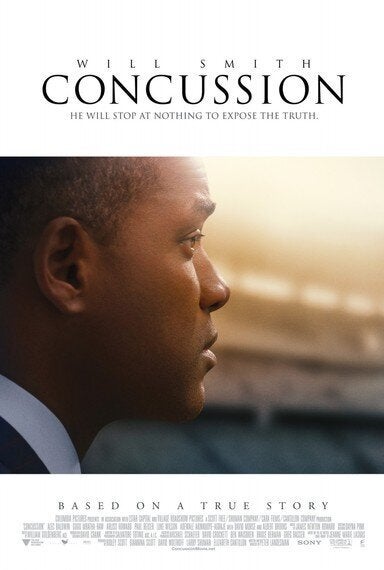 Director: Peter Landesman. Will Smith, Alec Baldwin, Gugu Mbatha-Raw, Albert Brooks. Drama. USA 2015 122 mins. (12A) **
Power, greed and corruption in the world of American football should offer inroads into a dark story but a tip toe timid approach effectively waves goodbye to an interesting storyline.
Nigerian immigrant, Dr. Bennett Omalu (Will Smith), a forensic neuropathologist who chats to the bodies before his scalpel reveals hidden secrets may have more academic qualifications than the rest of Pittsburgh but he isn't mister popular.
When Mike Webster (David Morse), a former Pittsburgh Steeler's football hero turns up on the mortuary slab in 2002 aged 50, it seems as though head butts is the cause of chronic traumatic encephalopathy (CIE), a degenerative brain disease leading to severe depression, amnesia and suicide. This is American football and anything that damages the image of a sport dear to the American heart is scooped up and buried by the National Football League led by commissioner Roger Goodell (Luke Wilson). Further deaths reveal a pattern and Dr. Bennett Omalu, one man against a corporate giant is now Pittsburgh's public enemy number one.
A story that interests and cries out for a dig deep dramatic touch timidly plods along with it's eye fixed on low key Will Smith's, too good to be true, dull Dr. Bennett Omalu whose romance with fellow immigrant Parma (Gugu Mbatha-Raw), rather than the portrait of a powerless man up against corporate greed and corruption takes centre stage. Alec Baldwin as the Steeler's recently retired Team doctor Julian Bailes, whistle blower after the event adds zero drama and it's left to Albert Brooks as Bennett's mentor Cyril Wecht who's leaned on to offer some credibility.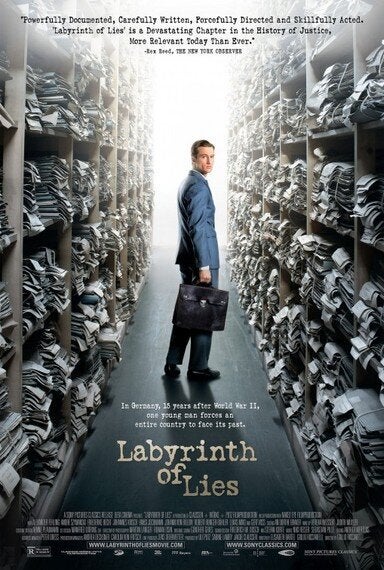 Director: Giulio Ricciarelli. Alexander Fehling, Friederike Becht, Andre Szymenski. Drama. German with English subtitles. Germany 2014 124 mins. ***
'Labyrinth of Lies' is a story that needs to be told. World War II is over, Europe is in a state of flux, the new enemy is Russia and Germany is in a state of denial of the holocaust - 'the victors get to make up stories.'
When Simon Kirsch (Johannes Krisch), an Auschwitz survivor recognises an ex-SS officer teaching at a local Frankfurt school, the quest for justice begins. With the help of Thomas Gneika (Andre Szymanski), a local journalist, public prosecutor Johann Radman (Alexander Fehling), a fictional composite of three prosecutors, with the support of his superior Fritz Bauer (Gert Voss) digs into the horrors of the recent past in a quest for justice.
Pain stalking work sifting through files for evidence for a criminal murder trial, interviewing survivors and battling against a society in denial led to the trial of of 22 former SS officers in the 1963 Frankfurt Auschwitz Trial.
Giulio Ricciarelli dwells more on Johann Radman's personal struggle, his relationship with his girlfriend Marlene (Friederika Becht) and his father's past rather than on a court room drama. His was a personal struggle, a man obsessed with the elusive Josef Mengele, which detracts from the pursuit of other members of the SS while Mossad have their eyes on Adolf Eichmann, the architect of the Final Solution.
Today in Detmold, Germany one of the last remaining former SS guards at Auschwitz, 94-year-old Reinhold Hanning goes on trial on 170,000 counts of accessory to murder at the time of the 'Hungarian Operation' when over 430,000 Hungarian Jews were deported to Auschwitz and over 300,000 gassed on arrival.
For further FILM and BLU RAY/DVD REVIEWS see www.film-reviews-and-news.co.uk
Popular in the Community