'Chevalier' is full of deadpan absurdist humour and it's a delight - Mark Rylance excels in 'The BFG,' Steven Spielberg's colourful romp through Roland Dahl's Giant Country - 'Ming of Harlem:Twenty One Storeys in the Air' is something of a one-off, only in New York, stranger then fiction tale of the relationship between man and animals.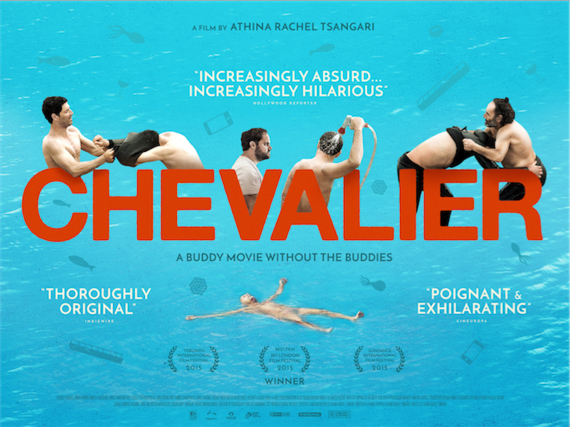 Director:Athina Rachel Tsangari. Vangelis Mourikis, Nikos Orphanos, Yorgos Pirpassopoulos. Comedy. Greek with English subtitles. Greece 2015 105 mins. Best Film Award 2015 London Film Festival (18) ****
Six middle aged, middle class men on a fishing trip on a luxury boat cruising in the Aegean decide to play a game. The games are absurd and addictive, from the ability to maintain the biggest erection, putting flat-packed furniture together, the best posture while sleeping, to cholesterol blood levels. The players rate and compare each game while the crew observe, mimic and comment on the players. The reward for the winner is the Chevalier signet ring.
And the players? The Doctor (Yorgos Kendros) assumes he's head of the pack, timid Dimitri (Makis Papadimitriou), still lives at home and persuaded his older brother Yannis (Yorgos Pirapassopoulos), an arrogant insurance salesman to include him, estate agents Joseph (Vangelis Mourikis) and Christos (Sakis Rouvas) and Yorgos (Panos Koronis) who shares the Doctor's clinic make up the group How they met and came together is unknown. They're there to play the game and it's an absurd delight.
Like life, it's a competition and personalities, rivalries and insecurities emerge, egos are bruised, dignity's peeled away in a macho game of anything goes. Winning is the name of the game. But does each player believe that they're good enough to win? With a strong cast, crisp editing, a bile laced script all beautifully framed by cinematographer Christos Karamanis and a spot on individual soundtrack selection, 'Chevalier,' Tsangari's third feature after 'Attenberg' slots with accessible ease into the Greek New Wave.
Fascinating, intriguing and hilarious. Dry, deadpan, absurdist humour with a sprinkling of bile and interpret as you wish. Who will be the 'best ever' and win the Chevalier signet ring?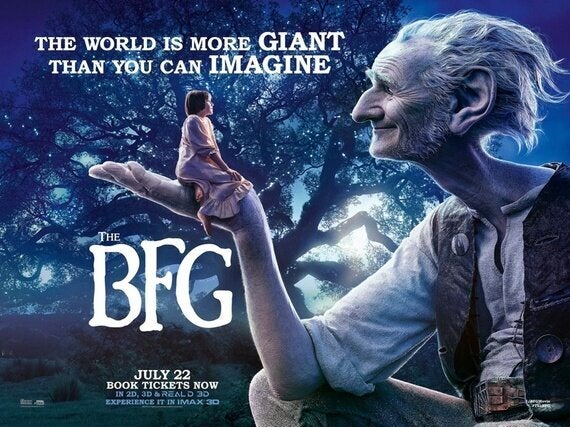 Director: Steven Spielberg. Mark Rylance, Ruby Barnhill, Penelope Wilton. Adventure, Fantasy, Family. UK, Canada, USA 2016 117 mins. (PG) ****
BFG's giant hand reaches through the orphanage window and takes Sophie (Ruby Barnhill) on a magical, fun, thrill and spill, perilous adventure through Giant Country with a few farts thrown in. Visually magical, technically brilliant , Ruby Barnhill's superb but it's Mark Rylance who plays BFG, who steals the film. The facial gestures say it all and only he could whisper 'The footsteps of a ladybird as she goes walking across a leaf,' and whisk you away into Roland Dahl's fantasy world.
BFG, the gentle, lonely Big Friendly Giant, full of love, bottles dreams and feeds them to sleepers. Gobblefunk is his language, something akin to a very broad West Country dialect and he swigs Frobsottle whose bubbles move down with hilarious consequences. A giant, small in comparison to the gigantic, mean and miserable bullies that tramp though Giant Country with names to match their ugly faces and carnivorous appetites - Bloodbottler, Fleshlumpeater, Meat Dripper. Mean and miserable. It's Sophie and BFG against the big, big giant bullies.
And what a finale. Her Majesty, The Queen (Penelope Wilton), the guards at Buckingham Palace, Mr Tibbs (Rafe Spall) the master butler trying to keep it all very regal and 3 royal corgis enthusiastically supping Frobscottle and farting in unison.
A bull'e eye colourful, fun hit for kids with plenty of fart jokes. Don't forget the adults, they'll like it.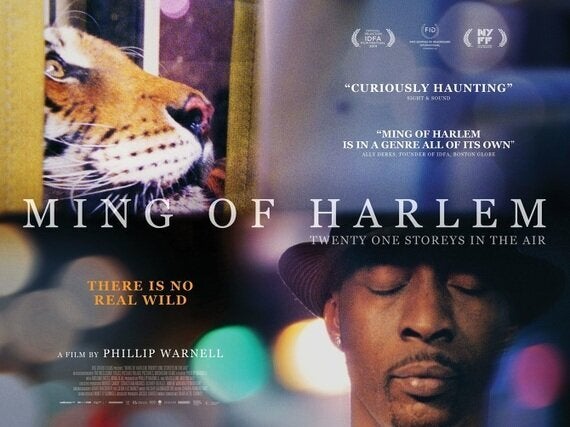 Director: Phillip Warnell. Antoine Yates. Documentary. USA, UK 2014 71 mins. (U) ***
When the New York Police Department put out a call to attend an incident in 7th Avenue, 141 - 142, in 2003 they didn't expect to find Ming, a 500 pound Bengal Tiger and a 7-foot alligator in apartment 5E. 'Only in New York', stranger than fiction, Antoine Yates had kept his pets on the 21st floor with the noise of the city buzzing in their ears. if Ming hadn't taken a liking to Antoine's leg, he could still be roaming high above Harlem's skyline.
Phillip Warnell's debut feature offers a refreshing slant. Opening with archive footage of Tiger trainer Mabel Stark, it offers little factual insight into where Ming and the Alligator came from or Antoine Yates's background or how he feed the hungry beasts. Was it a well kept Harlem secret? Antoine Young narrates from the back seat of a cab, the camera follows Ming at 'home' courtesy of Rajiv, his Tiger stand in, there's some meditative input which is a bit iffy and we learn that Antoine was jailed for 5 months but wants to set up a private zoo in Nevada.
'Ming in Harlem: Twenty One storeys in the Air' is something of a one-off intriguing view of the relationship between man and animals and it's colours are nailed to the festival art house circuit.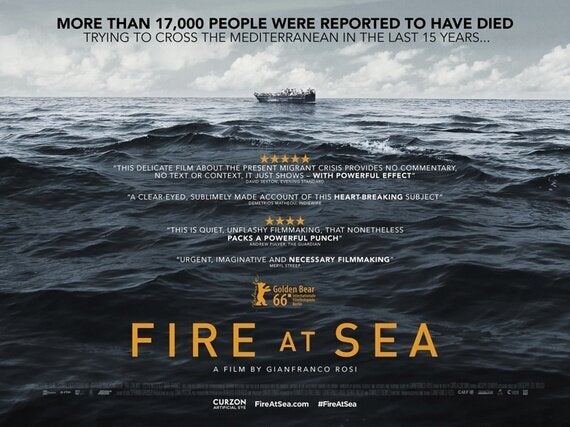 Director: Gianfranco Rosi. Documentary. English & Italian with English subtitles. France, Italy 2016 108 mins.Winner Golden Bear 2016 Berlin Film Festival (12A) ****
A powerful and haunting portrait of the passage of migrants through Lampedusa.
For further FILM & BLU RAY/DVD REVIEWS go to www.film-reviews-and-news.co.uk