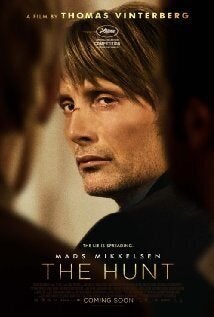 Director : Thomas Vinterberg Cast : Mads Mikkelsen, Thomas Bo Larsen, Annika Wedderkopp. Mads Mikkelsen Winner Best Actor Cannes 2012 Genre : Drama Country of Origin: Denmark 2012 Language : Danish with English subtitles 115 mins. Rating : *****
Thomas Vinterberg made his directorial name in 1998 with the outstanding Festen (The Celebration). He doesn't disappoint with The Hunt, a powerful drama which explores child abuse and the effect of the lies of an innocent child.
Set in a small rural lower middle-class Danish community, we know from the outset that Lucas (Mads Mikkelsen), a temporary assistant in a small nursery school is innocent and view in perspective the mass hysteria, violent hostility and panic that overtakes this small tight knit community. As expected Mads Mikkelsen gives a stunning performance and brings to the role of Lucas, a feeling of suppressed agony, of inexplicable turmoil and isolation, his only source of comfort being Marcus (Lasse Fogelstrom), his teenage son and Marcus's godfather. Annika Wedderkopp gives a most poignant performance as Klara unaware of the destructive forces unleashed by her innocent little lie and Charlotte Bruns Christensen's cinematography lends a visually captivating beauty to this madness.
The Hunt is powerful, intelligent and mature with nail-biting scenes of suspense as it visualises the unquestioning willingness to join the lynch mob. We can ponder on recent events in the UK, a chat show host handing a piece of paper to the Prime Minister outing a prominent figure, the so-called celebrities tweeting ' guilty ' all eager to climb aboard and follow the mob.
The lynch mob rules and cries for blood.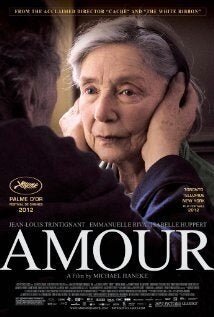 Director : Michael Haneke Cast : Jean-Louis Trintignant, Emmanuelle Riva, Isabelle Huppert Winner Palme d'Or Cannes 2012 Genre : Drama Country of Origin: Austria, France, Germany 2012 Language : French with English subtitles 127 mins. Rating : *****
The police break into a Paris flat mouths covered with masks in case of contamination. The corpse of an elderly woman lies on a bed her head surrounded by flowers. A flashback sees George Laurent (Jean-Louis Trintignant) and his wife Anna (Emmanuelle Riva) at a piano recital. The camera focuses on the audience and then into their Paris flat which becomes the focal point of the final moments of their long marriage.
George and Anna were music teachers with a cultured and vibrant life. Anna suffers a stroke and her condition rapidly deteriorates but George refuses to place her in a nursing home and tends to her needs at home. Their only daughter, Eva's (Isabelle Huppert) advice to her father is shaped by her own needs - she has a young child, lives abroad and has an unstable marriage. The rapid changes to their well-ordered lives makes George and Anna confront their future.
Time, the confrontation of ageing and the tragic nature of death is often neglected but we see in this 2012 Palme d'Or winner a majestic and intelligent piece of cinema that will I'm sure be ranked alongside the classic works of Ingmar Bergman (Wild Strawberries, 1957), Akira Kurosawa (To Live, 1952) and Yasujiro Ozu (Tokyo Story, 1953).
This is a remarkable film with the cinematographer, Darius Khondji presenting the interiors of the flat in the manner of a painting. Jean-Louis Trintignant and Emmanuelle Riva's stunning performances are richly expressive, subtle, passionate, painful and intimate, fear etched on the face as love is vanishing. Even more remarkable when you consider that Jean-Louis Tringinant is 81 and Emmanuelle Riva 85 - truly memorable.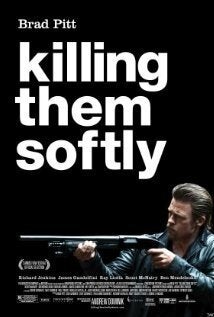 Dir: Andrew Dominik Cast: Brad Pitt, Ray Liotta, Richard Jenkins Genre: Crime drama Country of Origin: USA 2012 Language: English 97 mins. Rating : ****
Killing Them Softly reminds me of The Friends of Eddie Coyle starring Robert Mitcham and adapted from a George V. Higgins story. A piece of underrated cinema with sharp dialogue and vivid portrayals of Boston underworld characters.
Killing them Softly is also adapted from a George V. Higgins 1970's crime novel, Cogan's Trade. Set in a decaying New Orleans at the beginning of the 2008 financial crisis two petty thieves, Frankie (Scott McNairy) and Russell (Ben Mendelsohn) knock off a small poker game not realising that it's operated by the mob.The robbery scene is intense and choreographed to perfection. Enter Jackie Cogan (Brad Pitt) who under the watchful eye of the mysterious driver is hired to track down those responsible for the heist. This isn't a movie with 90 minutes action and 5 minutes dialogue. It's a closely observed scanning of characters and the script has a dark and amusing edge that fits the characters giving a very original movie.
The cast are wonderful - Ray Liotta as Markie Trattmank is a whimpering small time mobster and Scott McNairy as Frankie and Ben Mendersohn as Russell the comically incompetent thieves shine. James Gandolfini plays Mickey to perfection as the drunken sex obsessed would be hit man. That just leaves Brad Pitt to offer cold charisma and whispered dark wit and the mysterious driver to lurk in the background.
Play that with a backdrop of archival TV clips of George W. Bush , US Treasury Secretary Henry Paulson and US Presidential candidate Barack Obama, a great soundtrack and slick editing and you've got a winner which plays to a sharp dialogue driven conclusion.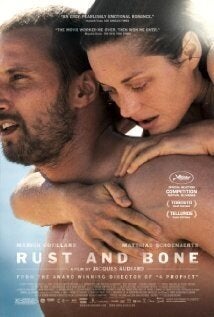 Director: Jacques Audiard Cast: Marion Cotillard, Matthias Schoenaerts, Armand Verdure Genre: Drama Country of Origin: France 2012 Language: French with English subtitles Rating: ****
Adapted from short stories by the Canadian writer, Craig Davidson, Rust and Bone is a brutally realistic passionate love story that leans towards tragedy.Ali (Matthias Schoenaerts), a rootless Belgian who's worked as a night club bouncer, security guard and boxer goes to Antibes with his young son, Sam (Armand Verdure) to stay with his long-suffering sister Anne (Corinne Masiero) . This isn't the Antibes of the celebrity rich, it's the Antibes of the peripherals of society. Ali meets Stephanie (Marion Cotillard) who trains Ocras in a local marine tourist park. A freak accident where a whale misreads her signals and turns on her results in Stephanie loosing her legs. Confined to a wheelchair and suffering with severe depression, Stephanie contacts Ali. Wondering whether she'll ever feel desire again, Ali sleeps with Stephanie and a remarkably powerful love story emerges.
The acting is stunning, the direction superb but the film belongs to Marion Cotillard who gives one of the performances of the year.
From the not-too-distant past - if you've missed this gem view it now.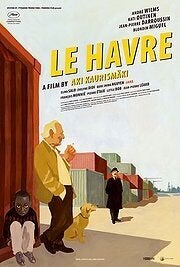 Director: Aki Kaurismaki. FIPRESCI Prize Cannes 2011 Country of Origin: Finland, France, Germany 2011 Genre: Comedy, drama. Language: French with English subtitles. 93 mins. Rating: *****
A 2011 Cannes favourite, Le Havre sees the Finnish director Aki Kaurismaki at his best. Marcel (Andre Wilms) a shoeshiner at the train station of Le Havre, the French port town lives with his wife Arletty (Kati Outinenn) and their dog in an area noted for its joyless poverty but friendliness and goodness. Marcel who tries to stay clear of the police sees Idrissa (Blondin Miguel) an illegal immigrant boy from Gabon escape and sets out to help him. How can Marcel hide Idrissa and arrange his passage to England ? To add to his troubles, a detective (Jean-Pierre Daroussin) begins to prowl the area, a serious illness threatens Arletty and a local (Jean Pierre Leaud) is making anonymous telephone calls denouncing Idrissa. It's as though Le Havre is timeless as are its comically immobile characters. Some may say it's a tribute to a France long passed. Almost theatrical, disciplined yet unfolding like a fairy tale, deadpan dialogue, low-key, funny, absurd, warm, charming and emotionally potent. Le Havre is great cinema and very cool.
Get full Blue-ray and DVD review updates at blog.clivebottingfineart.com