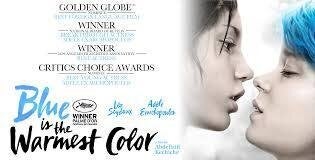 Blueisthewarmestcolourorm
'Blue is the Warmest Colour' aroused argument and controversy. It's raw, powerful and utterly compelling cinema.
Director: Abdellatif Kechiche Cast: Lea Seydoux, Adel Exarchopoulos, Salim Kechiouche, Aurelieu Recoing, Catherine Salee, Anne Locret, Benoit Pilot
Country of Origin: France, Belgium, Spain 2013
Language: French with English subtitles 179 mins.Rating: *****
Winner Palme d'Or Cannes International Film Festival 2013, Best Foreign Language Film London Critics' Circle 2014, Best International Independent Film BIFA 2013, Best Foreign Language Film New York Film Critics' Circle 2013
'Utterly compelling, emotional and powerful.'
Accolades and controversy followed 'Blue is the Warmest Colour' after it's 2013 Cannes Palme d'Or win and I felt the need to view it again. It is raw, powerful, mesmerising and memorable and that's not for the astonishingly frank lesbian sex scenes which elicited controversy. It's for Lea Seydoux and Adele Exarchopoulos's compelling performances.
15-year-old Adele (Adele Exarchopoulos) is an average teenager with school, friends, parents and boys taking up most of her time and thoughts. A chance encounter with Emma (Lea Seydoux), a beguiling rebellious blue-haired art student forces Adele to question her desires and sexuality and assert herself as a woman and as an adult.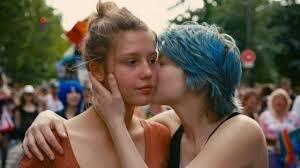 As suggested by the original French title, it's divided into two chapters, a coming-of-age love story that explores innocence and growing experience. It is perhaps the time in Adele's life when she is truly and passionately in love - a memory that will remain forever. The hand held camera lingers documentary-like on close-ups of Adele and Emma's faces witnessing their emotional complexity and an overwhelming desire that's all consuming. Sexuality and homophobia are vividly expressed with frightening venom, parents are introduced over a meal, friends celebrate, intellectual differences emerge and Adele senses isolation. And the camera lingers and picks up every facial gesture, every tear and expression of love, desire and despair - it is or was Adele's, total and all consuming love. Powerful, emotional and mesmerising.
I question the length and nature of the sex scenes but they're fictional, just a part of this story and there's a predictability to the end but whatever the arguments and controversy 'Blue is the Warmest Colour' is utterly compelling cinema.
Released on DVD by CURZON FILM WORLD/ARTIFICIAL EYE 17th March 2014