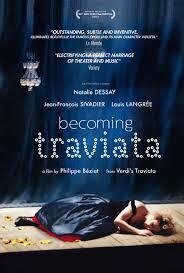 Director: Philippe Beziat
Cast: Charles Castronovo, Natalie Dessay, Louis Langree
Language: French, Italian, English with English subtitles
Country of Origin: France 2012 113 mins.
In 2011 Jean Francois Sivadier directed an open air production of Verdi's masterpiece, La Traviata at the prestigious Festival d'Aix-en-Provence.
Philippe Beziat's marvellous documentary goes behind the scenes to offer a rare and fascinating glimpse into the planning and rehearsal stages that go into creating a contemporary re-telling of this classic opera.
Theatre and opera director Jean-Francois Sivadier and soprano Natalie Dessay create Verdi's heroine, Violette in a collaborative effort that makes you realise that it's a hard slog from all concerned to get any production off the ground. Rehearsals are experimental with the deceptive appearance of being casual or even haphazard as ideas are thrown around and played with but gradually Sivadier's vision of Violette takes shape. It's fascinating to see the interplay between Sivadier and Louis Langree, the masterful director of The London Symphony Orchestra as they work with the leads and the Estonian Philharmonic Choir singers whilst lighting technicians and set designers work in the background - vision, talent, humour, passion and a lot of hard work.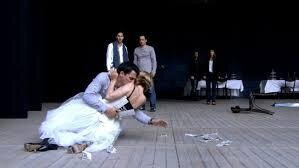 Overly long but an utterly absorbing insight without showing any of the public performance. It makes you realise how privileged an audience is to be offered the final work, something we may take for grated.
'Becoming Traviata' shouldn't be the preserve of opera lovers. It's insightful, humorous and offers the chance to see the visionary creation of a classic work.
Released by AXIOM FILMS 26th May
Follow film reviews at: www.film-reviews-and-news.co.uk
Related