'A Late Quartet', a captivating and intelligent debut feature from Yaron Zilberman, 'In the House', Francois Ozon's clever narrative driven spellbinding psychological drama plays games with the audience and Steven Soderberg's Hitchcockian 'Side Effects' is full of double crosses. Cinema can be one of the great pleasures of life.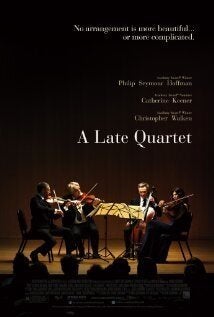 Director: Yaron Zilberman Cast: Catherine Keener, Christopher Walken, Philip Seymour Hoffman, Mark Ivanir, Imogen Poots Country of Origin: USA 2012 Genre: Drama Language: English 105 mins. Rating: *****
'A Late Quartet', Yaron Zilberman's debut feature is one of those magical moments that shows why cinema is one of the great pleasures of life.
This intelligent and utterly captivating film written by Seth Grossman and Yaron Zilberman looks at the critically acclaimed New York based Fugue String Quartet who are due to perform together to celebrate 25 years of playing together to packed houses around the world. This unique collaborative effort is shattered when Peter (Christopher Walken), the cellist and founder of the ensemble announces that he's been diagnosed with Parkinson's disease and they need to agree on finding a replacement. The effect is devastating. Fractures and resentment appear which threaten the survival of the Quartet.
Robert (Philip Seymour Hoffman), the second violinist, insecure, passionate and with a bruising ego demands that he alternate with Daniel (Mark Ivanir), the first violinist, a highly demanding perfectionist of great technical brilliance who rebuilds violins. Robert's wife, Juliette (Catherine Keener), the viola player realises that this would be a grave mistake and could lead to the ensemble being disbanded. Robert,ego bruised has a fling and their daughter Alexandra (Imogen Poots), a student of the violin embarks on an affair with Daniel.
Beethoven's Op 13, the String Quartet No. 14 in C sharp minor with all seven movements played without pause is central to the dramatic structure of the film. And what a background. It's what the ensemble intend to play to celebrate their 25 years together.
Frederick Elmes's cinematography is masterly capturing atmosphere, character and place - New York in winter, the elegant and spacious character defining apartments in which they practice, a Sothebys Musical Instrument auction, Peter and Juliette at the Frick Collection viewing a late Rembrant portrait. The Brentano Quartet may be playing each piece but your eyes are fixed on the cast who mime each work to perfection. And what a cast,each of whom takes the script and creates the characters that are the Fugue String Quartet. The film is about collaborative endeavour and they shine. Philip Seymour Hoffman, ego damaged and struggling for position who with the simple act of shaving his beard emerges as a new character, Imogen Poots, a talent to watch vividly portrays the naive and emotionally damaged daughter with depth and emotion. Mark Ivanir is powerfully convincing as Daniel, the east European exile who was a co-founder of the Quartet, controlled and demanding but it's Christopher Walken who's the revelation with a quiet, subtle, intelligent and underplayed performance - reading the first ten lines of 'Burnt Norton', the first of T.S.Eliot's 'Four Quartets' to his students which talks of time in music, life, continuity and eternity as an introduction to Beethoven's Op 13 and the tragedy at the centre of Peter's life conveyed with heartfelt dignity when Sophie von Utter, standing in for his dead wife sings the aria from Korngold's opera, Die tote Stadt which leads into the conclusion to this intelligent and captivating film which can only bring a tear to the eye.
This is wonderful cinema that should be enjoyed by all but in reality will be viewed by few.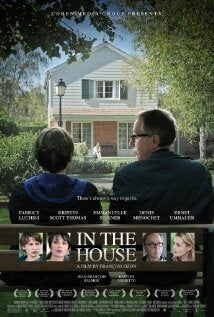 Director: Francois Ozon Cast: Kirsten Scott Thomas, Fabrice Luchini, Ernst Umhauer, Emmanuelle Seigner, Batien Ughetto, denis Menochet Country of Origin: France 2012 Genre: Mystery Drama Language: French with English subtitles 105 mins. Rating:****
A clever narrative driven, brilliantly acted psychological drama that plays games with the audience and is quite spellbinding.
Germain (Fabrice Luchini) teaches literature at the lycee, considers himself as steeped in the tradition of the literary masters, remains aloof from his fellow teachers whom he considers conventional thinkers and despairs at his pupil's lack of imagination. His wife Jeanne (Kirsten Scott Thomas) runs the Minotaur's Labyrinth contemporary art gallery and just about tolerates him. Reading an assignment from 16 year old Claude (Ernst Umhauer), one of his students titled 'What I did this Weekend' he is captivated by the phrase 'the singular smell of a middle class woman'. Claude writes of his fascination with fellow pupil Rapha (Batien Ughetto) and his loving middle class family and tantalisingly concludes with the phrase 'to be continued'. Germain is mesmerised and a strange bond is formed between teacher and pupil with Germain encouraging Claude to observe and chronicle the lives of the Artole family.
The acting is faultless. Ernst Umhauer is perfect as Claude the smiling manipulative interloper. Fabrice Luchini plays Germain the teacher outsmarted by his protege with a series of facial gestures that says it all and Kirsten Scott Thomas gives a beautifully controlled performance as Jeanne, struggling with a husband haunted by his failure as an author. Using the narrative, it plays games with the audience and it becomes difficult to distinguish reality from fiction. The essays become compulsive reading for Germain and Jeanne as Claude enters the lives of Rapha's father (Denis Menochet) and his bored mother Esther (Emmanuelle Seigner). Germaine is hooked. But when to stop ?
Loosely adapted from the play by Juan Mayorga 'The Boy in the Last Row' with the screenplay by Francois Ozon, this is elegant and sophisticated storytelling with touches of Bergman, Chabrol and Woody Allen (Match Point). The cinematography (Jerome Almeras) is excellent, the editing (Laure Gardette) is perfect and the script (Francois Ozon) in the hands of a great cast makes it all happen. It does loose its way a bit and perhaps the ending needs more structure but this is intelligent adult cinema. Black comedy at its best.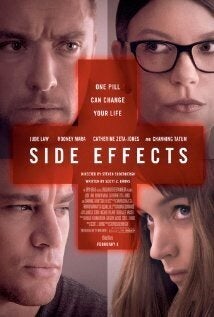 Director: Steven Soderberg Cast: Rooney Mara, Channing Tatum, Jude Law, Catherine Zeta-Jones Genre: Drama thriller Country of Origin: USA 2012 Language: English 106 mins. Rating: ****
Emily (Rooney Mara) and Martin (Channing Tatum) were the successful New York couple whose world unravels when a new drug is prescribed by Emily's psychiatrist, Dr. Jonathan Banks (Jude Law) to help her cope with her husband's forthcoming release from prison for insider trading. Emily's life begins to rapidly disintegrate and her rapid mental deterioration eventually leads her to crash her car into a wall in an assumed suicide bid. Dr. Jonathan Banks suggests that she takes Ablixa, a new experimental anti-depressant with devastating results.
Complex double crosses abound and the opening scene with the camera moving slowly over the exterior of a large characterless New York apartment building suggests a Hitchcock feel about this story of the financial side of the medical drugs trade. it's an interesting and watchable thriller but I'd hoped for more depth on the relationship between clinicians, the pharmaceutical companies, their sponsorship of drug trials and the financial markets. Getting new drugs onto the world market requires significant financial input by the pharmaceutical companies and the rewards can be massive. Unfortunately Catherine Zeta-Jones's wooden performance as Emily's previous psychiatrist, Dr. Victoria Siebert is so out of place that I wondered if she was on the wrong set and adding a bit of the Hollywood erotic visuals towards the end reduced the effectiveness of an otherwise interesting and enjoyable piece of cinema.
'Side Effects' is beautifully shot and edited by Steven Soderbergh and the musical score (Thomas Newman) is perfect.
It's been quoted as Steven Soderbergh's last film as he intends to retire to paint. It all began in 1989 when he wrote, edited and directed 'Sex, Lies and Videotapes'. I hope it won't end with 'Side Effects' and that he can be tempted out of retirement.
Popular in the Community