WELCOME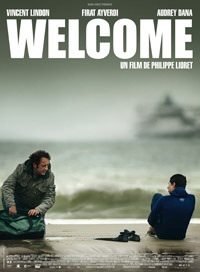 Director: Philippe Lioret Cast : Vincent Lindon, Firat Ayverdi, Audrey Dana Genre : Drama Country of Origin : France 2009 Language : French, Kurdish, Turkish with English subtitles and English 110 mins. Rating : ****
With UKIP joy, Tory jitters and immigration at the fore I revisited writer-director Philippe Lioret's Welcome, a compassionate and inspiring drama of the power of love and hope in new beginnings.
Bilal (Firat Ayverdi), a 17 year old Kurd has spent three months illegally travelling from Mosul in Iraq to land in Calais on a bleak February afternoon in the hope of reuniting with his girlfriend Mina (Derya Ayverdi) whose family are in London and intend to marry her off to a rich cousin. After a failed attempt to reach England in a lorry, in desperation Bilal seeks help from Simon Calmat (Vincent Lindon), a middle aged swimming instructor at a public pool in Calais to learn how to swim the English Channel. It's crazy but it's the only way. Simon's life is in turmoil from an impending divorce from his wife, Marion (Audrey Dana), a social-conscious school teacher who helps run an outdoor soup kitchen for illegal immigrants and he reluctantly risks all by taking Bilal under his wing.
Welcome is an engrossing, bold, compelling and emotionally affecting drama with naturalistic and moving lead performances from veteran actor,Vincent Lindon and newcomer, Firat Ayverd against a background of inflamed passions and a brutish mentality that's associated with mass migration. Bilal's failed attempt at crossing the Channel in a lorry only strengthens his resolve to be reunited with Mina by swimming the Channel - memories of imprisonment by the Turkish army for eight days prevented him from keeping a plastic bag over his head which illegals use to reduce carbon dioxide detection by border agency guards.
Welcome brings to the fore the feeling of a siege mentality - it's them and us, neighbour informs on neighbour referencing the treatment of French Jewish citizens not too many years ago. The full and often brutal force of French officialdom isn't solely against the immigrants, it's also against those who assist them. Predictably Welcome incurred the wrath of the French Immigration Minister but went on to win the Eucumenical Prize at Berlin, Best Film at the 2010 Lumiere Awards and was nominated for 10 Cesar Awards including Best Film and Best Director.
Calais with its view of the promised land and the use of lorries as the main means of crossing the channel doesn't make the headlines now but illegal immigration into the UK is still top of the political agenda and the problem refuses to go away.
On 26th January a Pole in his 20s sailed from Papua New Guinea across shark infested waters on a homemade raft in the middle of a cyclone to try to get to Australia. Needless to say he didn't get far. On April 9th the body of a young man of African origin was found in the landing gear of a Camair-Co plane after it landed at Roissy-Charles de Gaulle - he'd frozen to death. On May 11th a German freezer lorry was searched at Watford Gap. Twelve illegal immigrants were found, ten from Iran, one from Syria and one from Afghanistan. They were arrested on suspicion of immigration offences.
THE STONING OF SORAYA M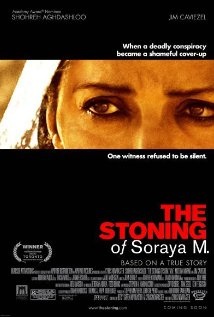 Director : Cyrus Nowrasteh Cast : Shohreh, Mozhan Marno, Jim Caviezel Genre : Drama Country of Origin : USA 2008 Language : Farsi with English subtitles 116 mins. Rating : ***
Film making in Iran isn't easy yet we see highly regarded works such as Asghar Farhadi's 'About Elly' and 'A Separation' focusing on contemporary Iranian society. Cyrus Nowrasteh's tale of brutality and mass hysteria hiding behind God's Law is quite another story that I've revisited.
Based on the true story of Soraya (Mozhan Marno) accused of adultery by her scheming husband Ali (Novid Negahban) with the support of a corrupt mullah (Ali Poustash) and set in a remote village in Iran in 1986, the early years of Ayotalloh Khomeini's. The charge is all lies concocted by Soraya's husband but under Sharia law if the accused is found guilty they are stoned to death. Soraya disowned by her family is buried up to her waist in a hole in the centre of the village and her elderly father is compelled by the village mayor and the mullah to cast the first stone. After stoning the body is picked clean by wild dogs and then laid in the earth by her aunt Zahra (Shohreh Aghdashloo) who places herself at great risk by relating the horrowing tale about her niece's death the day before to Freidoune Sahebjam (Jim Caviezel), a French-Iranian journalist whose car had broken down outside of Kupayah and is being repaired in the village.
As the tale unfolds we get glimpses of village life with the powerful elders visibly wary of Zahra and Soraya's dignified strength and beauty.
This is a powerful and haunting piece of cinema documenting barbarity sheltering behind God's Law but touches of 'Hollywood' detract from an otherwise unusual and disturbing work. The stoning is visually full on and the horror and mass hysteria would have been more effectively shown if the camera had focused on the faces of the accusers rather than on Soraya, the helpless victim. Camera shots that imitate the trajectory of each stone hurled and linger on the victim is simply a gore-fest. A subtle undramatic touch can often effectively define absolute horror.The background musical score seemed disjointed at times and the occasional western blend seemed out of place. Does a film of this type need a score or if it does why not a reduced one ? I refer to the effective absence of a musical score until the final scene in the wonderful Iranian drama, About Elly. Nevertheless The Stoning of Soraya M, adapted from Freidoune Sahebjam's book is a hypnotic tale of the manipulation of truth, the ultimate betrayal. As we know only too well, such betrayal isn't restricted to a remote Iranian village in 1986.
Ironically the release of The Stoning of Soraya M coincided with the Iranian Governments intention to stone to death Sakineh Mohammadi Ashtiani for adultery which resulted in an international outcry.
FROM THE NOT-TO-DISTANT PAST - If you haven't seen this view it now.
McCULLIN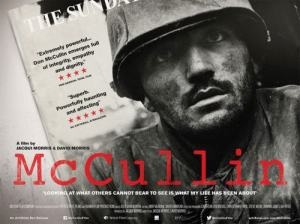 Director: David Morris, Jacqui Morris Genre: Documentary Country of Origin: Language: English 95 mins. Rating *****
" I'm not an artist or poet, I'm a photographer " Don McCullin.
Don McCullin is a self-taught photojournalist who's bought us many of the most recognisable war photographs of this era - the haunting images of his time in Cyprus, Biafra, Congo, Vietnam, Cambodia, Lebanon and Belfast.
Since Roger Fenton recorded images of the Crimea campaign there's always been war photographers - Matthew Brady in the US Civil war, John Warwick on the western Front in World War One and Robert Capa's images of the Spanish Civil War, the Second World War and the war in Indochina. Their images in newspapers and magazines have done so much to bring to the public eye the horrors of conflict.
Don McCullin's first assignment for The Observer was on violent teenage London gangs and produced his stunning image of gang members posing on different floors of a half demolished house marking him as a 'natural'.
Jacqui Morris, Don McCullin's old assistant has produced a revealing and innovative documentary with McCullin speaking directly to the camera recounting the history behind many of his images. Raised in poverty in North London, photography saved him from a life of crime and his work for The Observer and The Sunday Times drew McCullin to all the major wars of the 60's. A confessed 'war junkie' his images of the Vietnam war did much to bring the unbearable horrors of that conflict to middle America and was so effective that he was banned from travelling to the Falklands by the UK Government.
Many of the wars that Don McCullin covered in the 60's are long forgotten but the horror, terror and insanity still exists in new conflicts. Many of the images are haunting and document the insanity of conflict with the poor,the old, women and children, the defenceless caught up in the carnage. Will we ever learn ?
" No one cares about real human beings. It's all about privileged celebrities who are able to look after themselves. We must think about people who don't have these fortunate opportunities " Don McCullin.
A must-see documentary not simply for the quality and variety of the images but to remind you of the insanity of war.
GET FULL DVD REVIEWS AT blog.clivebottingfineart.com