Production costs limit but TWO BRITISH FILMS now on DVD show that small budget productions CAN EQUAL QUALITY. Raising finance is not easy but some productions are so mediocre that I'm loath to believe that so much money is wasted. Even multi-million dollar US productions can be so unbelievably poor that you have to pinch yourself to ensure that it's not a bad dream.
Director: Craig Viveiros Cast: Tim Roth, Jack O'Connell, Talulah Riley, Peter Mullan Country of Origin: UK 2012 Genre: Action Thriller Language: English 82 mins. Rating: ****
Small budget, very likeable and very watchable.
Adam (Jack O'Connell), a not too bright joyrider crashes his stepfather Peter's car . That's not a wise thing to do as Peter (Peter Mullan) is a mad dog human trafficker. Enter Roy (Tim Roth) a world weary hit man with an enthusiastic Adam as his driver and we've got a delightful odd couple road movie with the unlikely pair travelling north on the A1 to kill a Latvian bad guy. Body parts, gunplay, a local serial killer who hacks off the victim's hands and the appearance of a mysterious hiker (Talulah Riley) add to the grisly fun.
It's blackly effective, character driven, witty and tongue in cheek. Jack O'Connell is confident and assured as the cocky Adam and is the perfect foil for Tim Roth - they're a great pair.
This character led thriller brings a smile to the face. John Wrathall's script is tight and witty and the two central characters make brilliant use of it. The ending is a bit predictable and does Peter Mullen play any other role than a mad dog from hell but it's great viewing if only for the banter between Jack O'Connell and Tim Roth.
The Liability doesn't have the breadth that would have given this small UK production blanket theatre coverage but its an example of quality on a small budget.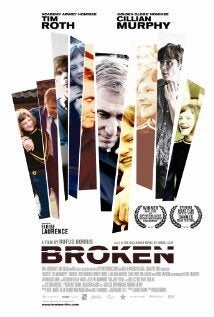 Director: Rufus Norris Cast: Cillian Murphy, Tim Roth, Rory Kinnear, Eloise Laurena, Robert Emms, Zana Marjanovic Critics Week Cannes 2012 Country of Origin: UK 2012 Genre: Drama Language: English 91 mins. Rating: ***
Adapted from 'Broken' a novel by Daniel Clay this debut film by theatre director Rufus Norris is a slice of British realism with an outstanding performance from Eloise Laurena as Skunk, (don't ask me where the name came from) the precocious and smart daughter of Roy (Tim Roth) a solicitor and single parent.
Eleven year old Skunk witnesses a violent assault by her neighbour, Bob Oswald (Rory Kinnear) on Rick (Robert Emms) a young man with emotional and psychological problems who lives over the road. This triggers a chain of events that have a devastating effect on Rick and on the inhabitants of this North London suburban cul-de-sac.
The cast are excellent but Rory Kinnear, whom I'm more used to seeing at the National Theatre, as Bob, single parent to three unbelievably horrible daughters is the best advert for a cerebral aneurysm that I've seen for a long time and almost too convincing in his belief that his offspring are angelic. Tim Roth is wonderfully laid back as Archie, Skunk's caring father and Cillian Murphy is perfect as Mike, Skunk's school teacher, well meaning, destined to make a mess of it, and not too good at courting the au-pair.
It's very watchable and I recommend it but I have a nagging feeling that even with the tragic events it's a bit too sweet as seen from the concluding frames. It doesn't have that grit, depth and vision that a Mike Leigh production carries. Perhaps I need to watch it again but I've the feeling that I'd come to the same conclusion.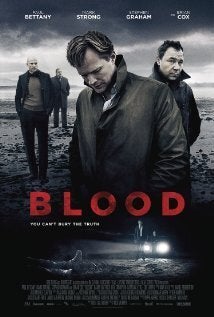 Director: Nick Murphy Cast: Paul Bettany, Stephen Graham, Mark Strong, Brian Cox Genre: Crime Drama Country of Origin: UK 2012 Language: English 92 mins. Rating: *
A 12 year old school girl is murdered and Joe Fairburn (Paul Bettany) and his brother Chrissie (Stephen Graham), brother cops in an unnamed northern town murder a suspect. Their colleague, Robert Seymour (Mark Strong) is on their trail whilst their father Lenny Fairburn (Brian Cox) a retired cop with dementia hovers in the background.
It's unbelievably bad. Routine, repetitive, predictable and Brian Cox is laughable. There's a plodding script, the sound track rumbles along and the casting is misplaced.
How Could BBC Films put money into such a mediocre production ?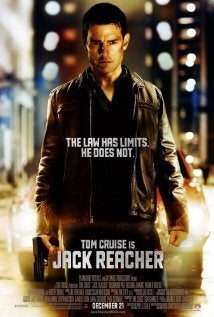 Director: Christopher McQuarrie Cast: Tom Cruise, Rosamund Pike, Richard Jenkins, David Oyelowo, Werner Herzog, Robert Duval Country of Origin: USA 2012 Language: English Genre: Action Crime Thriller 130 mins. Rating: **
Unintentionally ludicrous and despite the action sequences, dull.
A sniper executes six people. When arrested he writes on a piece of paper ' GET ME JACK REACHER. ' Enter our mysterious hero who'll get to the truth ? Based on the Lee Child novel 'One Shot' it's got the ingredients for a fiesty, tongue in cheek action packed yarn that entertains. How could they get it so wrong ?
Tom Cruise as Jack Reacher is wooden and the script amounts to a ludicrous conversation. Rosamund Pike as defence lawyer Helen hovers confused-like hanging on Reacher's every word as we travel macho-like through fights, car chases and on and on.
All we get as a brief and very brief respite is Robert Duvall who shows in a few minutes how it should be done but even he struggles with the script.
It's unbelievably poor. Made with a budget of 60 million USD it needed to recoup at least 250 million USD. Happy days at Paramount! I'd like to say there won't be a sequel but I wouldn't bet on it. It's a mad world.
Popular in the Community