'Chronic' is remarkable, unconventional and challenging cinema and Tim Roth is a revelation - Dirty cop thriller 'Triple 9' packs an adrenalin filled punch - Nods to John Ford mix with Eli Roth blood and gore in S. Craig Zahler's low budget directorial debut, 'Bone Tomahawk' - 'Freeheld,' a heartfelt story of love, death and politics is sidelined by lacklustre direction and a stilted script.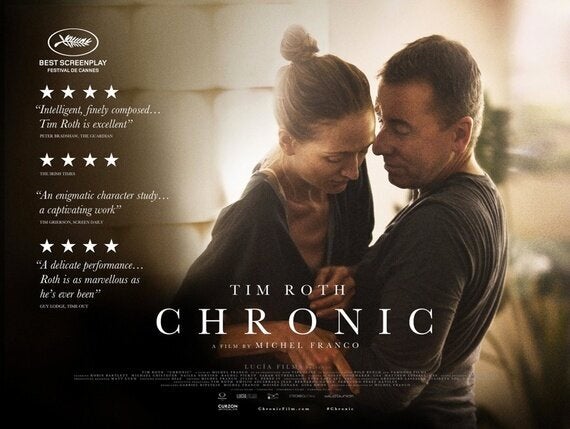 Director: Michel Franco. Tim Roth, Sarah Sutherland, Robin Bartlett. Drama. France, Mexico 2015 93 mins. Best Screenplay Award 2015 Cannes International Film Festival (15) ****
Tim Roth offers a remarkably controlled and measured performance in Michel Franco's 'Chronic,' a raw cinematic portrait that jolts, stuns and mesmerises.
Filmed in long measured takes 'Chronic' offers an uncompromising insight into the life of David Wilson (Tim Roth), a home carer for the terminally ill in the Los Angeles suburbs. His is an uncompromising commitment at the expense of his personal life that sees relatives sidelined in an all consuming devotion to his patients. David's life is the gym, jogging and caring for his patients. An early heart rending scene showing him washing the terminally ill Sarah (Rachel Pickup) sums it all - compassion, tenderness and empathy with his patients. But what of the past and how does ex-wife Laura (Nailea Norvind) and his daughter Nadia (Sarah Sutherland) fit into the equation?
With it's documentary-like feel and Tim Roth's stunning portrait of a complex controlled character subtly showing sociopathic tendencies, 'Chronic' is remarkable, unconventional, challenging cinema.
I make no comment on the ending. Viewers will make up their minds.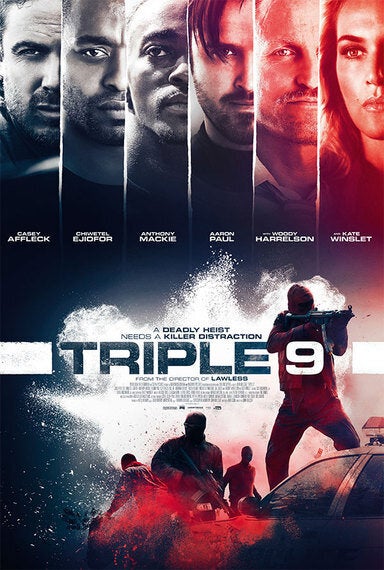 Director: John Hillcoat. Chiwetel Eliofor, Kate Winslet, Casey Affleck, Woody Harrelson, Aaron Paul, Anthony Mackie. Crime Drama. USA 2016 115 mins. (15) ****
We've been there before but 'Triple 9', an adrenalin-filled dirty cop heist thriller has a strong story line and cast and packs a punch.
Michael Belmont (Chiwetel Eliofor), Marcus Atwood (Anthony Mackie), Jorge Rodriguez (Clifton Collins Jr), Russell Welch (Norman Reed) and his younger brother Gabe (Aaron Paul) rob banks. Ex-military and corrupt cops is quite a mix and with their paymaster a Russian-Israeli mob, life was never meant to be an easy run. After a few problems with the last bank heist, it's payout time.
Sergeant Detective Jeffrey Allen (Woody Harrelson) has his demons and heads the Atlanta task force gang unit and his nephew Chris (Casey Affleck), a rookie cop, clean as they come is assigned to Marcus who'll show him the ropes. Irony rules.
There's no pay-off day for Michael Belmont, just a vicious twist and it's the ruthless Irina Vlaslov's (Kate Winslet) who holds an ace blackmail card and runs the 'Kosha Mafia' while hubby's inside. The team will undertake one last job, a heist that's fraught with danger and needs a Triple 9 code, 'an officer down' to distract the cops but what if the selected fall guy doesn't fall.
A gripping crime thriller with a great cast. Betrayal, blackmail, greed, revenge, spectacular shoot outs, highway car chases and smashes and an action packed finale all played out against a no glam mean streets Atlanta.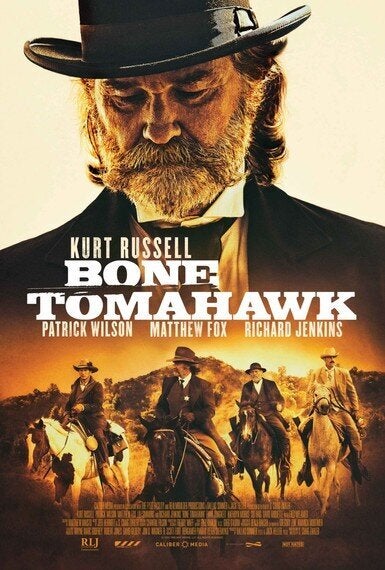 Director: S. Craig Zahler. Kurt Russell, Patrick Wilson, Richard Jenkins, Matthew Fox. Western. USA 2015 133 mins. (18) ***
'Bone Tomahawk,' a character driven, low budget, tongue-in-cheek directorial debut with hints of John Ford and a touch of Eli Roth, the master of blood and gore, will either drop into the curio oddity box or hop onto the late night cult and gore shelf.
Bright Hope, a town run by Sheriff Franklin Hunt (Kurt Russell) has one remaining woman, Dr Samantha O'Dwyer (Lili Simmons) whose husband Arthur (Patrick Wilson) nurses a broken leg. Aged deputy sheriff Chicory (Richard Jenkins) does a Gabby Hayes help out at the jail, Wick (Evan Jonigkeit) guards the outlaw Purvis (David Arquette), John Brooder (Matthew Fox), dresses in white with not a speck of dirt or dust on his tailor made suite and Sheriff Franklin's got a big moustache. When Dr Samantha's kidnapped a posse, including hobbling hubby Arthur is assembled by Sheriff Hunt and they set out in pursuit of the abductors. Lead on McDuff and bring on the savage troglodytes who are very partial to a munch on human flesh. Yummy, yummy chaps, grubs up. John Ford mixes it with Eli Roth in a feast for western/horror fans if you're partial to that.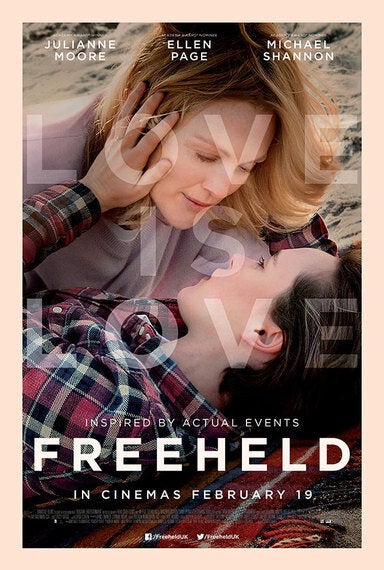 Director: Peter Sollett. Julianne Moore, Ellen Page, Michael Shannon, Steve Carrell. Drama. USA 2015 103 mins. (12A) ***
Based on Cynthia Wade's documentary short of the same name, 'Freeheld' is an important heartfelt story of love, death and politics that fails with its formulaic and bland approach.
New Jersey detective Laura Hester (Julianne Moore) diagnosed with terminal lung cancer in 2005 fights to sign over her pension benefits to her partner Stacie Andree (Ellen Page) so that she could continue to live in their home. It's a heartfelt plea for equality in accordance with state legislation but the Ocean County Board of Free Holders (Republican Legislators) refuse. There's little exploration of Laura and Stacie's relationship or inroads into the politics that denied her equality all of which is sidelined by a stilted script and a lacklustre bland directorial hand. The expected stereotypes pop up with holier than thou proclamations, one cop, her partner Dane Wells (Michael Shannon) remains loyal and OTT Steve Carrell 'you've got the power' takes the stage as Steve Goldstein with his gay marriage agenda. It hits the heartstrings but disappoints.
For further FILM and BLU RAY/DVD REVIEWS go to www.film-reviews-and-news.co.uk
Related