'Fire At Sea,' Winner of the Golden Bear at the 2016 Berlin Film Festival is a powerful and haunting portrait of the passage of migrants through Lampedusa - In 'Where To Invade Next' Michael Moore turns his sights outside of America to see how to make the country great again - Original, unique and mesmerising, 'Embrace of the Serpent' explores the bloody and obscene scourge of imperial colonialism in South America.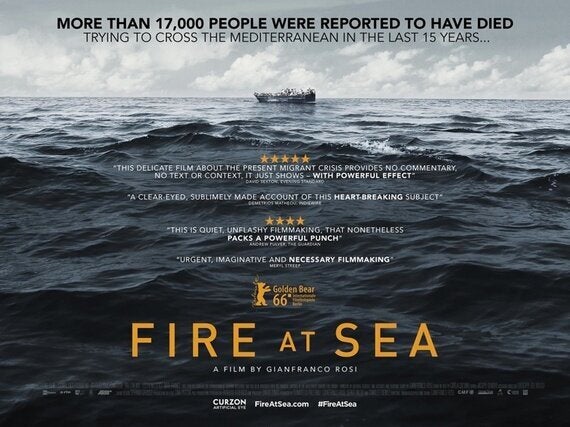 Director: Gianfranco Rosi. Documentary. English & Italian with English subtitles. France, Italy 2016 108 mins. Winner Golden Bear 2016 Berlin Film Festival (PG) *****
In 20 years 400,000 migrants have landed on Lampedusa, an island half way between Libya and Sicily, the gateway to Europe and freedom on a route from Africa and the Middle East. Gianfranco Rosi's camera lays witness to this European refugee crisis through two locals, 12-year-old Samuele who loves to hunt, shoot his slingshot and mess around and Dr. Pietro Bartolo, still compassionate and caring after treating refugees for 25 years.
Rosi spent a year on Lampedusa to understand the impact of this refugee crisis, with his camera as witness, without voice over or commentary and it's heart breakingly effective. He accompanies the coast guard on rescue missions - heart rending images of corpses pulled on board and body bags zipped. A distress call - 250 on board, 34 bodies, 206 pulled from the sea. Another call, 130, maybe 150 on board, women and children and the boat's sinking. The brutal passage of the dispossessed even has its class system - first and second class may survive, but third class die. Severely dehydrated bodies, haunting images, a continuing story.
The on-going migrant crisis passes the locals by. Samuele tests his slingshot and wonders whether he'll ever get over being sea sick, Dr Bartolo scans a new arrival, a pregnant woman who she sees her twins for the first time, Samuele's grandmother prepares a meal of fish and the local radio station plays 'Fire At Sea', a request for the local fisherman. Life goes on.
Powerful and horrifying with images that remain. 'Fire At Sea', a European refugee crisis seen through Gianfranco Rosi's camera won the Golden Bear at this year's Berlin Film Festival. Perhaps there'll be some justice with the arrest of Mered Medhanie, 'The General' in Khartoum, accused of being partly responsible for the Lampedusa tragedy in October when 366 people died.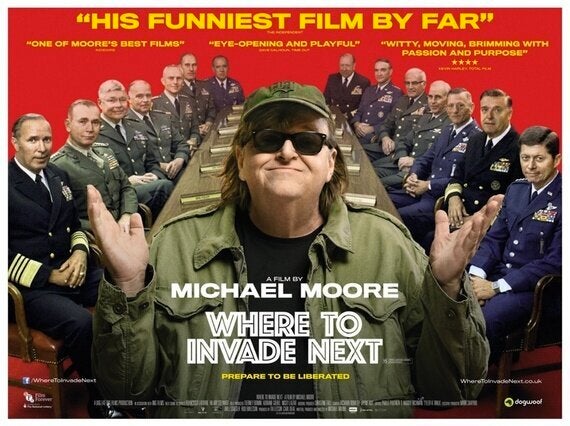 Director: Michael Moore. Documentary. English, German, Norwegian, Portuguese, Arabic, Finnish, Italian, French. USA 2015 120 mins. (15) ***
'Michael, we don't know what the f... we're doing. We haven't won a war since the Big One.'
Writer-director Michael Moore offers a witty, insightful and as expected, sharp glance at how to make America great again. How do others deal with the universal ills - obesity, bank fraud, corruption, racial tension, cops killing blacks, shootings on campus, drugs, the penal system, and immigration.
Look after the workers. 30 - 35 days paid holiday plus annual holidays and a long relaxing lunch is the Italian norm. Pity about corruption in high places, organised crime and the unions that suggest Italy's not exactly a bubbling Euro economy. No pizzas or burgers for gourmet, calorie conscious French school kids who love their cheese board but fast food,like American movies is on the French menu plus high unemployment and worker unrest. Norway doesn't go for the 42 year prison sentence with no chance of parole. They teach self-respect and respect for others with no sentence above 21 years even for murder. No homework and no private schools in Finland places them top of the eduction list. We can't hide from the past. Germany's open about the Holocaust but America's treatment of Native and Black Americans remains in the shadows. Portugal decriminalised drugs while the US continues its loosing battle. Should bank fraud mean a bail out and a slap on the wrist to those who've siphoned away a cash mountain? Iceland jails them. Perhaps with more women in charge things will change.
Ironically, most of these innovative ideas came from America. Interesting and entertaining, a fun look at what America can learn from the world.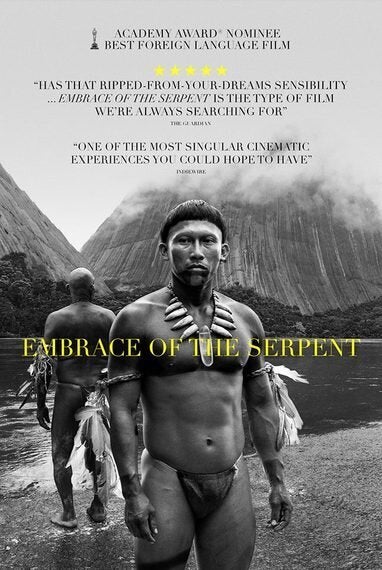 Director: Ciro Guerro. Jan Bijvoet, Brionne Davis, Nilbio Torres, Antonio Bolivar, Yauenku Miguee. Drama. Spanish, Portuguese, German, Catalan, Latin with English subtitles. Columbia, Venezuela, Argentina 2015 125 mins. (12A) ****
Original, unique and mesmerising and filmed in 7 weeks in the jungles of Vaupes with stunning black-and-white images, Ciro Guerra's third feature 'Embrace of the Serpent,' explores the ravages of colonialism in South America.
Inspired by the real life journals of the German explorer Theodor Koch-Gruenberg and the American botanist and psychedelic researcher, Richard Evan Schultes, Karamakate (Nilbio Torres), a mystical Cahimano shaman and the last survivor of his tribe leads two scientists through a disappearing world in search of the rare and sacred hallucinogenic Yakruna healing plant. Theirs is a journey through the Amazonian jungle, a vanished civilisation, no longer a land of memories and knowledge.
In 1909 a seriously ill Theodor von Martins (Jan Bijvoet) and his local guide Manduca (Miguel Dionisio Ramos) meet Karamakate (Nilbio Torres) who agrees to lead them to the Yakruna plant which attaches itself to rubber trees. In a heart of darkness journey, the bloody and obscene scourge of imperial colonialism sees rubber barons profit above all else and fanatical western religious indoctrination eat into and destroy an indigenous culture at one with the environment.
40 years later Karamakate (Antonio Bolivar), the last survivor of his tribe, a man for whom the customs of his people are no longer a memory, retraces the search for the Yakruna plant with Richard Evan (Brionne Davis), an American botanist, whom he considers to be the same man and spirit as Theodor, the previous explorer revisiting over again.
Original, poetic, mesmeric and visually hypnotic 'Embrace of the Serpent screened in Directors' Fortnight at the 2015 Cannes Film Festival and won the CIACE Art Cinema Award. Destroy the past, erase knowledge, forbid the use of 'pagan language.' What does civilised mean?
For further FILM & BLU RAY/DVD REVIEWS see www.film-reviews-and-news.co.uk