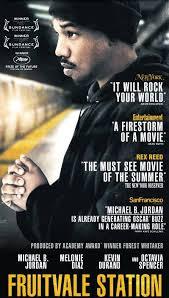 Altitude Film Distribution
Cast: Michael B. Jordan, Melanie Diaz, Octavia Spencer, Ariana Neal
Genre: Drama
Language: English
Country of Origin: USA 2013 85 mins.
Rating: *****
'A stunning, powerful and emotional piece of film making - Fruitvale Station, an incident that shocked America.'
Oscar Grant (Michael B. Jordan), a 22-year-old Oakland, California resident wakes up on the morning of December 31, 2008 and feels something in the air.
It's a sign that he needs to be a better son to his mother (Octavia Spencer), whose birthday it is, a better partner to his girlfriend Sophina (Melonie Diaz) and a better father to Tatiana (Ariana Neal), their four year-old daughter. Oscar's got a past but things are going to get better.
The day starts well, shop for his Mother's birthday, cross paths with friends, family, and strangers but as it goes on Oscar realises that change doesn't come easily. A family birthday with joy, laughter and a prayer. Oscar and Sophina will celebrate the New Year with friends. It's a fresh start and what better than go into the city to celebrate. Fireworks light up the sky. The packed subway train stops at Fruitvale station. Things will never be the same again.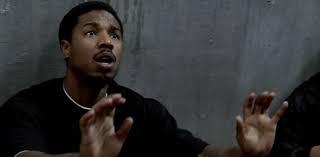 Altitude Film Distribution
It's a stunning and powerful piece of film making. Rachel Morrison's hand held camera weaves about recording Oscar's day and the semi-documentary feel adds authenticity. It's a mixed day, some may say an ordinary day that leads to Fruitvale Station.
Michael B. Jordan gives a stunning lead performance, the supporting cast are strong and you do at times sense that the camera's hidden secretly recording Oscar's day, the script's tight, the editing's crisp and Ludwig Goransson's music score is hypnotic leading you sequence by sequence to the devastating finale.
Stunning, powerful and emotional. Fruitvale Station, an incident that shocked America.
Released by ALTITUDE FILM DISTRIBUTION 6th June 2014
Follow film reviews at www.film-reviews-and-news.co.uk