'Remainder,' Omer Fest's feature debut is tense, puzzling and enigmatic but doesn't quite hit that existential thriller button - Politics, corruption, power and the Mafia mix with ease in 'Suburra,' a complex and atmospheric thriller - 'Ma Ma,' co-produced by Penelope Cruz billed as a melodrama is a dire soap opera with a singing surgeon.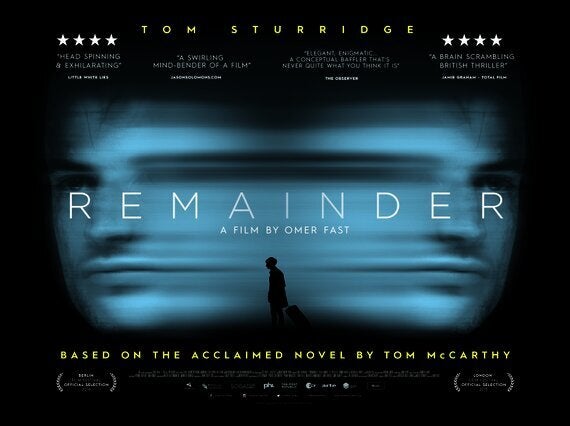 Director: Omer Fest. Tom Sturridge, Ed Speleers, Cush Jumbo, Arsher Ali. Thriller. Germany, UK 2015 103 mins. (15) ***
Stylish and enigmatic, Israeli video artist, Omer Fest's feature debut, adapted from Tom McCarthy's acclaimed 2005 novel offers a puzzle.
Falling glass, panic, a large black box hits an an unnamed man's (Tom Sturridge) head. He wakens from a coma with no memory but an £8.5 million pound settlement. Brief fragments from the past - a brick red building, the smell of liver cooking, a piano playing Chopin, cats on the roof, an old lady on the floor below plague him. An old school friend (Ed Speleers) pesters the man and what of the American woman (Cush Jumbo) ? Rebuild the mind. Naz (Arsher Ali) is expensive, but he's a fixer. Buy a whole red brick building, hire people to enact the past. Repeat, repeat and repeat. Obsession takes over.Reconstruction and reality merge. Hire a reformed criminal (Danny Webb) and re-enact a bank robbery again and again and again. Will it offer a clue as to what led to the accident?
Tense, puzzling, enigmatic, a punch at an existential thriller with a nod to Alain Resnais' 'Last Year in Marienbad' that doesn't quite hit that elusive button.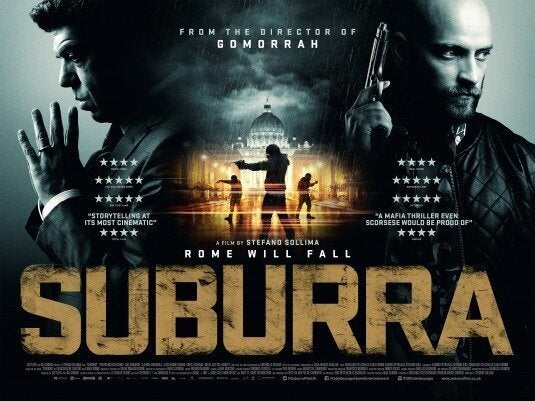 Director: Stefano Sollino. Pierfrancesco Favino, Greta Scarano, Jean-Hughes Anglade. Crime Drama, Thriller. Italian with English subtitles. Italy 2015 130 mins. (18) ***
Politicians and the Mafia hold hands with a priest's blessing in a tale of politics, corruption, money, ambition, greed and power based on the novel by Giancarlo De Catalso and Carlo Bonino.
With allusions to an apocalypse, the abdication of Pope Benedict XV, the fall of the Berlusconi Government, economic collapse and a real estate grab in Rome's seaside suburb of Ostia, 'Suburra,' named after the area in ancient Rome where the rich and powerful went for their pleasures, weaves a tale of corruption and violence.
Politician Filipo Malgradi (Pierfrancesco Favino) drifts easily between the corridors of power and the Mafia but an under age girl overdosing brings him closer to a gangster known as the Samurai (Claudio Amendola) who's been enlisted by powerful Mafia families to turn Rome's waterfront at Ostia into a new Las Vegas. Fellow travellers in this convoluted tale of corruption, power and greed are part time pimp and party organiser Sebastiano (Elio Germand) who's in hock to the gypsy Manfredi Anacleti (Adamo Dionisi) who controls the drug trade and building works in Rome and impulsive and ambitious No 8 (Alessandro Borghi) and his addict girlfriend Viola (Greta Scarano) who sits on real estate in Ostia and and puts himself against the powerful Anacleti family and the Samurai.
A complex and atmospheric crime thriller but it doesn't carry the expected style and impact that comes with such a mix and begs the question, would it be more suited to TV.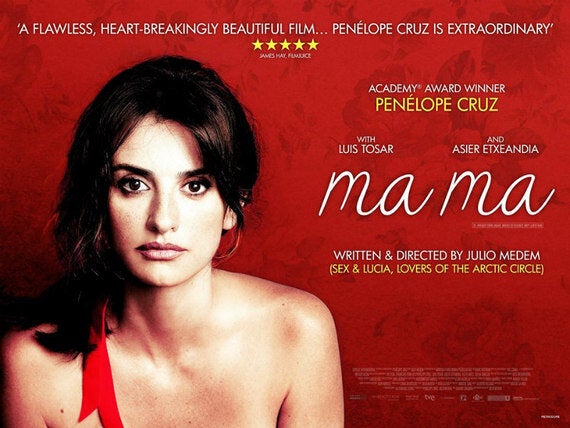 Director: Julio Medem. Penelope Cruz, Luis Tosar, Asier Etxeandia. Drama. Spanish & French with English subtitles. Spain 2015 91 mins. (12A) **
Cancer, life, death, unemployment and the financial crisis mix in Julio Medern's melodrama 'Ma Ma,' co-produced by Penelope Cruz. Pity about the script, the score, the directorial approach and well....everything.
Magda's (Penelope Cruz), an unemployed teacher in her 40s, diagnosed with stage 3 breast cancer, has chemotherapy, a masectomy and looses her hair. If that's not bad enough her consultant Julian (Asier Etxeandia) serenades her as she lies stricken with fear, husband Raul (Alex Brendemuhl), a philosophy professor is playing away with a student and Arturo (Luis Tosar), a scout for Real Madrid whose wife's dying and daughter's been killed in a car accident offers a shoulder to cry on. There's more, the soap opera continues. Magda dumps Raul, gets together with Arturo who bonds with her football mad son Dani (Teo Planell), has a relapse, is given 6 months to live by the serenading surgeon, gets pregnant so there's a daughter for Arturo and a sister for Dani and forgives Raul. Don't laugh, I didn't make it up.
The score matches the script, dire, with a touch of morality and faith thrown in, a mysterious Siberian orphan girl pops up, we glance at a beating heart and the singing surgeon serenades Magda with one last song. Beat that.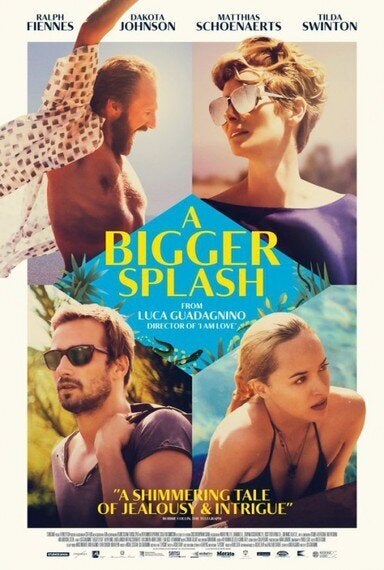 Director: Luca Guadagnino. Tilda Swinton, Dakota Johnson, Matthias Schoenaerts, Ralph Fiennes. Drama. Italy, France 2015 120 mins. (15) ****
Luca Guadagnino's stylish remake of Jacques Deray's 'La Piscine' sees emotional wounds laid bare as the privileged play games in the Mediterranean sun. A terrific lead cast with Ralph Fiennes a wow scene stealer.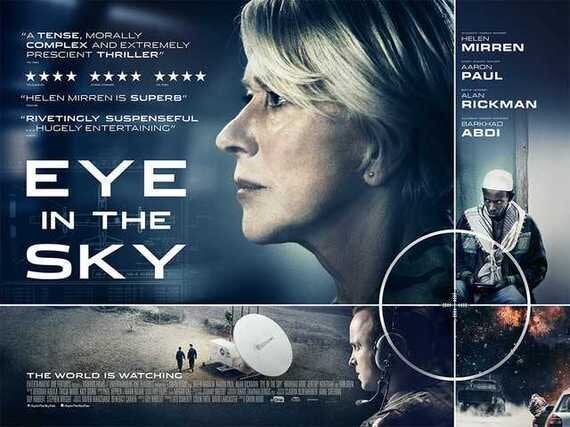 Director: Gavin Hood. Helen Mirren, Alan Rickman, Aaron Paul. Drama Thriller. UK 2015 82 mins. (15) ****
Drone operations against al Shabaaab, suicide bombers and the moral dilemma to issue the order when civilians are in the kill zone.
For further FILM & BLU RAY/DVD REVIEWS see www.film-reviews-and-news.co.uk